Gary Rohan is OUT! Minutes before the game. He has succumbed to a glute injury and Ben Jarvis is IN for his debut.
Rohan was good for the Cats last week and against the Dogs the week before he was one of their match-winners in a close game.
Not suggesting anything untoward here but Chris Scott is notorious for playing mind games at selection.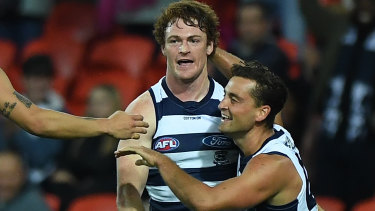 Thanks for following along. A ripper win by the Tigers.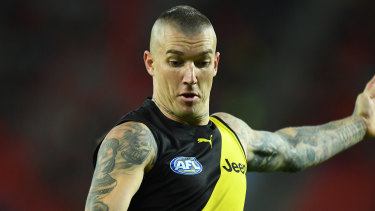 Scott said: "No, they will play next week. If you were me I wouldn't believe me. I keep saying things and it keeps changing.
"It is not deliberate. I'm giving you the best information I can. We have been clear over a long period of time it is not our role to speak in detail about players's medical status.
"We will try to give you our best guess on whether they are available or not but these things are fluid and always changing. As of today I would expect them both to play but there is nine games until our next game."
Scott responds: "A little bit. It is hard to assess. We are certainly not using that as the excuse.
"We thought we would have a few guys that would play even as close as an hour before the game and another that we thought would play yesterday that didn't.
"That throws you a little bit but it has been that sort of season. The good teams adjust and find a way through. We didn't do it.
"Our personnel will probably change a little bit over the next few weeks if we are good enough to keep going for a few weeks. But yes, I wouldn't be hanging – we won't be hanging our hat on that. We will just get a few players back and everything will be fine."
"We were out-played for most of the game," Scott said. "There were signs there late. But when the game was really on the line they were much better than us.
"They defended really well, their pressure around the ball was great. We looked a little off, no doubt about that, but it is always hard to assess at least in the immediate aftermath how much is you and how much is them I suspect.
"They are the best team in the comp, have been for a while. I suspect a fair bit of it was them. And for a large part it just looks like the way we were trying to play wasn't working."
… the pair were sent home last week for breaching hub rules, interrupting the preparation for this match.
"It was disappointing and we stand by that," Hardwick said. "Once again, we feel it is not a reflection of us but the reality is respect is very hard to earn and easily lost.
"We have got some work to do in that part of our make-up. We are disappointed.
"Those boys are incredibly disappointed as well but they have accepted the role that they have accepted the role that they play.
"It can [galvanise the group]. But we also can't shy away from the fact that we let ourselves down. Once again, it will take agents bit of time to move on with. But our players have got a very good understanding about that and what we need to do to get back."
Bad news on Soldo with what looks like an ACL, maybe better for Lynch, according to Hardwick:
"Soldo we think has a significant knee injury," Hardwick said. "We will wait to confirm that by scans which is disappointing.
"He has been such an important player for us over the course of this year and last.
"Yes, Tom has a hamstring. We are not quite sure of the severity of that at the moment but he will probably have scans on Monday also. So, look, two big losses. We have got some players we think can step up and fill the void.
"I thought all our players stood up at various stages. Especially with some adversity, losing [Ivan] Soldo and Tom [Lynch] throughout the course of the night.
"It was pleasing that it was probably a very even team performance. Jack [Riewoldt] had big moments."
Damien Hardwick and Chris Scott are coming up shortly. I'll let you know what they have to say soon.
… Grimes deserves the three Brownlow votes but defenders never get them:
A brilliant win by the Tigers.
They shut down an attacking Geelong unit that has been really, really damaging of late.
Their pressure was excellent, their defence superior and their midfield played in that frenzied forward-at-all costs style that suits Richmond best.
Jack Riewoldt kicked four too. He's back in form. Grimes was best afield in his return game.
Richmond's win moves them from fifth to third on the ladder.
They bump the Cats down to fourth and West Coast down to fifth.
One game to go, and those three teams play bottom teams next week so this little part of the ladder looks settled in its order.