Victorian Premier Daniel Andrews will give his daily coronavirus briefing at 11am. Health Minister Jenny Mikakos will also speak.
A Health Department public servant was asked if she would be prepared to work in the quarantine hotel that became the major source of Victoria's second wave of COVID-19.
Outbreaks of coronavirus among workers at the Rydges on Swanston spread into the community and is behind 99 per cent of the state's current cases, the Victorian inquiry into hotel quarantine has heard.
Pam Williams was the commander of Operation Soteria, the taskforce that ran the program.
Public health experts said there was a "high risk" of fomite (surface) transmission inside the hotel following the outbreaks in late May with problems with the cleaning regime and use of personal protective equipment, particularly by the security guards contracted to work there.
"If you knew those things, is that a place you would be prepared to work?" Counsel assisting the inquiry Ben Ihle asked.
Ms Williams paused, then said: "I was, I did go down to those hotels. I did observe that staff who practiced the processes that we proposed, social distancing, proper use of PPE and hand washing, did not become positive and a range of things were in place at that hotel."
Mr Ihle asked her if it was a safe place to work.
"There were a number of things that were done to ensure staff were as safe as they could possibly be," Ms Williams replied.
"Is it possible with COVID in the environment to be 100 per cent safe? No, and our experience in the hospital system at the moment indicates that."
Victoria's Department of Health and Human Services has updated a list of locations attended by people who tested positive for coronavirus.
It urges anyone who may have visited the listed locations at the same time to watch for coronavirus symptoms and get tested immediately if symptoms occur.
The Victorian state government is reconsidering how VicRoads drivers tests are conducted, as many teens wait for their chance to get behind the wheel.
Learner drivers have not been able to accrue the 120 hours of supervised driving needed to complete a p-plate test, due to restrictions on reasons for leaving home, with driving tests not going ahead now at all except in exceptional cases.
Premier Daniel Andrews said his 18-year-old son Noah was in the same boat as thousands of other Victorian teens, unable to do the driving test after struggling to accrue the full hours due to lockdown.
He said the state may end up with driving tests "being conducted in very different ways", similar to potential changes this year's school exams.
"It's a very significant challenge … there is a backlog there, and we're going to have to look at different arrangements for testing," he said.
"We're going to have to make some very difficult judgments about if we stick with the current hours. I'm not foreshadowing a different position, but we are looking at all those things.
"We want people to have that independence, freedom and mobility that comes from getting their p-plates."
In April at the start of Melbourne's lockdown, 17-year-old Hunter Reynolds was pulled over by police about 20 minutes into a drive with her mother on the Peninsula Link in Frankston, and told she was "too far from home". She was initially fined due to the driving practice being considered non-essential travel, before the infringement was later dropped.
Just one per cent, or 200, people in hotel quarantine in Victoria tested positive to coronavirus, the Victorian inquiry into the program has heard.
Pam Williams, a Department of Health official who oversaw the program, also told the inquiry that it could have been possible to release people earlier so they could isolate at home.
Transmission between positive cases in quarantine and workers in the hotel spread into the community and, the inquiry heard, caused 99 per cent of current COVID-19 cases.
Ms Williams said the outbreaks were traced back to seven people in three rooms.
"So in fact, 96.8 per cent of the people in quarantine did not go on to spread the virus," Ms Williams said.
The department introduced testing of detainees on day three and day 11 of their two-week quarantine in the hotels.
"I'm not saying we would have just let people out," Ms Williams said.
"The major risk of identifying people occurred in that first week or a little bit so it may have been possible to detain people for a shorter period and then self-isolate."
But in the first wave of cases, a large number of people who came from overseas weren't self-isolating and passed the virus on, Ms Williams claimed.
She said an alternative process would have been to identify positive cases and allow others to leave and self-isolate at home.
Ms Williams said she had a "lot of respect" for those who were detained in hotel quarantine.
"It was boring, it was hard to deal with if you had a family…They were doing that because they understood what the risks were," she said.
More than 20,000 people went through the quarantine program from the end of March until it was suspended in June due to the outbreaks within the program.
A nurse previously told the inquiry that basic requests from the detainees she cared for were denied, including a kettle for a woman who wanted to boil traditional medicine to relieve pain from endometriosis.
The nurse, only known as nurse Jen, said she was also advised by the department to not give her name to detainees, which she refused to do.
"Can you think of a good reason, Ms Williams, as to why nurse Jen would be instructed not to give her name to guests?" asked Ben Ihle, the lead lawyer asking questions for the inquiry today.
"No I cannot," Ms Williams replied.
Modena: Six months ago Modena was a ghost town; an eerie early warning about the coronavirus pandemic's brutal capacity to devastate economies and unleash a tidal wave of death.
COVID-19 hit northern Italy with such force that Modena and the affluent province of Reggio Emilia have been challenged much harder than most. In the end, nearly 5000 people died here.
The crisis also had the makings of an existential threat to Italy's luxury car makers – most of which are headquartered in the north and rely on a healthy workforce, humming global economy and uninterrupted supply chains to do business. Italy's industrial powerhouse was effectively switched off overnight in early March when Prime Minister Giuseppe Conte imposed a regional lockdown and then a nationwide shutdown just a few days later.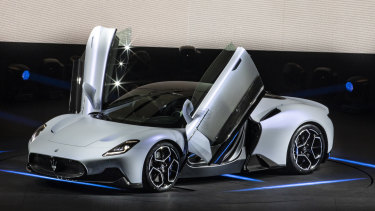 Today, though, Modena is staging a comeback. Shops are open. Its narrow, historic streets are packed with traffic and cyclists. Osteria Francescana, Massimo Bottura's world-famous three Michelin-star restaurant, is serving Italian fare again.
On a racing track just outside the city, Maserati – which builds cars in Modena and was founded in nearby Bologna 105 years ago – also revealed its first sports car in 15 years, the much-hyped MC20.
Some 400 international journalists sipped Champagne and sat in a socially distanced grandstand for the lavish event which featured production values to rival a Beyonce concert. The gathering symbolised how Modena and its manufacturers have decided to live with the virus and work around it
Read more: Maserati aims for revival after COVID devastation
Premier Daniel Andrews said the decision to instate curfew in Victoria was 'not about human rights but about human life', after a Victorian federal MP contacted the Australian Human Rights Commission about the measure.
Member for Goldstein Tim Wilson has asked the Australian Human Rights Commission to examine whether Victoria's curfews were a human rights violation, according to a report in The Australian.
Mr Andrews said what Mr Wilson "do with his team is a matter for him", but the measure was successful at limiting movement and therefore limiting the COVID-19 spread.
"This is not about human rights. It is about human life. That is my answer to Mr Wilson," he said.
"Police need rules they can enforce. This strategy only works if we limit movement.
"If we want our police to be spending all their time having to move people on from Macca's car parks – where there are pop-up social gatherings that are not lawful – I'm going to have police wasting their time doing that.
"There are very few legal reasons to leave your home. The curfew doesn't change that."
A Health Department public servant who oversaw hotel quarantine in Victoria said the international arrivals detained were difficult to manage and unhappy about the food they got, and the lack of fresh air breaks.
Pam Williams was a commander for Operation Soteria, the taskforce that ran the program, and she's giving evidence to the Victorian hotel quarantine inquiry this morning.
Ms Williams said the guests were "by and large very compliant", but with different cohorts of people – including about 600 young people and children under 18 – meant "it became a very difficult cohort to manage their health and wellbeing."
"There was a lot of pressure on us to provide for that health and wellbeing, so we were balancing a public health risk…to contain the virus with the pressure to provide people with fresh air, to enable people to have compassionate leave…" she said.
Other states, Ms Williams said, were "less inclined" to let people leave their rooms, but Victoria's response had to be balanced against the state's charter of human rights.
She said program decision-makers were "put under pressure" to accommodate fresh air breaks from the guests.
"There were many issues that guests had. Initially, there was quite a focus on food, so people were often unhappy with the choice and the nature of the food provided," she said.
The inquiry has heard previously that detainees with allergies, medical needs and religious requirements, such as Halal food, weren't provided with the right food.
Some also had mental health problems and were heavy smokers, in distress being in rooms without windows that opened.
Ms Williams said hotels were chosen because Victoria had no "bespoke" quarantine facilities.
More than 20,000 people were detained in hotel quarantine, which began on March 28 and finished in June when international flights to Melbourne were suspended.
Premier Daniel Andrews will not say whether regional Victoria could be diced up further with different restrictions, considering one new COVID-19 case in Echuca revealed today with no current clear source.
He said it would be difficult to control the borders if you have six or ten different zones, but it was an "academic exercise", as regional Victoria might be able to move from current stage three restrictions as early as next week.
But, Mr Andrews stressed that change to restrictions was not locked in, and would still be guided by the next week's data.
"Given that it was such a short time frame where we were confident we can reach these triggers, the notion of dividing up regional Victoria for say one week, people would barely be familiar with the rules before we took them off and said, 'All of regional Victoria can open'," he said.
"Let's get to the bottom of that Echuca matter, and hopefully next week we can have good news for regional Victoria."
Victorians who are on their deathbeds are able to receive sacraments at the end of their lives, the Premier has clarified today.
Under care and compassionate grounds, people are able to have a religious leader such as a priest or a rabbi visit them to administer last rites or provide similar support to those who are dying.
"We obviously apologise if there's been any confusion about that matter," Premier Daniel Andrews said on Friday morning.
"There will always be some finer details in relation to the way individual hospitals have got their own rules in place. Those rules are there for the best of purposes. They're there to try and protect staff and fellow patients."
Mr Andrews said he was in discussion with religious communities, including leaders of the Jewish faith, about upcoming religious holidays.
"We are working closely with the community to make sure those celebrations – the important occasions – are as close to normal as they can be," he said.
The health department's website is expected to be updated to reflect the new advice later today.
Deputy Chief Health Officer Professor Allen Cheng said there was one new case in Echuca which did not yet have an obvious source, with there being features of the case "which are a little bit odd".
"There is still retesting going on of the case, and we haven't had any other cases from that area," he said. "There's not known contacts between that person and any other case."