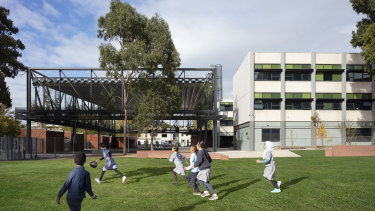 Law Architects' brief was to bring in a number of services under the one roof, including early learning, reworking spaces for the primary school, maternal and health facilities, along with outdoor areas that could be used by students as well as the broader community.
A new point of entry was also required that would provide the precinct with its own identity.
With relatively limited space, the idea of providing a gymnasium, a basketball court and an area that could also serve the community for weekend markets must have initially caused raised eyebrows for Law and her team.
"We quickly realised that to achieve all these offerings would require a flexible multi-use space that could be used all times of the year," says Law who, with her colleagues, conceived an overscaled industrial-style shed, eight metres in height from floor to ceiling (allowing for basketball).
Featuring steel cross bracing and green walls on three sides, with the fourth being open to Rathdowne Street, this protected area can be easily adapted to suit the need.
The green walls will also provide a "blanket" to diffuse the harsher light and prevent glare for those aiming for the basketball hoop.
"We also wanted to create a sense of welcome, a place that felt familiar," says Law, pointing out the forecourt and the brick walls with their relief work (responding to many of the red brick buildings in the immediate precinct and its local character).
Law Architects also reworked the 1960s building, extending spaces where needed and, in the case of the ground floor, including the early learning centre and spaces for art, music and food technology.
Loading
And given that additional space was required at ground level for these services, the architects included the same brick, with its raised pattern, to further strengthen the connection to surrounding buildings.
The other two levels were also reworked, creating contemporary learning spaces for 100 students, rather than restrictive individual classrooms.
Bright colours replaced the monotone palette on the walls, with a substantial dose of greens and blues used in the mix, capturing the foliage of the established gum trees and the blue sky.
"We were keen to provide an uplifting mood, as well as making the surrounds feel integral to the classrooms," says Law, who speaks of vibrant and welcoming spaces.
Loading
What was a fairly forlorn building fronting Rathdowne Street, has now been given a completely new lease of life.
Importantly, the new spaces provided are according to Law, 'egalitarian', with no one use dominating this precinct.
The oversized sporting facility need not be ruled by one sport, morphing from a basketball court to a gymnasium simply by placing mats on the bitumen surface. On the weekends, the community can come together, whether it's for a market or any other event.
"It's a popular place for skate boarding on weekends," says Law, who also sees this project as an important example of adaptive reuse.
"It's also one of the first learning centres of this type in Melbourne," she adds.