After an early morning Nationals party room meeting over Zoom, Mr Barilaro went to Premier Berejkilian's office where he said he would back down from his threat to tear apart the Coalition.
Loading
NSW Treasurer Dominic Perrottet was also in the meeting.
A senior Liberal source said Mr Barilaro had "100 per cent capitulated and could not even secure a date to discuss the Koala SEPP [State Environmental Planning Policy] and it will come to cabinet in due course".
A statement released several hours later said: "Following a meeting this morning between the Premier and Deputy Premier, the NSW Liberal and Nationals Coalition remains in place.
"This includes a commitment to supporting cabinet conventions and processes.
"The matter will be dealt with at an upcoming cabinet meeting."
The Nationals held a second party room meeting, with a source close to the Nationals revealing Mr Barilaro told his MPs he had been given "several concessions" from the Premier.
But the source said Mr Barilaro would not divulge details of his conversation with Ms Berejiklian to the MPs because he was "worried it would leak".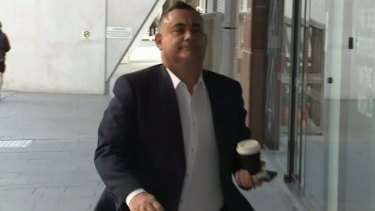 The fracturing of the Coalition was sparked by a policy designed to protect koala habitat which the Nationals say would severely limit the way property owners could manage their land.
Ms Berejiklian gave Mr Barilaro an ultimatum to withdraw the Nationals' threat to sit on the crossbench by 9am Friday or she would sign in a new ministry.
Several sources have confirmed that after a "very brief" meeting with Ms Berejiklian, Mr Barilaro backed down and agreed that the Coalition agreement would remain until the 2023 election.
"There will be no Nationals party room revolt and there would be cabinet discussions," a source close to the discussions said.
No new date was set for the matter to go to cabinet.
Loading
Mr Barilaro's threat to destroy the Coalition came after Nationals vowed not to attend the joint party room or leadership meetings. This would have meant they were "effectively" crossbenchers, he said.
"By not supporting government legislation effectively means all members [are] united in the National Party and will sit on crossbench," Mr Barilaro said on Thursday.
But Ms Berejiklian refused to accept the demands and said the Nationals had two choices: stay in the Coalition or be sacked as ministers.
"It is not possible to be the Deputy Premier or a Minister of the Crown and sit on the crossbench," Ms Berejiklian said on Thursday.
Several senior Liberals said there was no way Mr Barilaro could continue as leader.
Clarence MP Chris Gulaptis, the first Nationals MP to threaten to leave the government and sit on the crossbench, is expected to follow through with his threat, leaving the government with just a one-seat majority.
Alexandra Smith is the State Political Editor of The Sydney Morning Herald.