Former Deputy Prime Minister Barnaby Joyce believes John Barilaro should remain NSW Nationals leader and warned the party doesn't have a better option.
Mr Joyce said he supported Mr Barilaro's bold approach to the Coalition dispute, and said he and Premier Gladys Berejiklian didn't have to like each other to run the state.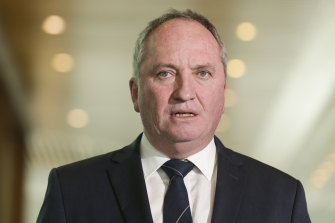 "Politics is not about liking people, otherwise you'd stay at home and cuddle your kids," Mr Joyce told the Herald.
"There were a lot of times that Turnbull couldn't stand the sight of me but we still managed to get a lot done."
However he added that Mr Barilaro should not have allowed the spat to play out so publicly.
"I probably wouldn't have telegraphed my punches so much," Mr Joyce said
"They've got to think you're crazy enough that you'll actually pull the pin and you've got to be determined enough to actually do it and no one should know about it until it actually happens."
Despite Paul Toole and Adam Marshall being circulated as favourites to replace Mr Barilaro, Mr Joyce doesn't believe there's anyone within the party room who could do a better job.
"It's no good replacing him with someone that's worse."
NSW Deputy Premier John Barilaro has claimed a win in the Coalition crisis, saying he had a commitment that the divisive koala planning policy would go to cabinet.
But Premier Gladys Berejiklian had already agreed to that, and said on September 8 that the "issue would be considered by cabinet in due course".
In fact, on Tuesday the Premier had this to say on the issue: "We have scheduled cabinet meetings and this will be dealt with at one of those scheduled cabinet meetings and I'm looking forward to the process."
Meanwhile, the Premier released a short statement just before noon:
"Following a meeting this morning between the Premier and Deputy Premier, the NSW Liberal & Nationals coalition remains in place.
"This includes a commitment to supporting cabinet conventions and processes.
"The matter will be dealt with at an upcoming cabinet meeting."
NSW Deputy Premier John Barilaro has claimed "a victory" from this morning's chaos, with Premier Gladys Berejiklian confirming she would hear the koala planning policy that sparked a potential coalition split this week in cabinet.
"We have met and we have agreed that the Coalition will stay intact – it was never our intention to bring down the Coalition or the government because we've been a bloody good government," he told Ray Hadley on 2GB this morning.
Mr Barilaro said the Nationals wanted an opportunity for their amendments to the policy to be heard in cabinet and the party would begin working on its submissions this afternoon.
"But the beauty here for us is that it's coming to cabinet and this is the first time for us that we have been assured of that," he said.
It should be noted that the Premier had already agreed to consider the issue in cabinet "in due course".
The Nationals leader said the issue was not necessarily scheduled for Parliament's sitting on October 6, expressing optimism that their submissions could be ready for the September 21 date and he would be "holding every minister to account" on their proposals.
He denied this morning's party room meeting – in which it was floated that the Nationals would leave cabinet to sit on the crossbench after the Premier told them they could not do both – was overblown.
"We were prepared to do what we said yesterday," he said.
This morning is not the first time state Nationals leader and Deputy Premier John Barilaro has attempted to break from the Coalition.
It is all quite the departure from back in August 2018, when Mr Barilaro told his party he would quit as leader if it insisted on running a NSW Nationals candidate in Wagga Wagga against a Liberal candidate, warning he would stand down if his pleas for Coalition unity were ignored.
Here's a list, from state politics reporter Lucy Cormack:
June 2019: Mr Barilaro said he was prepared to relinquish the title of Deputy Premier if it meant he could speak more freely and not be "subservient to the leader of another party".
August 2019: He circulated a note to party MPs suggesting it was time to "revisit our relationship with the Liberal Party", again raising the possibility of giving up the mantle of Deputy Premier.
February 2020: Mr Barilaro said the Liberal-National Coalition had been "undermined" and was under threat, after Environment Minister Matt Kean launched a consultation period into noise and air pollution caused by freight trains in regional NSW.
September 2020: The Deputy Premier said the NSW Nationals could split from the Coalition over koala planning policy, with two of his ministers prepared to quit cabinet over the issue. But this morning it was revealed he had backed down from the threat.
After leaving her meeting with Nationals leader and Deputy Premier John Barilaro, Premier Gladys Berejiklian drove across the city to the state's coronavirus response centre – the RFS headquarters – at Sydney Olympic Park.
We are yet to receive a statement from the Premier or Mr Barilaro, who was on a second Zoom call with his Nationals colleagues when we last received an update.
NSW Opposition Leader Jodi McKay will move a vote of no-confidence in the government when Parliament reconvenes next week, and has called on Deputy Premier John Barilaro to resign.
"This guy, the Deputy Premier, is not a cattle dog. He is a lap dog and he has proven that this morning with his capitulation to the Premier," Ms McKay told reporters this morning.
The Labor leader said she expected to lose the motion, but believed NSW no longer had a functional government.
Ms McKay fronted cameras alongside fellow MPs Adam Searle and Ryan Park on Friday morning, saying she believed Mr Barilaro's position as Deputy Premier was now untenable and indicated a "major rift" in the Coalition.
"You can't threaten the government in the way he did and get away with it," she said, describing his backdown as a "humiliating defeat".
"This also lands at the feet of the Premier. The Deputy Premier has made numerous threats to do this. The Premier should have pulled him into line; she should have stopped this."
Ms McKay said she did not believe that Premier Gladys Berejiklian deserved to have this occur in her government, but that she should have addressed the issue earlier.
She added that the move demonstrated Mr Barilaro did not understand parliamentary process.
"For him to think he could sit on the crossbench and still be a part of the Coalition shows he does not understand government."
Premier Gladys Berejiklian smiled and waved to photographers as she left the government's offices a few minutes ago after her chat with Nationals leader and Deputy Premier John Barilaro.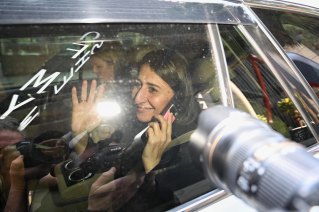 Clarence MP Chris Gulaptis, the first National MP to threaten to leave the government and sit on the crossbench, is expected to follow through with his threat, leaving the government with just a one seat majority, Alexandra Smith reports.
Speaking earlier this week, Mr Gulaptis, said the koala planning policy that sparked this morning's events was "a knee-jerk reaction to target farmers and the timber industry" and a "line in the sand".
It comes as Nationals leader and Deputy Premier John Barilaro withdraws his threat to lead his Nationals MPs to the crossbench, in a move that will keep the Coalition intact but may leave his leadership untenable.
At least two lower house Nationals MPs, Mr Gulaptis and Gurmesh Singh, threatened to sit on the crossbench if Planning Minister Rob Stokes does not make changes to the policy.
Upper house Nationals MPs Sam Farraway and Wes Fang also announced plans to move to the crossbench earlier this week.
Deputy Premier John Barilaro has returned to a Zoom call with Nationals MPs, after speaking to Premier Gladys Berejiklian to tell her he will not be leading his party to the crossbench.
From Alexandra Smith: A second Zoom Nationals party room meeting is under way, with a source close to the Nationals revealing Mr Barilaro told his MPs that he had been given "several concessions" from the Premier.
But the source said Mr Barilaro would not divulge details of his conversation with Ms Berejiklian to his MPs because he was "worried it would leak".
Still no official statement from the Deputy or the Premier. We will let you know when we expect either to speak.