Queensland Health Minister Steven Miles is listed to give a press conference at 1pm AEST.
Police questioned anti-lockdown protestors in Fitzroy Gardens just before 12pm today, with some demonstrators conceding to police they were more than five kilometres away from their homes.
Only 10 to 15 protestors turned up to the inner Melbourne park, outnumbered by the hundreds of police including those in riot gear.
Small groups were moved on by police and warned if they returned, they would be fined.
One older woman had her signs, including one who said 'Open Our Churches', confiscated by officers.
Police moved to Carlton Gardens at midday, after anti-lockdown and conspiracy theorist messaging channels touted it as the new meeting spot. But there was almost no protest action at the site.
Two people were arrested by police and led away from the Tan anti-lockdown protest on Saturday morning, with officers also maintaining a presence at the Shrine of Remembrance, the location of last week's major demonstration.
Queensland has three new confirmed cases, raising the state's total of confirmed cases to 1149.
There are 31 active cases and the death toll of six Queenslanders has remained the same.
Deputy Premier and Minister for Health Steven Miles is expected to hold a press conference at 1pm on Saturday.
Almost 1000 fewer elderly Australians died in aged care homes during the first seven months of 2020 than the same period last year, despite the deadly COVID-19 outbreaks that have spread through the sector.
New data released by Aged Care Minister Richard Colbeck on Saturday shows that 32,398 residents died between January 1 and July 31, 2020, 985 fewer deaths than the same period in 2019.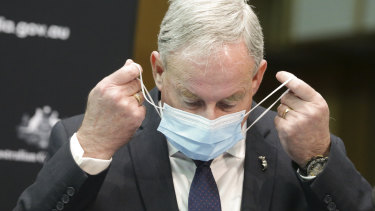 Hundreds more COVID-19 deaths have been recorded in the sector in the six weeks since, as Victoria's second wave reached crisis point in the state's aged care facilities.
The data snapshot, the first of what will be a weekly update from the federal government, shows COVID-19 deaths in Australian aged care make up 73 per cent of fatalities during the pandemic to date, while the sector accounts for 15 per cent of infections nationally.
It showed there had been 4049 infections in residential aged care – including 2082 staff – and 580 deaths, all of them elderly residents, on Friday morning.
Explaining the fall in overall residential aged care deaths, the data release said increased flu immunisation rates and infection control protocols during the pandemic were the likely explanation, with just 28 deaths in elderly Australians attributed to influenza in the year to date.
By comparison, 837 older Australians died from influenza last year and more than 1064 died in the 2017 flu season, the worst since the 2009 swine flu pandemic.
The total number of deaths attributed to COVID-19 in Australia was 797 on Friday afternoon, 580 of them in residential aged care and home care.
Releasing the data, Senator Colbeck said quality of care for senior Australians "remains a top priority during the pandemic", pointing to the federal government's role in distributing personal protective equipment and funding testing and the surge workforce in Victoria.
The data snapshot shows 83 residential aged care facilities currently have COVID-19 outbreaks of two or more cases.
Of the 2706 residential aged care facilities across Australia, 311 or 11.5 per cent have had at least one case of COVID-19.
The data snapshot includes a full list of the 213 facilities which have had two or more cases.
Earlier this week, Victoria Police Chief Commissioner Shane Patton told several Melbourne radio talk show hosts that police were not consulted about Melbourne's COVID-19 curfew.
When Premier Daniel Andrews was questioned about this today, he said the decision was made to make police enforcement as easy as possible.
"Victoria Police have had many very consistent views on things are things they consistently reinforced with us. Give us rules, we can enforce. Make the enforcement task as easy as possible," he said.
"Curfew does that. It absolutely does that. So it delivers on exactly what they have sought again and again, because that is their job. They want easily enforceable rules."
When asked about Melbourne's curfew and human rights, he added:
"On the broader point of this being about someone's human rights, this is about human life. And if I sit here and try and list for you all the people that are disadvantaged by that curfew, let's just go through those quickly. If you have got a work permit, curfew doesn't apply. If you need urgent care, curfew doesn't apply. If you want to go for a job at midnight, sorry, you can't. If you want to go shopping at midnight, sorry, you can't."
Victorian Premier Daniel Andrews has again defended his decision to keep a curfew, saying the decision was made primarily for law enforcement purposes.
"Police need rules they can enforce. This strategy only works if we limit movement," he said.
"If we want our police to be spending all their time having to move people on from Macca's car parks – where there are pop-up social gatherings that are not lawful – I'm going to have police wasting their time doing that.
"There are very few legal reasons to leave your home. The curfew doesn't change that."
He pointed to traffic modelling showing minimal movement in Melbourne as evidence for the need of a curfew.
"We have seen a dramatic reduction, a dramatic reduction in the number of people moving around, and the only reason you would be moving around, where the curfew would be a problem for you, would be if you are moving around for illegal purposes," Mr Andrews said.
"So if you have got a lawful reason to move around between eight o'clock and five o'clock, soon to be nine o'clock and five o'clock, then the curfew doesn't actually impact you. It is about giving police the easiest set of rules to enforce."
Back to the Melbourne COVID-19 update, Victorian Premier Daniel Andrews has again been pressed about targets and how they might change in the future.
"I would say is this … by the middle of next week, we're every chance, days away from regional Victoria being able to take not one but two steps," he said.
"Metro Melbourne should look to that and say 'yes, this can work, can be done'. You can get numbers down and they can be kept down.
"To have just around 50 active cases in regional Victoria today when we had more than 500 not that long ago, to have Melbourne cases in the 30s when five weeks ago they were in the low 700s, every single Victorian can be hopeful and positive that this strategy is working and we will hit our targets."
He said restrictions would be eased sooner than expected if targets were hit sooner.
"If, on the other hand, this thing proves to be more stubborn than we thought it would be, we will factor that in of course," he said.
Mr Andrews said that changes to targets would involve confidence in keeping any new cases contained.
"You might get to the end of a 14 day period, six or eight cases come in," he said.
"If they were predominantly in aged care or a single-family, where we had absolute confidence that we had locked down and it was contained to that family, and the public health team would work through that in a very detailed way, is not just numbers, there is a narrative, stories, the circumstances behind everyone those cases.
"And we would look through that in fine detail and then the public health team will make a judgment."
UPDATED: NSW Health has issued alerts for a Blue Mountains swimming pool, a KFC fast-food restaurant and two bus routes in Sydney's east, as the state recorded six new cases overnight.
Health authorities said a previously reported case attended Katoomba Aquatic Centre on Friday, September 4, from 11.30am to 1.30pm.
Anyone who was at the venue at this time is advised to monitor for symptoms and immediately self-isolate and get tested if symptoms develop, however mild, and remain isolated until a negative result is received.
They have also issued alerts for anyone who went to KFC at 2A Bunting St Emerton on Monday, September 8, between 12pm and 9:30pm and two bus routes that same day:
379 Bronte Beach to Bondi Junction station from 11.08am to 11.24am
316 Avoca Street, Randwick, to Bondi Junction station from 10.44am to 11.05am
*Please note NSW Health has corrected the date mentioned earlier. September 8 is the correct date.
Victorian Premier Daniel Andrews has handed over to Victorian Chief Health Officer Brett Sutton in the Melbourne press conference, who is being questioned about modelling used to determine Melbourne's road map to move out of strict coronavirus restrictions.
This line of questioning from reporters comes after a University of Melbourne professorial fellow in epidemiology, Tony Blakely, reportedly said that benchmarks to move out of restrictions were excessive – particularly the target of fewer than five new cases over two weeks.
Professor Sutton told reporters modelling was from several sources.
"That modelling was really significant and a core input into decision-making for policy decisions, but it was by no means the only one," he said.
"There have been lots of other inputs and, of course, it has been the experience of watching the numbers, both here and in other jurisdictions, to see the kind of levels you need to get to sustain those very low levels of transmission or get to know transmission if you can."
The Premier also weighed in, saying that data trumps modelling "every time".
"I have said many times this week and I will make the point again because I think it is an important one, data trumps modelling every time. Actual numbers," he said.
He said the virus gripping the state was "not an academic exercise" and that common-sense measures to constrict the second wave were need based on data as well as predictions.
"We have put together a road map with a series of safe and steady steps to open and stay open," he said.
"We have at no point said, 'this is set in stone tablets and can never be changed'. In fact we have been at pains to make the point as each day passes, the actual data, not what was presumed but what has actually occurred, gets put into this and the modelling, the process will be rerun to see where we are in real terms, and where we are compared to where we thought we would be,' he said.
"Assumptions are always beaten by the actuals, and that is why this is a constant, iterative development process. It is not set in stone and we have to wait and see exactly how successful are we in all of the targets we have set."
"They are targets but the point that was just made a moment ago, they are targets many people would have thought they were less likely than likely that by the middle of next week, regional Victoria would have such low case numbers they would be able to take not one step but two steps."
NSW recorded six new cases of COVID overnight, five of which were locally acquired.
Four of the new cases are close contacts of previous cases linked to Concord Hospital, and one is a student at the Blue Mountains Grammar School.
"Anyone already identified as a close contact is being informed they must immediately get tested and isolate for 14 days. The school is being cleaned," NSW Health said in a statement.
Another of the new cases is a household contact of a previously reported case linked to the St Paul's Catholic College Greystanes cluster.
One of the cases is a returned overseas traveller in hotel quarantine.