"My thoughts are with John's wife Colleen, his children and grandchildren. I have spoken to Colleen to pass on my condolences and offer a state memorial service."
Mr Fahey played a crucial role in the bidding process for the Sydney 2000 Olympic Games.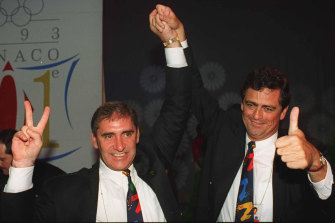 In September 1993, Mr Fahey and the bid's chief executive Rod McGeoch jumped for joy in Monaco as International Olympic Committee president Juan Antonio Samaranch declared "the winner is … Syderney".
"Fantastic, fantastic, fantastic. My heart was in my mouth," Mr Fahey later recalled.
Ms Berejiklian said: "Many of us would remember the celebrations that immediately swept the nation after Sydney was announced as the winner – and the image of Mr Fahey jumping for joy at the news."
Loading
She said Mr Fahey helped deliver major reforms for NSW, both as premier and as a senior member of Nick Greiner's government.
"Under Premier Fahey's leadership, important achievements included the introduction of the disability services act, the NSW senior's card and the first NSW Minister for the Status of Women. As Minister for Industrial Relations, he led a major overhaul of NSW's industrial relations system.
Ms Berejiklian said history would remember Mr Fahey as a brave man for his "quick-thinking and selfless action" in rushing to protect Prince Charles from an attack during an event at Darling Harbour on Australia Day in 1994.
She said Mr Fahey was "raised with strong Catholic values, which remained with him his whole life".
On social media, Ms Berejiklian said Mr Fahey was "a kind, decent person dedicated to his family and fought for equality and opportunity for all".
"He will be missed."
Australian politicians paid tribute to Mr Fahey on Saturday.
Loading
Labor senator and former NSW premier Kristina Kenneally offered her "heartfelt condolences" to Mr Fahey's family and said his was a "life of generous public service".
Former treasurer Joe Hockey said he was honoured to have worked with Mr Fahey and his death "creates a hole in the hearts of our state and our nation".
"He was decent, loyal, honest and patriotic. A man of great faith and a loving family man. He embodied the best of Australia."
Mr Fahey migrated from New Zealand as a child and moved to Sydney's south-west. He was elected as Camden MP in 1984 and became federal Macarthur MP in 1996.
Following his retirement from politics, Mr Fahey became president of the World Anti-Doping Agency and was later appointed as chancellor of the Australian Catholic University.
Get our Morning & Evening Edition newsletters
Megan Gorrey is the Urban Affairs reporter at The Sydney Morning Herald.