The November 3 poll in the United States promises to be an election like no other. To guide readers through it, I'll be sending a weekly Trump Biden 2020 newsletter. A bit about me: I'm Matthew Knott and I'm the United States correspondent for The Age and The Sydney Morning Herald.
I previously worked as a political reporter in the Canberra press gallery before coming to the States to study politics at Columbia University in New York. I'm now based in Washington DC but in the lead-up to election day, I'll be travelling to the battleground states to speak to the voters who will decide this election.
One of the big lessons from Donald Trump's surprise victory in 2016 was that you can't rely on polls and political pundits to understand what's going on in the country. You have to be out on the ground speaking to ordinary people. That's my passion as a journalist, and I'm excited to have the chance to tell the story of this fascinating country at such a unique moment in time: a presidential election colliding with the coronavirus pandemic. In the past couple of weeks, I've been in the crucial state of Wisconsin, where I spoke to African American voters about how they feel towards Democratic nominee Joe Biden and visited the troubled city of Kenosha to explore how residents there were responding to Donald Trump's law-and-order rhetoric. Some I spoke to, including Robert Nelson (below), said destruction in the streets had caused locals who had planned to vote against the President to think again. Polls, however, show support for Biden to better handle the protests than Trump.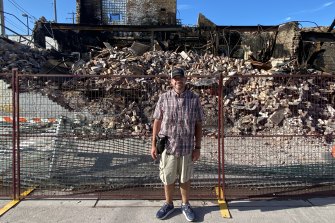 Next up I'm heading to speak to suburban voters in Detroit, Michigan, to see how this crucial demographic is sizing up the contest.
I'll be sending an edition of the newsletter each Thursday gathering together the best news, analysis and features we have published over the past week.
Trump Biden 2020
It will also include a weekly election-focussed episode of our Please Explain podcast where I'll talk to national editor Tory Maguire about the latest news from the US (this week we discussed the revelations from Watergate journalist Bob Woodward's bombshell new book). You'll also find tips on what to expect on the campaign trail and extra insights from my time on the road. It's going to be a wild couple of months in American politics and it would be great to have you along for the ride. If you'd like to receive my newsletter, you can sign up up for The Sydney Morning Herald's newsletter here, The Age's here, Brisbane Times' here and WAtoday's here. — Matthew Knott, US Correspondent