"Our sacred task, our righteous duty and our solemn pledge is to carry forward the noble legacy of the brave souls who gave their lives for us 19 years ago," Trump said.
He also listed some of his own administration's military achievements, telling the families of the victims: "Less than one year ago, American warriors took out the savage killer and leader of ISIS, al-Baghdadi".
"Soon after, our warriors ended the brutal reign of the Iranian butcher, who murdered thousands of American service members. The world's top terrorist, Qassem Soleimani, is dead."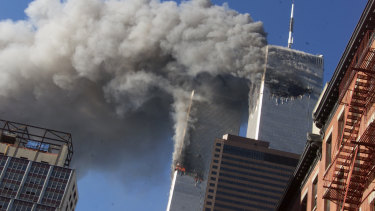 The comments were the only hint of Trump's trademark upmanship, in what was otherwise an nonpartisan speech that paid tribute to the 3000 men and women whose lives were lost in the 2001 attacks on the World Trade Centre, the Pentagon, and Flight 93.
Democratic presidential nominee Joe Biden and his wife Jill flew to Shanksville a few hours after the President to lay a wreath and speak to victims' families, having spent the morning at the annual commemoration at Ground Zero in New York.
In a sign that campaign hostilities had been temporarily suspended, Biden arrived at the event and shared an elbow bump with Vice-President Mike Pence and his wife, Karen. All three were wearing masks in another reminder of the global pandemic that continues to ravage America.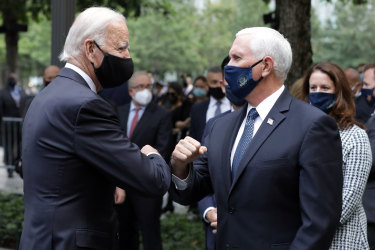 Before heading to Shanksville, Biden also told reporters: "I'm not going to make any news today. I'm not going to talk about anything other than 9/11. We took all our advertising down. It's a solemn day. That's how we're going to keep it, OK? You can determine whether I make news, but I'm not going to be holding any press conferences."
Trump, meanwhile, did make news – in the form of another important breakthrough in the Middle East.
The President announced on Twitter that Bahrain would establish full diplomatic relations with Israel, following in the footsteps of the Israel-UAE deal last month.
Loading
Trump said that under the agreement, Bahrain would fully normalise diplomatic relations with Israel; exchange embassies and ambassadors; begin direct flights between two countries; and allow for initiatives in areas such as health, business, technology and education.
"This is a truly historic day," Trump declared after returning to the White House in the afternoon.
"This is now the second peace agreement that we've announced in the last month, and I am very hopeful that there will be more to follow. I can tell you there is tremendous enthusiasm on behalf of other countries to also join."
Farrah Tomazin is a senior journalist based in the US for the 2020 presidential election.