Moody's Investors Service expects coronavirus to keep Australian supermarkets' comparable-store sales growth elevated over the next six months, though home-improvement and office-supplies sales growth at certain retailers is likely to slow.
In a report released Monday, Moody's says credit metrics for retailers will be broadly stable for 2021 as they continue to benefit from increased time at home due to the coronavirus outbreak.
Combined comparable-store sales growth for supermarkets Woolworths and Coles has averaged 6.7 per cent for the past four quarters, with peak growth in the third quarter of FY20 as consumers stockpiled goods in the first wave of the coronavirus outbreak, followed by increased in-home consumption as time spent working and studying at home increased.
The firm says long-term annualised growth should remain between 2.5 per cent and 3.5 per cent. Inflation remains credit positive.
"While on a quarterly basis either Woolworths or Coles may outperform depending on their respective marketing campaigns during the period, the five-year combined average is 3.2 per cent, and removing the unusually strong performance in 2H20, it is 2.4 per cent," Moody's said.
Meanwhile, home-improvement and office-supplies sales growth at Wesfarmers Limited's Bunnings and Officeworks is likely to slow.
"Extraordinary growth in (the second half of FY20) likely pulled forward sales from fiscal 2021 in some categories and resulted in incremental sales at Officeworks that may otherwise never have occurred, such as home office furniture and electronics," Moody's said.
Moody's said underperformance by discount-department stores may detract from credit quality at the group level of rated retailers.
The discretionary retail environment may also weaken as the government winds down support measures.
"However, consumer price sensitivity amid worsening economic conditions could support discount-store sales," Moody's said.
The latest episode of The Short Squeeze is here!
Join Markets Live editor Alex Druce and IG Markets analyst Kyle Rodda as they discuss last week's US market correction, the effect of continuing lockdown measures in Melbourne, labour force data for August and the looming US Federal Reserve meeting.
You can find past episodes of the weekly podcast, which is produced in conjunction with IG, here. Each episode goes for about 10 minutes and is also available through Spotify and Google Podcasts.
Technology giant Oracle is in the box seat to make a deal with TikTok after Microsoft's offer to buy the viral social media platform's US operations was rejected by its Chinese parent company ByteDance.
ByteDance's rejection of Microsoft leaves Oracle as the sole known remaining bidder for TikTok and The Wall Street Journal reported Oracle is set to be announced as TikTok's "trusted technology partner" in the United States with the deal not likely to be structured as an outright sale.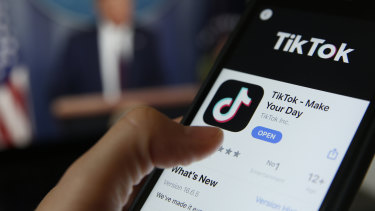 Microsoft was considered the lead contender in the race to buy TikTok after United States President Donald Trump made an executive order banning the social media platform unless it was sold.
Any sale was also likely to involve TikTok's operations in Australia, Canada and New Zealand.
Oracle's founder and chief executive Larry Ellison is a friend of President Trump and the President has said he supported Oracle's bid to buy TikTok.
Shares in Melbourne biotech Starpharma are pushing five-year highs this morning, up 8.7 per cent to $1.73 just after 11.30am AEST.
The company had releasing another update its COVID-19 nasal spray treatment hopeful. The company is hoping its pre-existing dendrimer product SPL7013, which it uses in its antibacterial condom products, will show to be effective against the virus.
On Monday morning it told the market additional studies done by US research firm Scripps Research Institute showed strong results when the product is tested against the virus.
In a lab, the studies showed the product inhibited the virus from infecting host cells, no matter whether the SPL7013 was applied before or after exposure to the virus.
Starpharma says it's possible it could work through regulatory approvals to commercialise the product by the first half of next year.
BHP, Rio Tinto and the big four banks are doing the heavy lifting for the ASX 200 as the index holds onto most of its early lead.
The benchmark index was last 0.4 per cent higher at 5882.6, having edged above 5900 at the open in a 0.7 per cent rise.
The miners are up on higher iron ore prices, with BHP 1.8 per cent ahead at $37.21.
Rio, which has begun the process of searching for a new chief executive, is 3.2 per cent higher at $103.07. Fortescue Metals is 0.7 per cent ahead at $17.45.
For the banks, Westpac and NAB are each up 1.2 per cent while ANZ is 1 per cent higher. Commonwealth Bank has added 0.4 per cent to $66.06.
Macquarie Group is a major weight on the index with a 3.8 per cent dive to $121.22 after issuing a profit warning this morning. The investment bank says earnings for the current could half dive by 35 per cent.
Elsewhere, Biotech CSL is flat at $283.66, while retail and industrial conglomerate Wesfarmers has shed 0.4 per cent.
Woolworths is 0.3 per cent lower, and Goodman Group has dropped 1 per cent. Among the blue-chip gainers is Transurban, up 1.1 per cent, and Telstra, which has added 0.4 per cent.
Five years of aggressive farmland price growth has cooled off and will likely remain subdued for the time being, thanks to the delayed impact of drought, softer grain prices, and a pandemic-induced whack to the confidence of Aussie farmers.
While prices of Australian agricultural land are at record highs, Rabobank's annual price outlook report says the market is entering a new phase, with low – to no – growth in median prices for the next 18 months.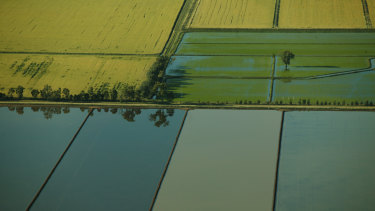 Report author, Rabobank agricultural analyst Wes Lefroy, said already there had been lower agricultural land price growth in 2019 than in the previous two years.
While there will likely still be a number of "marquee" sales in some locations – especially for larger high-rainfall properties – median agricultural property prices in some regions may even see a contraction.
That said, low interest rates, healthy farm balance sheets, and a forecast weakening of the Australian dollar should prevent a major downward correction.
The report says that the major factor weighing down land price growth is the trailing effect of recent years of drought.
"It may seem paradoxical, but a key factor weighing on land price growth is the return to better seasonal conditions and drought recovery that is occurring particularly on the east coast," Mr Lefroy said.
"In drought-affected regions, there has been a shortage of properties on the market with many potential sellers choosing to hold off until conditions improved, and this reduced supply had been supportive of price growth.
"However, as seasonal conditions have improved, we will see an increased stream of lower-quality properties come to the market, with sellers trying to take advantage of the high price environment.
In addition, Mr Lefroy said farmers recovering from drought are likely to shift their focus to consolidation and direct their business investment towards building resilience in their operations rather than looking to expansion.
Outside of drought-affected regions Mr Lefroy said grain prices swollen by the drought have now softened, which will impact farmers' profits, particularly in South and Western Australia.
The ongoing economic crisis triggered by the COVID-19 pandemic was also taking its toll on farmer revenues and confidence.
"The pandemic and related economic crisis are like a large, unpredictable storm that could cause damage. It is possible at some point in the next six months, we will see agricultural commodity prices further exposed to the underlying economic crisis we are currently being shielded from by government stimuli," Mr Lefroy said.
Financier FlexiGroup this morning launched its buy now, pay later offering humm in New Zealand, boasting the service is the first of its kind allowing Kiwis to spend up to $NZ10,000 ($9,180) in one hit.
FlexiGroup, which will rebrand as humm at its AGM later this year, said the larger spending power opened up new segments in New Zealand such as solar, home furnishings, renovations, fertility treatments, and healthcare as opposed to more traditional BNPL-focused retailing.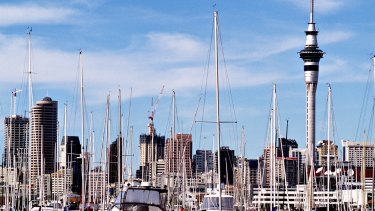 "Our customers told us they love BNPL but were frustrated they couldn't use it for purchases more than $NZ1000, or extend the payment terms. Humm solves that problem," FlexiGroup NZ CEO and deputy group chief executive Chris Lamers said in a release.
Humm launched in Australia last year and competes with the likes of Afterpay and Zip Co.
Shares in the $560 million FlexiGroup rose 1.9 per cent to $1.10 after 40 minutes of trade on the ASX and earlier touched a high of $1.12. It is trading below the capital raising price of $1.14 announced a couple of weeks ago.
Meanwhile, Afterpay continues to slide and is down 2.2 per cent in early trading to $72.26.
New Zealand retailers joining humm's existing roster of 2,400 merchants include VIVO, The Cosmetic Clinic, Insulmax, MyBed, Skin Institute, VetEnt, Dwights Outdoors, The Baby Factory, Beaurepaires and Oakano Furniture.
Humm already services NZ retail brands including Farmers, Pascoes Group, Freedom, JB Hi-Fi, PB Tech as well as fashion, home, health, wellbeing, veterinary and dental providers across the country.
Last month Flexigroup reported a 65 per cent fall in net profit after tax to $21.4 million, due mainly to provisions for bad debts caused by the coronavirus pandemic.
Macquarie Group has told investors the turmoil unleashed by coronavirus will see its earnings for the current half dive by 35 per cent compared to the prior first half year, and cannot provide meaningful guidance for the year due to the pandemic-driven uncertainty.
In an update to investors on Monday morning, Macquarie said that "market conditions are likely to remain challenging, especially given the significant and unprecedented uncertainty caused by the worldwide impact of COVID-19 and the uncertain speed of the global economic recovery."
The investment bank said the extent to which these conditions will adversely impact Macquarie's overall 2021 financial year profitability is uncertain, and it is "currently unable to provide meaningful earnings guidance for FY21."
In February, Macquarie reaffirmed guidance for its full-year profit to be "slightly" lower than last year's record earnings of almost $3 billion, but reported an 8 per cent slide in profit for the 2020 financial year to $2.7 billion in May and flagged an uncertain outlook.
Shares are down 4.5 per cent to a two-month low of $120.20 in early trade.
Courtesy of Bloomberg:
Evolution Mining raised to Outperform at Credit Suisse; price target $6.55
Galaxy Resources Cut to Underweight at JPMorgan
Newcrest Raised to Outperform at Credit Suisse; price target $37.70
Perseus Raised to Outperform at Credit Suisse; price target $1.60
Regis Resources Raised to Outperform at Credit Suisse
Victoria's Premier Dan Andrews and Jobs Minister Martin Pakula are holding a press conference at 11am today. You can follow it live on The Age's Coronavirus live blog.
Meanwhile, Chief Health Officer Brett Sutton said that figure meant the 14-day average for daily new cases, a key measure for the lifting of the stage four lockdown, now sat at 56.9, reports Ashleigh McMillan.
Professor Sutton said he was confident that the 14-day average would be within the band of 30 to 50 new cases by September 28, to meet the threshold for the second step of easing restrictions under the government's road map.
That step will allow public gatherings to be increased to five people from a maximum of two households and the return to schools for prep to grade 2, VCE/VCAL and specialist schools in term four.