The protest comes hours after a Melbourne woman filmed police pulling her from a car, sparking a fresh social media storm about the enforcement of coronavirus restrictions.
The protest is the second for the weekend. Rallies fizzled out on Saturday amid confusion over locations, gloomy weather and an immense police presence.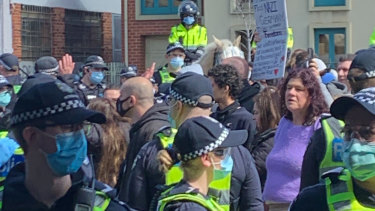 In the lead up to the proest people arriving at Queen Victoria Market, including shoppers, were being stopped and asked for permitted worker permits.
Police, including plain clothes officers, highway patrol and riot police began arriving at Queen Victoria Market about 10am. At 10.50am, a man was arrested as carloads of extra police and officers on horseback arrived.
One man wearing a red and black bandanna yelled at police he felt unsafe, before launching into a tirade about his views.
"Dude I'm scared. I don't even know how I'm going to pay this fine," he yelled. "Heartless soulless people. We've all lost faith."
The man walked away from the market with an on-the-spot fine. Others sucked on lollipops while police questioned them on why they weren't wearing masks.
More than half a dozen protestors have been arrested and taken away for questioning less than an hour into their planned protest.
Social media posts listed the protest's organiser as Arkwell Tripelligo, the online alias for Tony Pecora, who was arrested and bailed this week after he was charged with inciting protest activity.
A court on Friday heard the 43-year-old believed coronavirus is a "genetically engineered virus created by world banks to kill off weaker humans".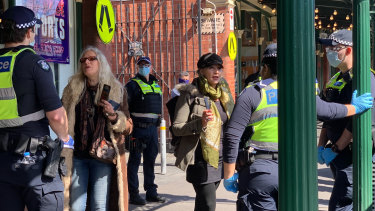 The court heard police first arrested Mr Pecora for alleged breaches of the Chief Health Officer's directions during a protest at the Shrine of Remembrance on August 22.
The protest follows a social media post on Saturday night, in which Natalie Bonett claims she was stopped by police at the vehicle checkpoint at Wallan north of Melbourne.
In video posted online which has been shared by thousands of people, an officer asks the woman, "are you going to state your name and address to me?".
He then asked Ms Bonett to step out of the car.
After she refuses to leave the car, the officer calls to others and Ms Bonett complains that she is being questioned about having a phone charger that are sold "everywhere".
The police officer replies: "That's not the problem any more, the problem is you are not stating your name for me, could you get out of the car please."
She again refuses saying she "doesn't feel safe" because the police officer is armed.
The police officer then said: "You are safe don't worry about that" before opening the car door, unbuckles Ms Bonett's seat belt and drags her out of the car.
A man in the car can be heard yelling, "she's got anxiety, relax, she's sick!" as Ms Bonett screams.
On social media, the woman claimed four officers later "had their knees in my back and (she) couldn't breathe" as she was handcuffed.
"I am shaking and my blood is boiling," she posted on Facebook.
Another video posted online, but subsequently deleted showed Ms Bonett sitting on the ground handcuffed.
A Victoria Police spokeswoman said officers spoke to Ms Bonett about her mobile phone "obstructing her view due to its position on the windscreen", explaining that this was against the law.
After the woman did not remove the phone from her windscreen, she also refused to provide her name or her driver's licence according to the police.
"The woman was warned that if she did not provide her details, she would be arrested. She still refused and was asked by police to get out of her car," the spokeswoman said.
"When she refused this request, she was taken from the car by officers and taken into custody."
The 29-year-old Wallan woman was released by police after her arrest, and is expected to be charged with driving with obscured vision, fail to produce licence, fail to state her name and address, resist arrest, assault police and offensive language.
"Victoria Police reminds all drivers that the Road Safety Act requires that they must state their name and address and produce their driver's licence when requested to do so by a police officer," the statement said.
Ashleigh McMillan is a breaking news reporter at The Age. Got a story? Email me at a.mcmillan@theage.com.au
Simone is a crime reporter for The Age. Most recently she covered breaking news for The Age, and before that for The Australian in Melbourne.
Erin covers crime for The Age. Most recently she was a police reporter at the Geelong Advertiser.