Bystander footage captured from a nearby car shows six officers surrounding a man who is face down on the ground.
When the man attempts to get up off the ground a male officer appears to stomp the back of the man's head into the ground. All six officers then pin the man down while he is arrested.
"The arrest has been referred to Professional Standards Command for oversight," the spokeswoman said.
It is one of two confronting non-protest-related videos involving Victoria Police to emerge over the weekend, after 29-year-old Natalie Bonett was dragged from her car and arrested at a vehicle checkpoint in Wallan on Saturday.
In the video of her arrest, which has been shared by thousands of people online, an officer asks the woman: "Are you going to state your name and address to me?"
He then asks Ms Bonett to step out of the car. After she refuses to leave the car, the officer calls to others and Ms Bonett complains that she is being questioned about having a phone charger that is sold "everywhere".
The police officer replies: "That's not the problem any more, the problem is you are not stating your name for me, could you get out of the car please?"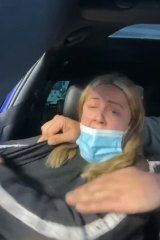 She again refuses, saying she "doesn't feel safe" because the police officer is armed.
The police officer then says: "You are safe, don't worry about that," before opening the car door, unbuckling Ms Bonett's seat belt and dragging her out of the car.
A man in the car can be heard yelling: "She's got anxiety, relax, she's sick!" as Ms Bonett screams.
On social media, the woman claimed four officers later "had their knees in my back and [I] couldn't breathe," as she was handcuffed.
"I am shaking and my blood is boiling," she posted on Facebook.
Another video posted online, but subsequently deleted, showed Ms Bonett sitting on the ground handcuffed.
A Victoria Police spokeswoman said officers spoke to Ms Bonett about her mobile phone "obstructing her view due to its position on the windscreen", explaining that this was against the law.
After she did not remove the phone from her windscreen, she also refused to provide her name or her driver's licence, according to police.
"The woman was warned that if she did not provide her details, she would be arrested. She still refused and was asked by police to get out of her car," the spokeswoman said. "When she refused this request, she was taken from the car by officers and taken into custody."
Loading
Ms Bonnett was released by police after her arrest and police said she was expected to be charged with driving with obscured vision, failing to produce a licence, failing to state her name and address, resisting arrest, assaulting police and offensive language.
Premier Daniel Andrews said the woman had multiple opportunities to produce her licence, citing his own experience at a road block.
"If I had been asked for identification or permit or anything like that, I would have co operated and then there's no need for anybody to be dragged from a vehicle," he said.
Mr Andrews would not comment on the arrest of the man in Epping.
Jeremy King, principal lawyer in Robinson Gill's police misconduct team said the Epping arrest was "wildly disproportionate", and that his team had seen "consistent reports" of disproportionate responses from police during the pandemic, some of which would likely turn into civil court proceedings.
He told radio station 3AW's morning program that the hundreds of police officers seen at recent anti-lockdown protests over the past two weekends in Melbourne was "heavy-handed, it's over the top and really it makes us look like a police state which is something I don't think anyone in Victoria wants to be."
"We should be trying to take, where possible, a harm minimisation approach," he said.
"At the end of the day you've got unarmed protesters, some of whom are doing silly things like throwing fruit. Don't get me wrong, but in response to that you've got heavily armed mounted police on horses charging back at them."
Rachael Dexter is a breaking news reporter at The Age.
Ashleigh McMillan is a breaking news reporter at The Age. Got a story? Email me at a.mcmillan@theage.com.au