Across town, Watsonia North Primary School is doing a combination of live lessons and pre-recorded ones for this second "complex and challenging" stage of remote learning.
"There is definitely not a case of one size fits all and we have needed to take into account and give due consideration to the age of the children and individual capabilities," said principal Tina King.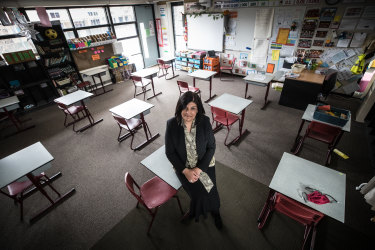 Schools can choose how they deliver remote learning for preps through to year 10, although they must cover literacy, numeracy, PE and additional curriculum areas.
The stakes are high. Victorian students in grade 3 to year 10 will have missed up to 17 weeks of face-to-face classes by the end of term three, making them among the most affected by COVID-19 schools closures, an OECD report released last week found.
While there's been little time for substantial research on remote learning during COVID-19, Grattan Institute school education fellow Julie Sonnemann said the most rigorous had found there was "little difference in whether teaching is real time or pre-recorded − and that what matters more is the actual teaching approach used."
The review, by the Education Endowment Fund in the UK, found that teaching quality was more important than how lessons were delivered.
"Pupils can learn through remote teaching," it said.
"Ensuring the elements of effective teaching are present − for example, clear explanations, scaffolding and feedback − is more important than how or when they are provided.
"There was no clear difference between teaching in real time ("synchronous teaching") and alternatives ("asynchronous teaching").
"For example, teachers might explain a new idea live or in a pre-recorded video. But what matters most is whether the explanation builds clearly on pupils' prior learning or how pupils' understanding is subsequently assessed."
Loading
Education consultant Peter Adams said in addition to a good dose of online instruction, teachers needed to ensure students were supported by explanatory emails, frequent one-on-one discussions that are focused on both learning and wellbeing, and ensuring students can ask questions.
"It is important to have a balanced and varied structure to the day involving online remote learning, a mix of synchronous and asynchronous time, and a balance between digital and non-digital learning activities," he said.
"The digital week needs a good solid dose of personalised time where students understand everyone is struggling in the new not-for-normal, and it's OK to make mistakes and sometimes to struggle with tasks delivered online."
Madeleine Heffernan edits The Age's Monday education page