Earlier this year he spearheaded a campaign to have the wheelchair events reinstated after US Open organisers omitted them, alongside the junior draws, qualifiers and mixed doubles, when plans for the coronavirus-affected tournament were first unveiled in June.
After 10 days of objections, the wheelchair tournaments were back on — at full strength.
Lapthorne, the 2019 quad singles champion, said that "to be told you wouldn't be coming back to defend the title, that was a tough pill to swallow."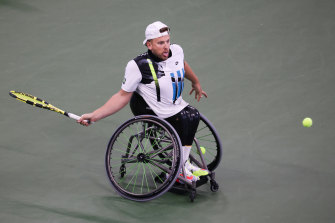 Alcott, runner-up to Lapthorne last year, at the time described the omission of wheelchair players as "disgusting discrimination."
Wagner, the most prominent American wheelchair player, praised the US Open for how it had treated the wheelchair athletes as a full part of the show in on-court productions. But he said the scheduling could still have been changed to prevent the wheelchair tournament from being so heavily overshadowed by the other competitions.
Loading
"Sometimes in wheelchair tennis, we don't get quite the spectators that the able-bodieds get, right?" Wagner said. "So here we are playing the doubles final at the same time [Victoria] Azarenka and [Naomi] Osaka are playing. If that had happened, and this place was packed with fans, Louis Armstrong would have been about as dead as it was" already because of the virus, he said.
Alcott found parity in proximity: The suite he was given inside Arthur Ashe Stadium was right next to that of one of the tournament's biggest stars.
"I'm next to Osaka, and I really appreciate that," Alcott said. "They're treating us as equals. To the whole team, I appreciate them changing their mind."