Just a little note on our stats. We have just reduced the national death toll by one, after a Victorian death was removed from the state's death toll due to duplication.
That means the national death toll is now at 816, of which 729 have occurred in Victoria.
Israel's cabinet has voted to impose a second nationwide lockdown starting on Friday to try to tamp down a raging coronavirus outbreak, brushing aside appeals from a business world warning of economic strangulation and the powerful ultra-Orthodox Jewish community.
Ministers voted on Sunday, local time, to strictly limit movement, gatherings and economic activity for at least three weeks coinciding with a major Jewish holiday season, AP reports.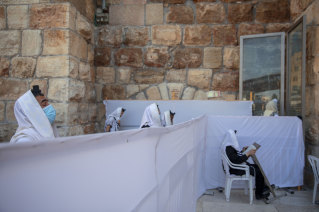 Health experts "raised a red flag", said Prime Minister Benjamin Netanyahu, whose emergency coalition government was formed in May expressly to tackle the health emergency. "Senior Health Ministry officials warned us that the morbidity situation requires immediate steps."
During the lockdown, Israelis will have to stay within 500 metres of their houses, but can travel to workplaces that will be allowed to operate on a limited basis.
The NBL has delayed its season until 2021, with tip-off now expected in mid-January after it was previously delayed by two months to December.
NBL owner Larry Kestelman said the decision was based on the desire to play as many games as possible in front of fans as teams draw much of their income from home games.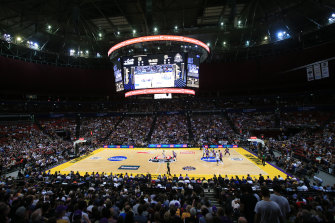 But the league is also in talks with multiple states about playing part of its season in a hub should crowds still be restricted or banned in various states due to the COVID-19 pandemic.
There is also hope access to New Zealand may improve in the new year. Under present regulations the New Zealand Breakers would likely have to relocate to Australia due to quarantine requirements for both nations.
Victoria's second wave added difficulty to the NBL's planning as two of its nine teams are based in Melbourne.
Victorian Premier Daniel Andrews says a woman who was hauled from her car by a police officer at a check point over the weekend had multiple opportunities to produce her licence.
Natalie Bonett, 29, was dragged from her car and arrested at a vehicle checkpoint in Wallan on Saturday and filmed the incident.
Mr Andrews cited his own experience being stopped at a road block.
"If I had been asked to identification or permit or anything like that I would have co operated and then there's no need for anybody to be dragged from a vehicle," he said.
Mr Andrews would not comment on another incident that happened in Epping on Sunday in which a man allegedly had his head kicked by an officer.
Those who live in metropolitan Melbourne will be able to travel to regional areas to prepare their properties ahead of the bushfire season, Victorian Premier Andrews has announced, but it won't be until restrictions ease further.
"It'll be closely aligned to what we normally do for fire action week [in October] … and we'll try and keep that as close to the normal timing as possible," he said.
The Premier said the Bureau of Meteorology had forecast big spring rainfalls between now and then, so allowing people to travel for property maintenance was not yet useful.
"Going and doing a heap of mowing now only to then have very significant rain events might not necessarily be the best thing to do. You'd have to go back and do it all again."
Victorian Premier Daniel Andrews has given his clearest hint yet that regional Victoria is likely to ease by two steps on Wednesday on the back of dwindling cases.
"We will be here tomorrow and hopefully there will be no mystery cases in the data I report tomorrow and hopefully we can have more to say," he said.
Mr Andrews said the easing would likely be at short notice.
"No doubt, there will be criticism that we haven't been given any notice but this is nature of these things," he said.
"Because you have to hit the target before you can make the decision, there won't be a lot of notice. That is preferable in making people wait for another week or so. Hopefully we can have very good news for regional Victoria tomorrow."
Victorian Chief Health Officer Brett Sutton has said the Casey local government area, which includes places like Hallam and Narre Warren and has a large multicultural community, is dealing with community transmission linked to high-risk workplaces.
"We haven't linked all of the households definitively. They might be linked by a workplace that hasn't been identified. They might be linked by going to a single setting that hasn't been identified," he said.
"This is linked to the high risk workplaces in lots of ways. It is a community that are a priority for engagement, a priority for testing for us. They do the right thing but they have some vulnerabilities, in terms of where they are needing to work and how they are needing to work."
Professor Sutton said he had made a personal offer to speak to residents in that area himself.
"I have made an offer to personally speak to that community. Having been to Afghanistan a couple of times over the years, I want to be able to reflect on my cultural experiences and the fact I know that there are universal motivations that every family has to do the right thing to protect their own families and the wider community," he said.
"That is absolutely the case here and I know they're motivated to get on top of this as much as anyone."
Victoria Police has issued more than half a million dollars' worth of fines in the past day to individuals breaching coronavirus restrictions.
A total of 346 fines were issued by police in the past 24 hours. More than half of these (176) were handed out at an anti-lockdown protest at the Queen Victoria Market on Sunday.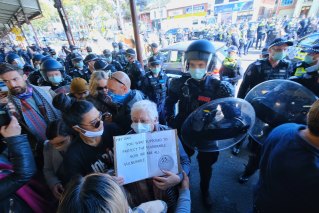 Of the other fines issued, 25 were given to those who failed to wear a face covering when leaving home, 23 were at vehicle checkpoints and 46 were for curfew breaches.
Two men travelling outside their 5km radius to buy burgers from a shopping centre were among those fined.
It comes as police launched a state-wide operation aimed at targeting crimes which increase when coronavirus restrictions are lifted or reduced.
Police say they have been able to identify patterns of criminal offending during the pandemic and will in coming weeks target offences like opportunistic street and armed robberies, aggravated burglaries, car jackings and assaults as part "Operation United".
"Over the past few months, police have seen patterns emerge in criminal behaviour which show increases in a number of specific offences when restrictions are lifted or reduced," police said in a statement.
"This is predominantly offences that are linked to more people being out and about in the community and able to move freely across suburbs."
They said that many of these crimes are linked to "street gangs" and organised criminal groups. Gang crime squad detectives will work with regional investigators to "proactively target known offenders and other persons of interest", they said.
The operation will start today in the Melton and Brimbank areas and will be rolled across the state in coming weeks.
Melbourne's 14-day rolling average, the key number that will allow the easing of restrictions, should drop below 50 by the end of this week, the Chief Health Officer has said.
"It will drop below 50 by the end of the week, I am sure," said Professor Brett Sutton.
He has promised the figure will be tweeted out each morning by the DHHS from here on.
Under the state's government roadmap, the Melbourne region will be able to move to its next step of reopening on September 28 if the 14-day average for new cases is between 30 and 50.
Victoria's Chief Health Officer, Brett Sutton, says people who live in Hallam and Narre Warren in Melbourne's south-east should be coming forward for testing today, after nine of today's 35 cases were from the area.
"Get out there and get tested if you have symptoms," Professor Sutton said.
The CHO flagged concerns about low testing numbers over the past 24 hours again, with only 8937 tests processed over the past day.
"Today is not a day that is ideally meeting the testing numbers in terms of the 24 hour period reported beforehand."
Previously Professor Sutton said his preferred daily testing figure was 20,000 and above.
He said the government was now more focused on "hot spot" area testing than hitting a certain number of tests per day.
"We want the testing to reflect those hot spot areas, in particular. [But] it is absolutely the case that all those post codes, LGAs with zero cases and maybe zero cases for weeks and weeks need to have a baseline level of testing that should be maintained."