Restrictions in homes and public areas will also remain.
The earliest day restrictions could be eased would be September 27, if new cases were confined to quarantine.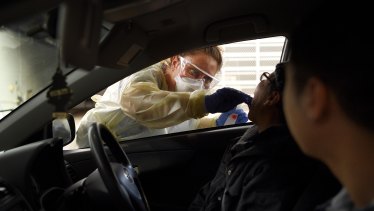 Dr Young will wait until there have been zero days of community transmission in NSW and Victoria before she recommends relaxing border restrictions.
Of the 41 cases recorded in Victoria on Sunday, 21 were linked to outbreaks, while 20 were under investigation. NSW detected one new case of community transmission on Sunday.
Meanwhile Dr Young issued a plea for Ipswich residents, particularly in the suburbs of Goodna, Redbank and Redbank Plains, to be tested if sick.
"There are still some chains of transmission that we need to cap off," Dr Young said.
"We are looking at putting additional clinics in place, but at the moment there are several clinics that people can attend.
"If you have gone to work and you become unwell at work, or you are concerned, then just go to the nearest clinic and get yourself tested.
"We want to find the first case in a cluster, not the 40th case. Because at that stage it is really, really hard to get on top of it."