Loading
However, as the Herald reported on Monday, Mr Barilaro was offered a range of concessions by Planning Minister Rob Stokes in late August. The Nationals leader failed to respond, going public with his objections instead.
Mr Franklin had the opportunity to issue a dissenting view on the inquiry's results, including its conclusion that the marsupial was on track for extinction in the wild in NSW before 2050.
"The National Party's member on the inquiry had the opportunity to vote against a recommendation to strengthen the ability of consent authorities to protect koala habitat via the SEPP, but didn't," Greens MP Cate Faehrmann, the inquiry's chairwoman, said.
"In fact, the vast majority of the findings and recommendations in the report were supported by all members, including the Liberal and National parties," she said.
Mr Franklin said the inquiry considered a range of issues including the SEPP's overarching framework and guideline timetable.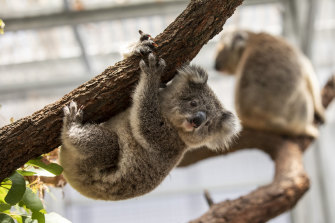 "I share the concerns of the National Party, particularly in relation to the implementation or rollout of the SEPP – especially around the mapping," he said.
"I look forward to them being resolved to protect both koalas and the rights of land holders."
A spokesman for Mr Barilaro said issues regarding the new koala SEPP "will be dealt with through the executive of government, not an upper house inquiry".
Loading
Ms Berejiklian has said MPs of the junior Coalition partner will have the opportunity to raise koala planning policy issues when cabinet next meets on October 6.
Ms Faehrmann said that, after last season's massive bushfires in the state, "it was plain for all of us to see that the most serious threat facing koalas was the loss and fragmentation of their habitat".
"The koala SEPP is an important tool in the government's tool belt to help stem this loss, but it's also not fail-safe, with koala habitat still being able to be cleared and offset," she said.
Planning Minister Rob Stokes said the government was "aware of the recommendations from the report of the Legislative Council Inquiry into Koala Populations and Habitat in NSW".
"These recommendations have been considered in finalising the koala SEPP and the guidelines," he said.
Peter Hannam writes on environment issues for The Sydney Morning Herald and The Age.
Most Viewed in Environment
Loading