Emergency services were called to O'Callaghan Park in Zillmere about 5.30pm on Sunday after reports of a fight between two large groups of people.
Superintendent Fleming said the victims were found around a baseball field at the park.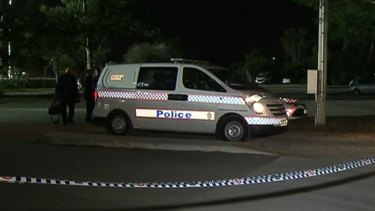 One man died at the scene of stab wounds. Nine other patients taken to various Brisbane hospitals – three with critical injuries, two seriously injured and four with minor injuries.
Superintendent Fleming said Sunday's incident was a "horrific and unacceptable attack".
"The offenders appear to be people of African heritage and the victims appear to be of African heritage … most of the people involved in this are not co-operating with us," he said.
"It appears the victims were targeted and set upon by the attackers.
Loading
"Those who are involved in this appear to be outliers of the African community and are not supported by the broader African community.
"I do hold concerns that the attack yesterday was retribution for an assault on September 8 in Redbank [last Tuesday] … involving African people inflicting significant injuries on an African man.
"It causes me concern that there is a risk of retribution."
Police do not believe the Zillmere attack was between two gangs but that one group of friends who regularly gathered in the park were ambushed by another group.
Superintendent Fleming said the events at the RBWH involved family and friends of the victims and some were "animated and aggressive" and "it took some effort to keep the peace".
"I think we've got an uphill battle here …. [but] going off is not going to solve the problem and retribution is not going to solve the problem," Superintendent Fleming said.
Detective Superintendent Tony Fleming said extra police officers had been posted at the hospitals, following further violence involving their families.
"We have a large number of police present at a number of hospitals now," he said.
"None of that behaviour is helpful to those who have been injured and nor to others who are using the hospital. I am concerned that this behaviour may escalate."
A pre-arranged meeting in Ipswich would take place on Monday between police and the local community, regarding the response to the September 8 assault.
Toby Crockford is a breaking news reporter at the Brisbane Times