"There are guns drawn and they are yelling at him to put the knife down but he doesn't seem interested in that."
She said the man was "just wandering" around holding the knife by his side while police were surrounding him with their guns, Tasers and pepper spray drawn.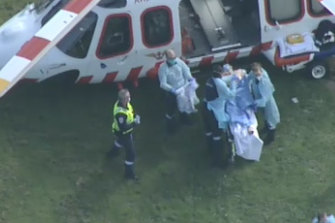 A few minutes later, the woman said the man was crossing the road to a park, before he crossed back over to the car park.
"Oh my god, here come more police … He is moving back to the car park again. And we now have two more police vehicles."
Several shots were then heard live on air.
"Oh shit, they are shooting. They have just shot … I can't see if they have shot him but there have just been three or four rounds expelled."
The woman said police tape was being set up and paramedics were moving towards the area where the shots were fired.
"It looks like it's taken him down, because they aren't rushing at all in any direction. They are just securing the scene now."
Police said they were called to reports of a man armed with an edged weapon on Hutchinson Street in Lilydale about 8.30am.
"Officers attempted to speak with the man who refused to drop his weapon. An officer discharged their firearm, shooting the man about 9.10am," said a spokeswoman.
"He is currently being treated for life threatening injuries."
Detectives from the armed crime squad will investigate the incident which will be overseen by Professional Standards Command, which the spokeswoman said was standard protocol when a police firearm is discharged.
An Ambulance Victoria spokesman said the man was believed to be in a serious condition and was being treated for upper body injuries.
The injured man has been taken to hospital via air ambulance.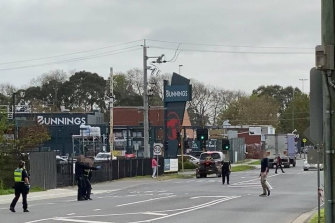 Glen Monteith had just dropped his son at childcare and had gone to the marketplace to get something for breakfast when he saw police surrounding the man, who appeared to be in his mid-30s, holding a knife about 15 centimetres long.
"There was a man sort of walking back and forth in sort of a 10-metre area with a knife just sort of talking to himself, ranting and raving a bit.
"Police were surrounding him and he then, after about five minutes of doing that, he started to walk towards the police, towards the petrol station and police were following him."
Mr Monteith said that one of the officers who seemed to be the most senior of the group was shouting at the man to put the knife down.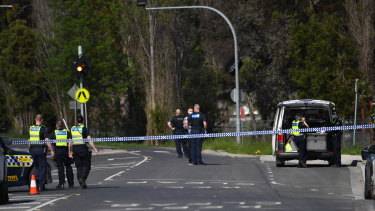 "He stopped for a second and looked around, he looked like he didn't know where he was … he took a few steps and started to speed up and the senior policeman fired first and two other [officers] shot as well. I heard three shots," he said.
Mr Monteith said the armed man dropped to the ground and police ran to get paramedics, who stripped off his shirt and began treating him.
Loading
"From my perspective the police did a fantastic job, they gave him every opportunity to put the knife down, they tried to talk him down for 10 to 15 mintues.
"Afterwards I was quite rattled, it's pretty shocking to see something like that so close to home. It's pretty confronting."
Mobile phone footage taken by a witness and obtained by The Age shows about five police circling the man outside the Lilydale Medical Clinic while he holds a large knife in his right hand.
The man, wearing sunglasses and a black top, appears calm and is standing still as one officer, with his firearm raised, slowly approaches.
As the armed man begins to walk away, a female officer with what appears to be a Taser also slowly approaches.
Seconds later she can be heard saying "stay where you are" as the man paces back and forth between the chemist and neighbouring medial clinic.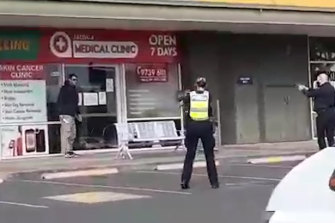 As other police begin to arrive they attempt to negotiate with the man for a lengthy amount of time. Minutes later he was shot.
Dozens of police including officers from professional standards and detectives remain on the scene, with the nearby car park and petrol station closed to the public.
On the footpath, behind police tape, lies a green jacket, cigarette, mask and mobile phone charging pack believed to belong to the man.
Anyone who witnessed the incident or with dash cam footage is urged to contact Crime Stoppers on 1800 333 000 or submit a confidential report online at www.crimestoppervic.com.au.
Get our Morning & Evening Edition newsletters
The most important news, analysis and insights delivered to your inbox at the start and end of each day. Sign up here.
Simone is a crime reporter for The Age. Most recently she covered breaking news for The Age, and before that for The Australian in Melbourne.
Erin covers crime for The Age. Most recently she was a police reporter at the Geelong Advertiser.