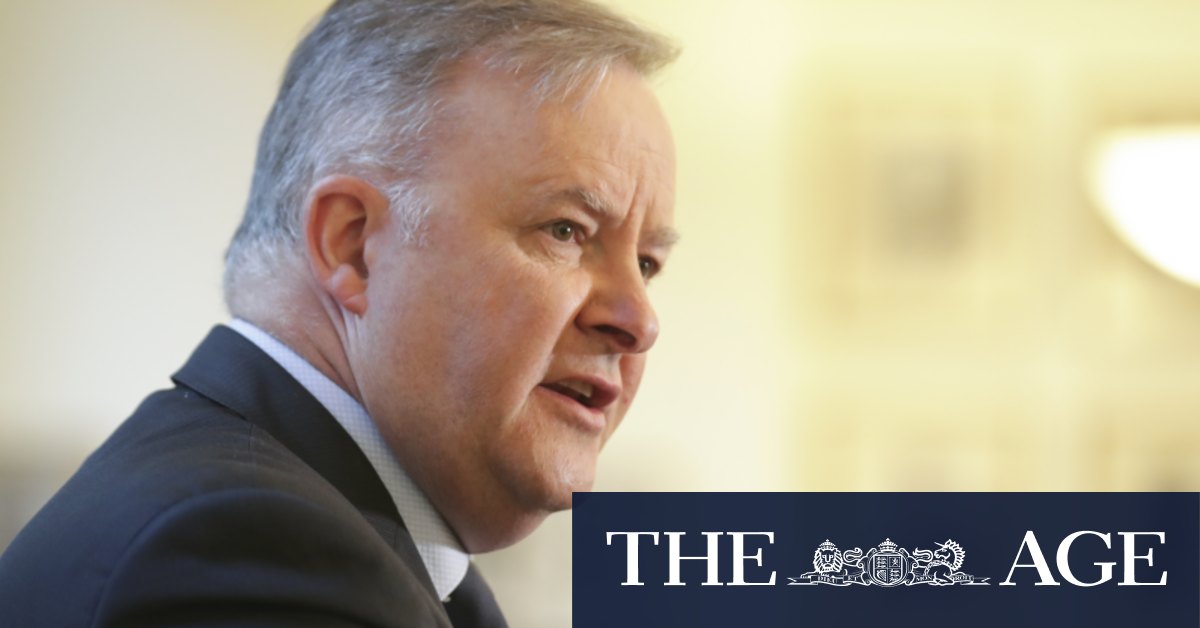 He will also push the government to improve labour market programs to support vulnerable job seekers.
"The government's own estimation is that 400,000 Australians will between now and Christmas be out of a job and they have no jobs plan," Mr Albanese told The Age and The Sydney Morning Herald.
"In Victoria, (Premier) Daniel Andrews has announced a $3 billion plan to support business and the Commonwealth should be providing support rather than just criticism.
Labor's eight-point plan
Reverse cuts to JobKeeper and JobSeeker and expand JobKeeper to include casual workers
Support small business through improving cash flow
Invest in aged care and the care economy workforce, including child care and disability care
Provide temporary financial support for community groups and charities providing essential services to vulnerable communities
Improve labour market programs to support vulnerable job seekers
Encourage local governments to bring forward plans for local infrastructure
Improve compliance with the code of conduct for commercial tenancies 
Reverse decision to "freeze" the pension
He said charities, such as St Vincent de Paul and the Salvation Army, and community groups were under enormous pressure delivering food parcels and were "keeping people going".
Mr Albanese also called for local government's priority infrastructure projects to be funded "immediately", which would act as an economic multiplier through communities because of local procurement practices.
"What we need is job creation now," he said.
"The government has a test upon it in the lead-up to the budget to outline an immediate plan for job creation such as investment in social housing, be that new social housing or refurbishment and renovation of social housing. If not, what they are consigning us to is a very long-term and deep recession."
Mr Albanese said the federal government should also ensure pensioner payments are increased next quarter, something Mr Morrison and Treasurer Josh Frydenberg have committed to review after the indexed payment didn't rise when inflation went backwards.
His new plan comes as his party's preliminary platform was leaked to various media outlets, revealing the ALP's new economic philosophy as Australia faces one of its toughest economic challenges in a century.
Loading
The platform acknowledges COVID-19 has exacerbated many of the economic problems Australia faced before the pandemic and has created new ones, and promises "strong economic management".
"The drift towards economic populism seen elsewhere in the world is rejected outright," it reads.
"Fiscal policy must match the economic circumstances that we face. Those circumstances include a weak economy with high unemployment, high underemployment, and high debt, which have all been exacerbated by COVID-19.
It commits a future Labor government to "a balanced budget on average over the economic cycle" and a "responsible approach that supports growth, jobs and invests in future prosperity while strengthening public finances".
Loading
It also hints at dropping its previous high-taxing platform, committing to a progressive and sustainable tax system that "provides incentives for all Australians to work and undertake productive enterprise".
Prime Minister Scott Morrison said on Tuesday that "whacking people's taxes up and hoping for the best" was not a plan but "a gouge".
"Our plan is to grow the economy, again. So we can meet all of those challenges into the future. It's that economy employing people, people being in work that pays for that because the end result is investment, it's jobs, it's exports," the Prime Minister said.
Rob Harris is the National Affairs Editor for The Sydney Morning Herald and The Age, based at Parliament House in Canberra