NSW Police have charged a man who allegedly spat at officers and fined a woman in separate breaches of coronavirus laws on Monday.
About 11.30am on Monday, the 36-year-old man allegedly swore and spat at the officers. He was arrested and charged with several charges, including not complying with a noticed direction, using offensive language near a public place or school and assaulting a police officer without actual bodily harm.
The man has been refused bail and will appear at Bankstown Local Court tomorrow.
In a separate incident, a 40-year-old Wodonga woman was issued a $1000 fine after she allegedly breached conditions of her border zone resident permit by travelling to a hotel and playing poker machines about 11.45am on Monday.
The Federal Government were making decisions that placed pressure on the states in their response to COVID-19, Victorian Emergency Management Commissioner Andrew Crisp has told an inquiry.
Mr Crisp, appearing before the inquiry into the Victorian hotel quarantine program, said there was a need for national coordination in responding to the pandemic.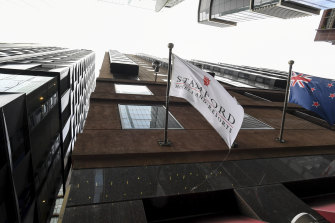 Decisions made at a national level that impacted on the states was reasonable, Mr Crisp said, but it created pressure.
"It did create some pressure on some of the operational activities within the state," he said, with the hotel quarantine program as an example.
"It had to be established basically in 36 hours."
Mr Crisp said he wasn't suggesting "for one minute" a quarantine program wasn't the right thing to do for the country at that point in time.
The decision to detain international arrivals in quarantine occurred in a national cabinet meeting on March 27, two days before the program began in Victoria.
Victorian Health Minister Jenny Mikakos told Parliament that she has provided a statement to the state's hotel quarantine inquiry, but has not been asked to appear and give evidence yet.
With Premier Daniel Andrews to take the stand next Wednesday, opposition health spokeswoman Georgie Crozier asked Ms Mikakos when she will give evidence.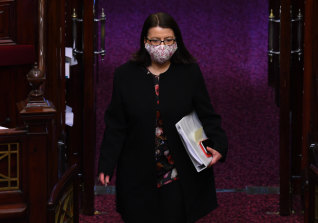 "I have been asked to provide a statement to the inquiry, and I may be asked to appear," the Health Minister responded.
"I haven't received a notice to attend at this point, but if I'm asked to attend I'll be very happy to assist the board of inquiry."
Earlier today, we heard in a recording played to the hotel quarantine inquiry that Emergency Management Commissioner Andrew Crisp told fellow organisers of the hotels program that he wanted to be "very clear" that Ms Mikakos' Health Department would be in charge.
Ms Crozier repeatedly pressed Ms Mikakos on whether she would accept responsibility for failures in the quarantine hotels in light of that revelation.
Ms Mikakos said she accepted responsibility for her department but reiterated that it was a "multi-agency response" with "shared responsibility".
"I have always made it clear that I accept responsibility for my department," said Ms Mikakos to heckling from the opposition.
The Health Minister said she had not seen Commissioner Crisp's evidence this morning, after she attended the daily press conference at 10.45am.
"Obviously I'm in Parliament and not observing all of the inquiry hearings and I make the point that I have been focused on the pandemic response and continue to be focused on the pandemic response, and not making it my practice to be following the hearing because there is a lot to do," Ms Mikakos told Parliament.
The opposition kicked off today's sitting of Parliament by announcing it will target Premier Daniel Andrews' night-time curfew and push for a royal commission into the handling of the coronavirus pandemic.
Despite a scare on Sunday after a security guard who worked at Parliament House tested positive to COVID-19, it was last night declared safe for upper house MPs who are in a socially-distanced sitting today.
NSW's daily testing figures have dropped to their lowest levels this month, with fewer than 9000 recorded in the latest 24-hour reporting period.
We were wondering: if you live in NSW and haven't been tested for coronavirus recently, why not? Have you not have symptoms, or have other factors been at play? Let us know.
If you want to speak to a reporter about something stopping you from visiting a testing clinic, please contact Rachel Clun on rachel.clun@smh.com.au.
Emergency Management Commissioner Andrew Crisp decided Defence force personnel weren't needed in Victoria's quarantine hotels.
Recordings of the first major meeting on March 27, two days before the program began in Victoria, have been played to the state inquiry this afternoon. Mr Crisp told the meeting: "I suggest, at this stage, we can manage this" and "At this stage, we don't see a need for boots on the ground, so to speak."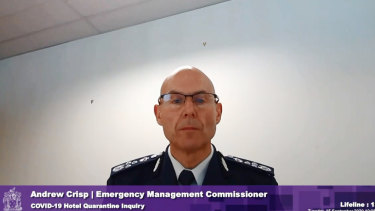 He reiterated the decision in another meeting soon after, following reports in the media that Defence were on the ground and patrolling quarantine hotels in NSW.
"Based on the planning we had done on each of those phases … we didn't see a need at the time," Mr Crisp told the inquiry.
The Australian Defence Force were involved in the planning and logistics of the Victorian program, but were not in the hotels. However, Commissioner Crisp requested 850 Defence personnel to replace private security in Victoria's hotel quarantine program in June.
Yet he rescinded the request, which had been prompted by the Department of Health and Human Services, after the Department of Justice and Community Safety took over the problematic program and installed its own Corrections officers.
The inquiry heard this morning that in June, the Health Department's deputy secretary wanted another workforce to replace private security, after outbreaks of COVID-19 occurred in quarantine amid reports private security were poorly trained in infection control.
There was a meeting on June 24, after which Mr Crisp drafted a request for assistance for 850 Australian Defence Force troops.
He rescinded the request following a conversation with the secretary of the Department of Justice, the inquiry heard. "There was going to be a further meeting that day to explore those other resource options," the inquiry heard.
Mr Crisp said the Department of Justice said there would be no further need for Defence personnel, with the department deciding that Corrections Victoria would take over from private security.
Liberal Senator Amanda Stoker has dismissed mental health providers' call for income support to be extended to reduce the impacts of inequality as the goal of "a socialist utopia".
At a hearing of the Senate inquiry into the government's COVID-19 response on Tuesday, Senator Stoker quizzed Community Mental Health Australia chief executive Bill Gye on his evidence that JobKeeker and the JobSeeker supplement had been crucial to minimising the mental health impacts of the pandemic and should be retained.
"A rising tide lifts all boats," Mr Gye said, adding that research had shown "relative poverty" – the extend of income disparity compared to others in the community – was "the number one cause of mental ill health".
Senator Stoker said relative poverty was "a problem for another day".
"We can't remedy that without achieving a socialist utopia," she said.
Mr Gye said he would "strongly support not going back to the previous $40-a-day [JobSeeker] rate and that there is a permanent raising of the rate", adding that such an "investment" would pay off in productivity by lifting vulnerable Australians out of poverty.
The comment came after tense exchange in which Senator Stoker challenged Mr Gye and Mental Health Australia chief executive Leanne Beagley over their calls for the federal government to release the report of the Productivity Commission inquiry into mental health, which was handed to Treasurer Josh Frydenberg on June 30.
"The wait will be worth it," Senator Stoker promised, defending the delay on the grounds that the government was "well within" its statutory obligation to release the document within 25 sitting days.
The COVID-19 pandemic's impact on the Parliamentary sitting calendar means that this deadline will not come until late in the year, and stakeholders have called for its release before the October federal budget.
"It is wonderful to see the sector so eager to do this good, collaborative work," Senator Stoker said, lauding the Productivity Commission inquiry for its "depth of consultation" and engagement with "people across sector who may not have felt heard".
Mr Gye had implored the government to release the report so that the mental health sector could stop "wasting time".
"We're all slightly in a vacuum, waiting for the report, treading water," he said.
Mr Gye also called for Medicare telehealth for mental health treatment, due to expire on September 30, be extended.
"We wont be moving beyond this crisis for another year, so this is not the time to drop all our defences," he said. "Mental health, like COVID, is contagious."
Withdrawing support would "spread the anxiety the depression" and cause "a lowering of the morale of the Australian people" at a time when it was most needed to boost the economy, he said, leading to higher rates of drug and alcohol abuse, domestic violence and suicide.
Dr Beagley said the Productivity Commission report would "provide a comprehensive road map" for the sector going forward.
"There is a real need for reform," she said.
She called on the government to consider "long term planning" to address the unmet need in the mental health sector "as well as the current urgent need to extend and hold the framework" set up in response to the pandemic, including telehealth.
Emergency Management Commissioner Andrew Crisp has recovered text messages that say former Chief Commissioner Graham Ashton told him private security was the first option for quarantine hotels, and not police.
Mr Crisp is giving evidence to the Victorian inquiry into the state's hotel quarantine program, where the decision to use private security over police has been a vexed issue.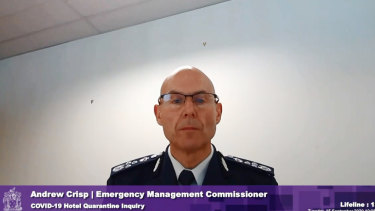 Mr Crisp was told during questioning earlier this morning that Mr Ashton had written in his statement to the inquiry that he remembered Mr Crisp saying private security would be used in the hotels, rather than police, in a meeting with Police Minister Lisa Neville on March 27, two days before the first international arrivals would be quarantined.
Mr Crisp couldn't recall what was said in the meeting this morning, but he has since dug-up text messages and phone records from the same day.
There was a meeting following this initial meeting between Mr Ashton, Ms Neville and Mr Crisp.
It was the first main meeting that brought together all the agencies involved in the program – at 4.30pm on March 27.
Mr Crisp said during this meeting, he took a call from Mr Ashton and stepped out of the room.
He sent a text soon after to Assistant Commissioner Mick Grainger, who was in the room representing Victoria Police.
The text, shown to the inquiry, read: "I stepped out to speak to Graham and I let him know you're in this meeting as he's only just come out of VSB. He made it clear in VSB that private security is the first security option at hotels/motels and not police."
VSB stands for the Victorian Secretaries Board and comprises of the secretaries of each department, the Chief Commissioner and is chaired by the secretary of the Department of Premier and Cabinet.
In a recording of the meeting played to the inquiry, Ms Crisp said he understood it was the preference of the Chief Commissioner that "private security be the first line of security."
"It's Mick Grainger here. Absolutely that's our preference," Assistant Commissioner Grainger replied.
Mr Crisp told the inquiry he understood a decision to use private security was made prior to the meeting, but he didn't know who was responsible for the decision.
He wasn't opposed to the use of private security, telling the inquiry: "I thought they would have been a suitable and appropriate workforce to use in the hotels."
"Based on my work experience, I've worked with a lot of private security and my thinking was, well-trained, well-supervised private security in this type of role would have been sufficient and effective," Mr Crisp said.
Victorian Premier Daniel Andrews has called a photo featured in a campaign against him of a pair of boots outside a shed where his father's funeral was a "low" act.
"I saw that photo, the photo was sent to me by someone," he said. "I know that farm well. The last time I was in that shed was when I carried my father's coffin out of it."
Mr Andrews said having a different opinions was part of a healthy democracy, but said "decency matters too".
"Have a different view to me, but leave my family out of it, and particularly the dead members of my family out of it," he said.
"I don't think that's too much to ask. Shame, shame on him, shame."
NSW Chief Health Officer Kerry Chant says the case with no known source in today's numbers was a man in his 50s from south-eastern Sydney.
"We're still doing some further diagnostic testing to confirm some elements of that diagnosis, but we are taking precautionary public health action," Dr Chant said.
The Chief Health Officer said the state was now attempting to "mop up any transmission chains" from the August CBD cluster, encouraging people from across Sydney to present for testing with even very mild symptoms.
"We'd like to see those testing rates well over the 20,000 [a day] for a few consecutive days … particularly in metropolitan Sydney, but we also want to draw attention to the fact that we need to remain vigilant across the state, including in regional areas."
After yesterday saying she thought lower testing numbers were part of the state's usual weekend slump, NSW Premier Gladys Berejiklian has this afternoon urged more people to come forward for testing.
Ms Berejiklian said it was particularly important to keep testing rates high, noting that while the state was "doing well" it would need to be doing "extremely well" to maximise its chance of controlling the spread during the school holidays later this month.
"Families, and rightly so, will be travelling through all parts of NSW during that time … so it's really important for us to keep testing rates high, to make sure that we control the spread ahead of the school holidays when we know many communities many families will be interacting with each other," she said, adding "the risk will be lower if we go into that period with a lower number of cases".
NSW recorded 8835 tests in latest 24-hour reporting period, after recording 9316 during the previous period.
Chief Health Officer Kerry Chant echoed the Premier's call, saying that, although she often said the state was in "a critical stage" of its virus management, increasing testing now was particularly important.