"Lighting the cauldron 20 years ago, the words that come to my mind are 'surreal' and 'simply magnificent," Freeman said.
"I am very proud of the fact that when I lit the cauldron all those years ago it was a symbol of hope for all young Australians. It is at times like this that I simply reflect and I wonder at the power of sport and the difference that sport can make in our lives."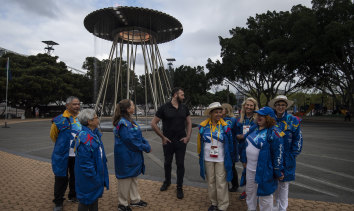 The iconic moment at the Sydney Games opening ceremony is also remembered for the glitch that followed Freeman's dash up the steps and into a pool of water to light the Olympic flame.
"I'd marched in with the team and was standing down there with members of our women's rowing eight," recalled Australian Olympic Committee president John Coates, the Australian team chef de mission in Sydney.
"They were going, 'John, is this meant to be happening?'. I knew very well that we'd had a lot of trouble with the engineering to get [the cauldron] up there. We'd thrown a lot of extra money at it in the last six months. I didn't know what had gone wrong and in my own mind I was going 'Let's leave the thing there, we'll pretend that's what was meant to happen, we'll get it up the next day'.
Loading
"But suddenly it stuttered its way up there and when it took off of course I didn't realise until later, it was reliant on a gas bottle to get to the top. It just got there."
Ian Thorpe, who won three gold medals in Sydney but watched the opening ceremony on television as he prepared for his swimming events, was also at the Olympic Park to mark the occasion, as was Paralympics great Louise Sauvage.
"When the cauldron was stuck, I thought 'Maybe it's supposed to be there' ," Thorpe said. "Then I realised that Cathy was standing out there for a long time and there has got to be something more to it."