More than 3.2 million acres have burned across California this year, the largest amount on record. Together have destroyed at least 4100 structures and forced more than 60,000 people from their homes in California.
Biden sought to turn the tables on Trump, who has claimed in recent weeks that a Democratic victory in November would lead to violent unrest and a flood of low-income housing developments into America's suburbs.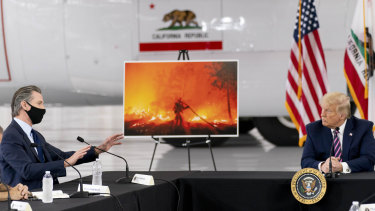 "If we have four more years of Trump's climate denial, how many suburbs will be burned in wildfires?" Biden asked.
"How many suburbs will have been flooded out? How many suburbs will have been blown away in super-storms?
"If you give a climate arsonist four more years in the White House, why would anyone be surprised if more of America is ablaze?"
Trump has repeatedly said that poor forest management, rather than climate change, was to blame for the fires.
"It is about forest management," Trump told a rally in Nevada. "Please remember the words, very simple: forest management."
During a visit to McClellan Park, California, Wade Crowfoot, the secretary of California's Natural Resources Agency, warned Trump about ignoring climate science and putting "our head in the sand and thinking that it's all about vegetation management".
"It'll start getting cooler. You just watch," Trump responded.
"I wish science agreed with you," Crowfoot responded.
Trump replied: "I don't think science knows actually."
Trump claimed that other countries had not dealt with the same level of fires as California, despite the major blazes in Australia and the Amazon rainforest in recent years.
"They don't have problems like this," Trump said. "They have very explosive trees, but they don't have problems like this."
Loading
California Governor Gavin Newsom, a Democrat, told Trump: "Climate change is real."
"We obviously feel very strongly the hots are getting hotter," Newsom said. "The dries are getting drier [and] when we're having heat domes, the likes of which we've never seen in our history.
"We come from a perspective, humbly, where the science is in, and observed evidence is self-evident that climate change is real and that is exacerbating this."
Fires in California have burned over 3.2 million acres of land this year – an area almost as big as some US states. The nearby states of Oregon and Washington have also been ravaged by fires in recent days.
In his speech Biden said: "When Donald Trump thinks about climate change he thinks: 'hoax.'
"I think: 'jobs.' Good-paying, union jobs that put Americans to work building a stronger, more climate-resilient nation."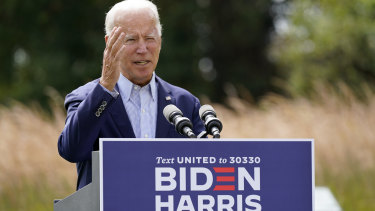 Biden has announced a US$2 trillion climate plan that sets a target for achieving net-zero emissions by 2050, make the electricity sector carbon-free by 2035 and launch a major investment in renewable energy manufacturing.
Matthew Knott is North America correspondent for The Sydney Morning Herald and The Age.