"We will review this position as the situation unfolds. We believe this is the most appropriate course of action giving respect to all involved, and in light of the impending court proceedings," Harley said in a statement.
"We are extremely disappointed to have one of our players in this position.
"This is a difficult situation and one we will work with relevant experts and authorities to navigate.
"The club, together with the AFL, will ensure Elijah and those involved receive the appropriate assistance and support.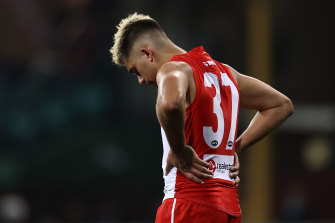 "Finally I would like to reiterate that our club has very strong values, which include respect, tolerance and a condemnation of violence, especially against women. We expect everyone at our club to uphold these values without compromise."
Loading
Taylor will face court in Perth on September 30 over the charges. Police allege Taylor assaulted an 18-year-old woman who is known to him.
Pearce, 18, appeared on Seven News in Perth on Monday night with apparent bruising under both of her eyes. While she did not name her attacker, she said it was caused by "someone she loved", and that she wanted to help shine a light on domestic violence and inspire other victims to speak out.
Pearce, the woman caught in Taylor's room during Sydney's mandated 14 days of quarantine at the Joondalup Resort a month ago, last week made separate allegations of assault against Taylor on Instagram. That alleged incident occurred in Sydney, not Perth, and NSW Police have not laid any charges.