"Thanks Phil," Mr Eccles responded.
Prime Minister Scott Morrison also wrote to Premier Daniel Andrews three times in July offering the support of the ADF, according to the submission.
But Emergency Management Commissioner Andrew Crisp decided Australian Defence Force personnel were not needed in Victoria's quarantine hotels.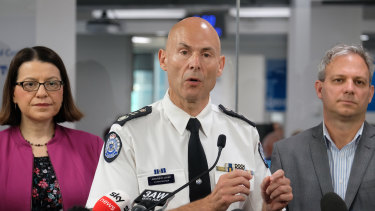 Furthermore, a text message sent by Mr Crisp to Assistant Police Commissioner Mick Grainger shows then-chief of police, Graham Ashton, had told him private security should be used for quarantine hotels, not police.
Mr Crisp is giving evidence to hotel quarantine inquiry, where recordings of crucial meetings held at the State Control Centre have been heard for the first time.
Loading
The Commissioner told a crucial meeting at the State Control Centre on March 27 the Department of Health and Human Services was in charge of the hotel quarantine operation.
He also said: "I suggest, at this stage, we can manage this …
"At this stage, we don't see a need for boots on the ground, so to speak."
He reiterated the decision to rebuff ADF support at a subsequent meeting, following reports soldiers were patrolling quarantine hotels in NSW.
Loading
"Based on the planning we had done on each of those phases … we didn't see a need at the time," Mr Crisp told the inquiry.
The Australian Defence Force was involved in the planning and logistics of the Victorian program, but personnel were not deployed to hotels.
Mr Crisp recovered text messages on Tuesday in which he said he was told by then-police Chief Commissioner Graham Ashton that private security guards should be the first option for quarantine hotels, not police.
The Emergency Management Commissioner signed off the decision to use private security guards in the quarantine hotels and a request for 850 ADF troops in June that was mysteriously withdrawn just hours later.
The federal government's submission, which includes Mr Gaetjen's email, contradicts claims from Mr Andrews, who told a previous Victorian parliamentary hearing that it was "fundamentally incorrect to assert that there were hundreds of ADF staff on offer and somehow, someone said no".
Victoria's hotel quarantine program, in which security guards contracted COVID-19 from returned travellers, seeded 99 per cent of the state's catastrophic second coronavirus wave.
The lack of ADF and police involvement has become a politically contentious and critical issue to the hotel quarantine inquiry.
Mr Andrews rebuffed questions about the offer of ADF at his press conference on Tuesday.
"I'm not interested in having a debate with the Prime Minister or anyone else frankly from his party," he said.
"What I would say to you is my comments are consistent, my comments are accurate, my comments are supported by statements issued by Andrew Crisp as the Emergency Management Commissioner."
More to come.
Tammy Mills is the legal affairs reporter for The Age.
Clay Lucas is a senior reporter for The Age. Clay has worked at The Age since 2005, covering urban affairs, transport, state politics, local government and workplace relations for The Age and Sunday Age.