Victoria Police's Deputy Commissioner, Regional Operations Rick Nugent will address the media on road operations ahead of tomorrow's eased restrictions in regional areas.
Health Minister Jenny Mikakos has faced another ferocious series of questions from the opposition about her department's role in enforcing infection control guidelines in Victoria's ill-fated hotel quarantine program.
After Chief Health Officer Professor Brett Sutton told the hotel quarantine inquiry this morning that the implementation of those guidelines, such as private contractors wearing masks, was outside his unit's remit.
In question time, opposition health spokeswoman Georgie Crozier asked Ms Mikakos what she did to enforce those infection control guidelines, and why she did not act on warnings to her department about the quarantine hotels in April.
Ms Mikakos skirted around the questioning, saying the government setting up the hotel quarantine inquiry showed it took the problems seriously and she "won't be providing a running commentary about what other individuals might say in evidence".
Ms Crozier responded angrily: "The minister again is going round in circles, trying to defend her position in relation to the issue, which is the guidelines – the very specific guidelines – that you are meant to implement and monitor."
That drew a more animated response from the Health Minister, who accused the opposition of hypocrisy.
"Those opposite at every opportunity have sought to attack the Chief Health Officer and his advice … So you cannot have it both ways, Ms Crozier, you cannot on one hand say publicly the Chief Health Officer's guidelines, directions and rules are no good, then on the other hand come in and say 'why aren't you following the guidelines or the legal directions?'" Ms Mikakos said.
"We think the work the Chief Health Officer is doing is very important. It's about time you actually backed in the Chief Health Officer, backed in the science, backed in the data, and worked with the Victorian community to drive down those case numbers and in fact to save lives."
Ms Mikakos revealed yesterday she has given a statement to the hotel quarantine inquiry but has not yet been asked to appear to give evidence. She also rejected Ms Crozier's question on warnings given to her about hotel quarantine in April.
"The [inquiry] board can consider who knew what when. You can make whatever assertions you like, it does not make it true, Ms Crozier," the Health Minister said.
Close to 50 coaches have lined Macquarie Street in Sydney this morning as small bus companies plead for a rescue package from the state government.
Having lost the majority of their work amid COVID-19 restrictions, the bus companies say JobKeeper payments are not enough to keep their business afloat.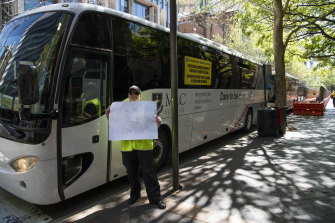 Blue Mountains coach operator Rod Williams said the government must look to some smaller businesses for contracts during the coronavirus downturn, not just the major companies.
"This isn't about pitting small companies against big companies, but we do need a road to recovery plan," Mr Williams said.
He said family run operators needed assistance with maintenance, depot rental payments and insurance.
The convoy drove past NSW Parliament before heading over the Sydney Harbour Bridge.
Victorian Premier Daniel Andrews says problems in the private aged care sector has improved, despite around 500 of Victoria's 993 active cases being linked to aged care.
As of yesterday there were 79 different facilities with active outbreaks and 508 active cases.
"I've heard from not unreasonable people that have got no other agenda, they've made the point, 'can't we just lock down aged care and everything else can open up?'" Mr Andrews said at today's press conference.
"The first point to make is aged care is pretty well locked down now. You haven't got many visitors going in. You've got staff working at one place, by and large. You've got very, very strict infection control protocols.
"Once it gets into aged care, the fact of the matter is it's very, very hard to pull it up, very hard. It is a little easier now because we've seen standards rise. We've got a much more concerted approach to. It we've also got less community transmission in the Victorian community as well as the numbers come down."
Mr Andrews said "everything that can be done in aged care is being done".
"I don't know that there are too many more steps you could take or changes you could make to the way aged care operates to get to this hard lockdown," he said.
Mr Andrews made the point that the most problem plagued aged care facilities were in the private sector, and overseen by the federal government.
Australian Medical Association Victorian vice president Roderick McRae has welcomed the move to resume elective surgeries across the state, but said the process must be monitored closely and regularly audited.
"Broadly we are supportive of a staged increase of medical and dental procedures, but it needs to be a slow and sensible ramp up of work," Dr McRae said.
He added said the resumption of elective surgery must not impede on public hospital capacity to deal with respiratory emergencies.
"The key is we need to keep an operational eye on everything that's going on," he said. "If there is a sudden outbreak, then we need to be able to jump on that in a targeted way that does not mean shutting down Victoria."
Victorian Health Minister Jenny Mikakos has jetted straight from the daily press conference to Parliament for Question Time.
Just as well: the first question was to her from Liberal MP David Davis, who first asked whether Premier Daniel Andrews lied when he said he wasn't aware of offers of Australian Defence Force support in hotel quarantine.
Ms Mikakos pointed out that she cannot answer on behalf of the Premier, leading Mr Davis to rephrase his question to ask when Ms Mikakos herself became aware of the offers.
The Health Minister said she did not know about initial offers from the federal government because she was not involved in that area of logistics in establishing the quarantine hotels.
"I was not aware of any offers of ADF support when hotel quarantine was established, and that flows from the fact that, as I said, I've not been involved in approving the structures or the operational plan of this program," Ms Mikakos said.
She then went on to say that she found out about subsequent offers through the media.
"In terms of subsequent offers of support, they were matters that I heard about through media reports … I'd have to go back and look at when those matters were published in media reports," Ms Mikakos said.
It drew jeers from the opposition, while earlier shadow attorney-general Edward O'Donohue stood to say that as the hotel quarantine inquiry is not a judicial inquiry, Ms Mikakos should be able to answer the questions.
She responded that she had not referred to it being a judicial inquiry, politely telling Mr O'Donohue: "Your ears are painted on".
Chief health officers from across the country did not formally endorse the hotel quarantine program before Prime Minister Scott Morrison announced it, an inquiry in Victoria's ill-fated scheme has heard.
In his statement to the inquiry Chief Health Officer Brett Sutton said the Australian Health Protection Principal Committee, which comprises all state and territory chief health officers and was chaired by then-Chief Medical Officer Brendan Murphy, was not wholly convinced the quarantine measure was necessary.
"As discussed, prior to national cabinet's [announcement] on 26 March 2020, the AHPPC did not endorse the idea of quarantining travellers at hotels (or other designated facilities)," Professor Sutton's statement reads.
Professor Sutton is giving evidence to the $3 million inquiry which is investigating how virus outbreaks among staff and private security guards at two Melbourne quarantine hotels – the Rydges on Swanston and Stamford Plaza – seeded Victoria's catastrophic second coronavirus wave.
Victorian Premier Daniel Andrews is standing by his comments to a Public Accounts and Estimates Committee last month that it was, "fundamentally incorrect to assert that there was hundreds of ADF staff on offer [with hotel quarantine] and somehow someone said no".
Yesterday, the independent inquiry into the failures of Victoria's hotel quarantine program which seeded Victoria's second wave of infections was provided emails that suggest the offer was made on April 8.
The federal government documents provided to the inquiry on Tuesday included an email with the subject heading "assistance re hotel stay security".
The email was sent by the boss of the Commonwealth public service, Phil Gaetjens, to Chris Eccles, his Victorian public service equivalent.
Mr Gaetjens wrote: "The Commonwealth would be willing to assist Victoria in a similar way [to NSW] if you wanted to reconsider your model" and use the ADF.
Mr Eccles replied: "Thanks Phil."
Mr Andrews today said all his statements on the issue had been accurate, and refused to comment further pointing to the fact he is appearing before the inquiry next week.
"That's entirely a matter that relates to a whole lot of detail both within the email and beyond that it's not appropriate for me to get into [now]," he said to a reporter.
"I've answered your question. It's exactly the same answer I gave yesterday because it's accurate, it's truthful and others can seek to play games with this. I'm focused on getting this job done and the statements I've made are accurate."
Victorian Premier Daniel Andrews has asked people travelling in and out of regional areas to be patient at check points.
Victoria Police has beefed up vehicle-checking at key arterial roads in and out of Melbourne on the back of the announcement yesterday that regional Victorians will move two steps in relaxing restrictions as of midnight tonight.
"I just say to anyone who is caught in one of those roadblocks, you know, that will be challenging, but nowhere near as challenging as this getting away from us again in regional Victoria because people went to regional Victoria from metropolitan Melbourne had no lawful reason to do it, and took the virus with them," he said.
"The feedback I get from very small country towns to big regional centres is they'd love to have visitors but they love being virus-free a lot more."
"There will be a time for travel. There will be a time for tourism to get back on its feet, Melbourne out into the regions and vice versa. That is not now."
The Victorian Premier has laughed off a suggestion that Victoria should cancel daylight saving this year.
A Melbourne academic suggested in media reports today that the alteration to body clocks would be
unhelpful during the pandemic.
But Mr Andrews confirmed the clock-changes will go ahead.
"I don't want to be disrespectful to the Professor, who may be a very learned individual," he said. "[But] daylight saving will be proceeding."
Mr Andrews said light evenings and the introduction of outdoor dining options would mean Melburnians had a lot to look forward to this summer.
"Outdoor drinking and dining, it will be a summer like no other," he said.