The bureau has issued a strong wind warning for the Hunter, Sydney and Illawarra coasts for Wednesday night and for Sydney's closed waters and the Sydney, Illawarra, Batemans and Eden coasts for Thursday.
The hot air mass moving across the state will push temperatures past 30 degrees in western NSW, and to about 30 in Sydney.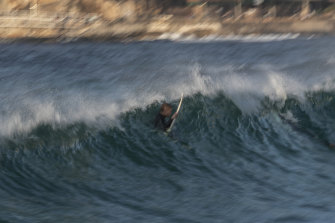 "We're forecasting the CBD to get to about 30. There might be a weak sea breeze, but that will only affect areas along the beach," Mr Wilke said.
"Tomorrow's temperatures through parts of the coast will be about 8 to 10 degrees above average in parts of Sydney."
RFS spokesman James Morrison said that a number of hazard reduction burns were planned for NSW over the coming days.
"Obviously we'll continue to work with places like the bureau to monitor weather and conditions, and should those weather conditions go outside our burn prescriptions, we will work to make sure they're done responsibly," he said.
"We'll continue to do that very important work. We're coming into bushfire season again and we saw a number of examples of hazard reduction burning helping to save a number of homes and lives [last season]."
Fire agencies and land managers will conduct the burns in a number of areas across NSW throughout the rest of the week.
Loading
"Smoke from these planned burns may settle in a number of areas in particular parts of the Greater Sydney, Illawarra, Central Coast, Armidale, Inverell, Liverpool Plains and Mid Coast areas," a statement from the RFS read.
"Hazard reduction burning is strategically planned to minimise the potential impact of smoke on public health, however, some members of the community may need to take action to mitigate the risks of smoke from hazard reduction burning by planning ahead."
Matt Bungard is a journalist at The Sydney Morning Herald.
Most Viewed in Environment
Loading