Treasurer Josh Frydenberg says even he was surprised by the drop in Australia's overall jobless rate announced today.
More than 110,000 jobs were created across Australia in August, delivering the nation a surprise fall in unemployment even as Victoria went into coronavirus lockdown.
The Australian Bureau of Statistics on Thursday reported the national jobless rate dropped to 6.8 per cent from 7.5 per cent. Markets had been expecting an increase in unemployment to around 8 per cent.
"These are a better set of numbers than what the market was expecting, than what Treasury was expecting, than what leading economists were expecting," he told reporters at a press conference in Canberra a short time ago.
"It was better than was I was expecting."
While jobs lifted in most areas, Victoria's lockdown did have a major impact there with total employment down 42,400. It is just above the low point reached in May in the wake of the first coronavirus lockdown.
One of the United States' top health officials has contradicted President Donald Trump's promise for a coronavirus vaccine by mid-October, telling Congress it may not be available until well into next year.
Robert Redfield, the head of the US Centres for Disease Control and Prevention, testified before Congress on Thursday (AEST) that a vaccine might be available by the end of the year for some medical workers but would not be widely available until "the second or third quarter" of next year.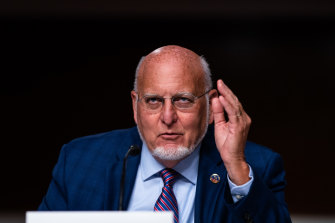 He said it would take six to nine months after authorities approved the vaccine before it could be distributed nationally, meaning it would only become widely available in the middle of 2021.
After Redfield's testimony, Trump told reporters: "I think he made a mistake when he said that. It's just incorrect information and I called him and he didn't tell me that and I think he got the message maybe confused, maybe it was stated incorrectly."
Trump believes the development of an effective vaccine would create optimism about the country's ability to emerge from the crisis and boost his re-election chances on November 3.
A Gold Coast man has been charged with making threats online to kill Queensland Premier Annastacia Palaszczuk and Chief Health Officer Jeannette Young.
The 43-year-old man has been charged with one count of using a carriage service to make a threat to kill and will appear in Southport Magistrates Court on October 7.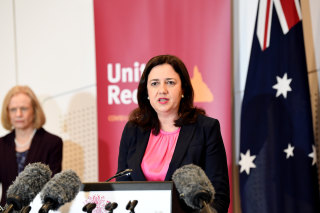 Dr Young has police officers outside her home and with her everywhere she goes after receiving death threats over her handling of interstate border exemption cases. She faced an onslaught of criticism after denying 26-year-old Canberra nurse Sarah Caisip's plea to leave hotel quarantine to attend her father's funeral with her mother and sister.
A spokesman for Ms Palaszczuk would not make comment as the issue was before the courts.
Victorian government officials Andrea Spiteri and Jason Helps, who both held the role of state controller leading Victoria's overall response to the pandemic, are giving evidence at the inquiry into hotel quarantine today.
The state controllers said Chief Health Officer Brett Sutton has "absolute control" of Victoria's pandemic response, contradicting the evidence of Professor Sutton himself. The Chief Health Officer told the inquiry he should have been the state controller, but he was sidelined by senior Health Department officials, who thought he would be too busy.
Formal guidance on how to use personal protective equipment wasn't given to security contractors working in hotel quarantine for six weeks, the inquiry has heard.
Mr Helps said he did not believe the army would have helped the quarantine program, but Ms Spiteri said police might have: "I just felt there could have been some benefits with having police a bit more visible in that environment," she said.
Chief Police Commissioner Shane Patton and his predecessor, Graham Ashton, will appear before the inquiry later today. The inquiry has previously heard Mr Ashton preferred the use of private security guards over police in quarantine hotels.
A Victorian Supreme Court judge has said a legal challenge filed against the Andrews government's curfew will canvas a "very important" human rights issues and that the case should be dealt with urgently.
Restaurant owner Michelle Loielo, a member of the Liberal Party, filed the writ in the Supreme Court on Tuesday, arguing the curfew is unreasonable, disproportionate, and violates the human rights of millions of Victorians.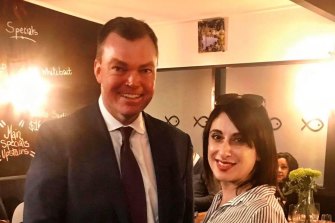 Lawyers for Ms Loielo want the case sent immediately to the Court of Appeal because it could, if successful, render the curfew invalid and impact the lives of millions of Victorians.
Justice Tim Ginnane ordered defence lawyers to provide affidavits from government officials and outline any objections to having the matter heard in the Court of Appeal. But he hesitated to send it immediately to the Court of Appeal because it might not afford the government procedural fairness, and the higher court might send it back if judges decides it was not appropriate for it to be heard there.
The government has said the curfew will remain in place until October 26, or until Melbourne reaches a 14-day average of five cases per day. The curfew came into effect on August 2.
Question time in Victorian Parliament's lower house has begun, with opposition leader Michael O'Brien facing off with Premier Daniel Andrews hours after Mr O'Brien moved a motion of no confidence against the Premier.
And first up … you guessed it: hotel quarantine.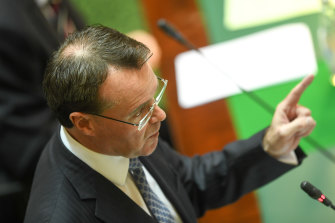 Mr O'Brien started by referencing evidence in the quarantine hotels inquiry that Australian Defence Force support was on offer to Victoria, alleging that contradicts the Premier's earlier statement that it was "fundamentally incorrect" to say ADF was available. Mr O'Brien asked Mr Andrews how Victorians can have confidence in him when he "continues to lie".
The Premier called the opposition leader's claims "a rather political construction of events" and repeated his line from this morning's press conference that "cheap politics was no vaccine against this virus".
"Neither are lies," Mr O'Brien responded, before asking Mr Andrews whose decision it was to reject the use of police and ADF in quarantine hotels.
"Those arrangements are currently the subject of a process," the Premier responded, repeating his position that he will not run a commentary while the inquiry is ongoing.
The opposition leader was not happy.
"The Premier has been asked a question, it is within the Premier's knowledge … and Victorians deserve an answer," Mr O'Brien said.
A man who left his five kilometre radius from home to go prospecting for gold in the Ballarat area is among 73 Victorians fined over the past 24 hours, according to police.
Another man from Dandenong was found over 40km from home in a car park in Moonee Ponds.
He allegedly told police he had driven there to buy a coffee.
Of the 73 fines handed out over the past day, 22 were for for failing to wear a face covering, eight were issued at vehicle checkpoints and eight were for breaching the 9pm to 5am curfew.
More than 23,000 vehicles were checked at beefed up road blocks, almost 10,000 more than Sunday.
There were also 4069 spot checks on people at homes, businesses and public places across the state.
While a hearty Christmas lunch is usually enough to turn anyone into a pudding-filled blob, shoppers at Woolworths could soon claim that title officially thanks to new technology being trialled by the supermarket giant.
The grocery chain is in the midst of gearing up for a COVID-conscious Christmas, and as part of its plans, is rolling out a new automated system for tracking customer numbers in-store.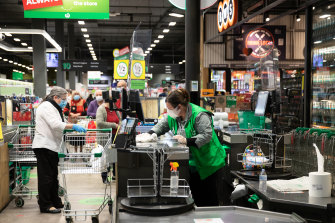 Three-dimensional cameras will be placed at the entrance and exit of stores to track shoppers coming and going. But instead of a standard video stream, the cameras will convert humans into 'blurred spherical shapes' – also known as 'blobs'. Their mission: Prevent there being too many blobs in the store to maintain social distancing.
Woolworths is not the only retailer gearing up for the in-store Christmas rush, with hardware seller Bunnings also preparing for a socially-distanced shopping period. Employees will count the number of shoppers via an app, and Bunnings' support office will remotely monitor customer numbers and alert stores if density peaks.
Victoria's Deputy Chief Health Officer has indicated there could be some flexibility in the rules for moving from step two to step three of easing in metropolitan Melbourne if any new outbreaks at the time were known and contained.
Under the government's roadmap currently, the threshold to move to the third step of easing that by October 26 the rolling 14-day average for new cases would be less than five cases and there would be less than five cases with an unknown source for the previous 14 days.
"There is going to be a lot of judgement so it isn't going to be exactly five we're aiming for," he said.
"If it was six and the last outbreak was … a closed community outbreak and was in aged care [and] we were pretty sure we had, you know, a ring around it to make sure there weren't going to be any on ongoing cases then yes we'd be happy with that.
"Similarly if the numbers come down quicker than we hope then we'll always be happy to look at that again."
Prime Minister Scott Morrison's goal of opening Australia up by Christmas appears no closer as his stoush with state and territory leaders over border restrictions looks set to dominate Friday's meeting of national cabinet.
The twin dilemma of easing state and international restrictions has strained the previously cooperative relationship between the Prime Minister, premiers and chief ministers, with leaks and accusations flying.
Mr Morrison said this morning he was "not expecting a lot of progress" on the debate with state and territory leaders over a national COVID-19 "hotspot" model to guide domestic border decisions, threatening to freeze Queensland out as the only eastern state to keep its border closed to Victoria and NSW.
The Prime Minister's insistence that caps on international arrivals will be lifted from 4000 to 6000 per week has been met with irritation by Western Australian Premier Mark McGowan, who said the plan had been "news to me" after media reports the Deputy Prime Minister had written to him requesting he agree take an extra 500 people each week into hotel quarantine.
Mr Morrison is continuing to push his preferred domestic hotspot definition, drawn up by the federal health department, as more than 30 locally acquired cases over three consecutive days in metropolitan areas – a figure that would mean Queensland's border would open to NSW.
"If other states want to have more extreme definitions than that, that's up to them," the Prime Minister told Nine's Today show this morning.
"It may be we will have a border down between NSW and Victoria and South Australia before we have one down between NSW and Queensland, where the case numbers are radically different."
He dismissed a leaked draft statement by the Australian Health Protection Principal Committee, sent to state and territory leaders on Wednesday, which outlined a potential compromise position that would satisfy Queensland's desire to protect its citizens from interstate transmissions, saying reports of its implications had been "overstated".
Mr Morrison also rejected Labor leader Anthony Albanese's call for the federal government to use RAAF jets to fly Australians home, saying: "There is no need for that. We simply [have to] lift the caps."