Today's hearing is under way. You can watch the proceedings live, below:
Jason Helps said if he had his time again he would have pushed harder for a public health official to have a role in overseeing the hotel quarantine program.
One of the criticisms that has been raised time and time again during this inquiry is that the people in charge of the program did not have medical expertise.
Mr Helps said in his statement to the inquiry: "If I had to do it again I would push harder to embed a public health liaison officer."
The inquiry heard this role was created, but it wasn't effective.
"The number of doctors we had available at times prohibited that being a full-time position," Mr Helps said.
He said he received a lot of questions from other departments about things like using protective personal equipment.
"I think a liaison officer would have made communicating back to those really busy people in our public health commander at times easier," Mr Helps said.
Former pandemic state controller Jason Helps said he had no role in the decision to engage private security contractors in hotel quarantine.
He has told the inquiry it was his understanding at the start of the program that "private security was the first tier of security and Victoria Police would have a role in support of that".
Mr Helps, a former Victorian police officer himself, said in his statement to the inquiry it was his view the force was "well placed to have a role operationally in the hotel quarantine program".
He was comfortable, he wrote, that the Department of Jobs and Victoria Police "would come up with an appropriate model of support and if necessary, we could adapt that model to account to any risks or issues that we observed".
The reason why the Jobs Department is being mentioned so much is because they were initially thought to be the lead agency in charge of the program on March 27, on the day it was announced.
But the lead role quickly shifted to the Health Department, and the Jobs Department was left in charge of hiring contractors, including security, for the hotel quarantine program.
Ms Spiteri has also told the inquiry she had no role in deciding to hire security contractors to guard returned travellers.
A Department of Jobs executive made an urgent request for Victoria Police to be stationed in hotels on the first night of hotel quarantine.
Claire Febey emailed state controller Jason Helps at 8pm on March 29.
"We request that Victoria Police is present 24/7 at each hotel, starting from this evening," she wrote. "We ask that DHHS [Department of Health and Human Services] urgently make that request as the control agency."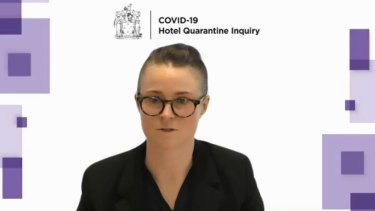 Ms Febey wrote private security contractors had no real powers and had been instructed only to monitor and escalate issues to Victoria Police.
"Thus a permanent presence is necessary rather than patrols or an on-call presence both immediately and the duration of the quarantine," she wrote.
Mr Helps said at that stage of the night, "we could do no more than we had done that night" and the issue would be resolved over the next few days.
He said it wasn't his responsibility to make requests of police and he had no personal conversations with the force.
Ms Febey made a number of requests for a 24/7 police presence.
Mr Helps said he believes those requests were followed up between Victoria Police and her department.
"I was comfortable that those conversations were occurring," he said.
"I was comfortable that the appropriate decision would be made to get the program up and running."
A draft document for security consultants was shown to the inquiry and described the core duties of guards in the hotels, which included supporting "Victoria Police in enforcement" at hotels.
Victoria Police's actual role in the program ended up providing patrols around the perimeter of the hotels and responding to emergency calls inside, supporting private security.
Earlier we reported that Andrea Spiteri insisted there were adequate signs and instructions for hotel workers and security guards in the use of PPE.
In her statement to the inquiry she goes a bit further, saying it was up to the contracted security companies to make sure their staff were covered.
"All organisations providing staff to work in hotel quarantine needed to take responsibility to ensure their staff understood and complied with all infection prevention and control measures," she said.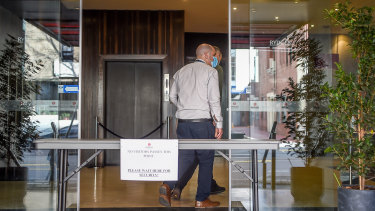 She also acknowledged that all the instructions and guidance were in English, and that was a problem – one that she again put on the companies.
"It became apparent that many staff, particularly security staff, had language barriers that needed to be addressed by the security companies to ensure safe work practices.
"It also became apparent that all organisations needed business continuity plans in place to enable quick stand up of alternative staff should staff become unwell and not be able to work, or become COVID-19 positive or close contacts and need to self-isolate."
Former COVID state controller Jason Helps said the Department of Jobs, Precincts and Regions was tasked with establishing the role Victoria Police would play in hotel quarantine during a crucial meeting on March 27.
It was the first major meeting between the agencies running the hotel quarantine program after it was announced by both the Prime Minister and the Premier.
We've heard about this meeting before and recordings have been played from it, in which Emergency Management Commissioner Andrew Crisp asked if it was Victoria Police's preference that private security guards be the first line of security in the program.
Assistant Commissioner Mick Grainger replied, "Absolutely, that's our preference."
You can listen back here:
In that March meeting, Mr Crisp asked who was taking responsibility for contracting private security: "Is that DJPR? Claire?"
Department of Jobs executive director Claire Febey indicated she would have a follow-up conversation with Assistant Commissioner Grainger.
"It was my understanding that a conversation between Ms Febey and Mr Grainger would establish that role," Mr Helps told the inquiry today.
Ms Febey has previously told the inquiry she didn't have a follow-up conversation with the Assistant Commissioner and believed she was given a directive in the meeting that security should be engaged.
"The decision had been made and we had been tasked," she said.
But she also said she went into the meeting believing private security guards would be needed.
Julie Condon, QC, who is representing the Jobs Department at the inquiry, said it was primarily Victoria Police's decision to determine their role in hotel quarantine.
"It is appropriate for them primarily, I would suggest, to determine their role, but in conjunction with other agencies and with a full understanding of the requirements of the program," Mr Helps said.
"I don't see it as just their decision."
Andrea Spiteri's full statement to the inquiry is now available and reveals that a homeless man from Melbourne was the spur for the Victorian government to set up the Rydges on Swanston as a "hot hotel" to take all COVID-positive returning travellers.
Former state controller Ms Spiteri said in her statement to the inquiry that until April 1, all COVID-19 patients were accommodated on "red floors" within hotels.
That changed when a homeless man with coronavirus requested accommodation in one of the hotels, but it was judged to be "outside the scope of the current contracts" and a hotel refused the request.
That prompted moves by Ms Spiteri, through senior jobs department executive Claire Febey, to establish another hotel – the Rydges, as the place where people diagnosed with COVID-19 would be sent.
As is now well know, the Rydges became the source of the vast bulk of Victoria's second wave of infections.
"I do not know who decided Rydges Carlton would be the best option to be designated the COVID-19 positive hotel," Ms Spiteri's statement reads.
On April 7, the state's Public Health Commander said the use of a single hotel "reduces the low (but material) risk that as a result of detaining well individuals in a hotel they could acquire COVID-19 from the hotel environment," Ms Spiteri's statement to the inquiry says.
"I understand the first use of Rydges Carlton was from 12 April 2020 to accommodate passengers returning from Uruguay who had been on the Greg Mortimer ship, the majority of whom were or had been COVID-19 positive."
After they left the hotel, the Rydges received any other quarantine detainee found positive in any of the other hotels.
Ms Spiteri said special arrangements were put in place, including that passengers were transported in a maxi-taxi from the airport, taxi drivers were told to wear PPE when driving, people were taken straight to their rooms, their luggage cleaned, and all guests were required to wear masks when they were outside the room.
The controls were appropriate and adequate, she said in her statement.
"I understand that infection prevention and control experts were involved in the initial set up and opening of Rydges Carlton, and on 14 April 2020, the department contracted Infection Prevention Australia to provide advice and on-site guidance on infection prevention and control at Rydges Carlton," her statement says.
"In my opinion, the infection control measures in place at the Rydges Carlton when it was a designated 'hot hotel' were appropriate."
Formal guidance on how to use personal protective equipment wasn't given to security contractors working in hotel quarantine for six weeks, the inquiry has heard.
Jaye Alderson, the lawyer representing one of the three main security companies at the inquiry, said contractors were not provided with PPE guidance until May 12, six weeks after the hotel quarantine program began on March 29.
Former state controller Andrea Spiteri said she believed there was a "range of instructions and guidance that was provided regularly into the hotel program" before then.
"There were signs up, there were documents available to guide the use of PPE and there were briefings that were undertaken," Ms Spiteri said.
The Australian Defence Force was embedded in Victoria's emergency response and helped with planning hotel quarantine, state controller Jason Helps said.
Mr Helps said the ADF was "instrumental" in helping plan hotel quarantine and the mobile testing sites for COVID-19.
"I had daily conversations with the ADF," he said.
He said he was not sure that the physical presence of Victoria Police and the ADF in the program would have made a difference.
"There's been a lot of discussion about the use of Victoria Police and the ADF," he said.
Mr Helps suggested the presence of the military or police could have intimidated returning travellers.
"These were returning Australians. They were by and large compliant … with a uniform comes a visual impact to people," he said.
"I'm not sure they would have made a difference, or not have had a subsequent consequential impact in another way."
But Mr Help's colleague Andrea Spiteri said a 24/7 police presence in the hotels could have helped.
Ms Spiteri said police could have set an example to security staff.
She told the inquiry she verbally expressed her views on a number of occasions to other department executive staff.
"I just felt there could have been some benefits with having police a bit more visible in that environment," she said.
As we know, both police and the ADF were on the ground at quarantine hotels in other states.
Andrea Spiteri was asked whether it was a surprise to learn the use of personal protective equipment and cleaning processes were inadequate after a COVID-19 outbreak in late May.
A hotel employee, six guards and a nurse contracted coronavirus from returned travellers detained in the Rydges on Swanston hotel in Carlton.
Ms Spiteri said she was aware there were some inadequacies with the way protective gear was being used by workers, but she didn't know there were issues with infection prevention control measures.
"I think we had been aware that there had been issues with compliance … along the way," she said.
A Health Department report into the outbreak found there was a lack of understanding or willingness by some working in the hotel to use protective gear properly.
It also found there was inadequate cleaning taking place, including the use of incorrect chemicals.
You might remember seeing these photos which were previously presented to the inquiry, showing the condition a returned traveller found their room in, even after the virus outbreak occurred at Rydges.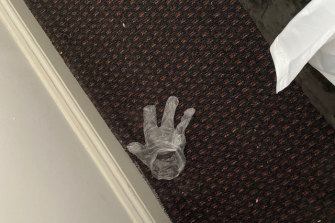 Andrea Spiteri said the hotel quarantine environment was "a complex space" and every person working in it was responsible for themselves and their own organisation.
"You had a hotel that was owned and managed by the hotel company, we were effectively … renting space in it through the Department of Jobs, Precincts and Regions, we [Department of Health] had our own staff … so did DJPR, so did Victoria Police, so did a number of contracted companies as well," she said.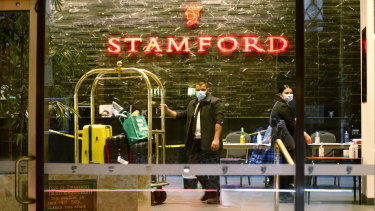 Ms Spiteri's job was to ensure there was guidance and instructions provided to the people working in the hotels, including on how to use personal protective equipment.
"But every person in that environment from an OHS (occupational health and safety) was both responsible for themselves and their own organisation as a workplace was responsible as well," she said.
Ms Spiteri said it was also her job to create a structure so that people could raise issues.
"I was comfortable that we had senior expertise in the command roles that were directly accountable for the operations in the hotels," she said.