"I very much doubt that the financial consequences would be anything but disastrous," he added.
Johnson's comments come as nearly two million people in north-east England face fresh restrictions as coronavirus cases in the region increase, according to the BBC.
People in Newcastle, Sunderland and County Durham will likely be told they can't mix households, while pubs will be forced to close early.
Johnson defended his decision to restrict social gatherings from 30 to just six people – a measure which many of his own backbenchers have strongly criticised as too draconian.
Johnson said COVID-19 was gaining hold across the country and it was vital to defeat it.
Just last week, he suggested that rapid turnaround tests that would be used by the bulk of the population on a daily basis could be key to having a normal Christmas.
He hopes the test-and-release scheme would eventually replace the existing track-and-trace system but poured cold water on that materialising in the next few months.
"We are a long way off I'm afraid, or we're still some way off, having those instant pregnancy-style liberating tests that tell you whether you're infectious or not," he said.
"That's what we're working for, the science is almost there," he said.
Johnson's government has come under heavy criticism as the country's coronavirus testing capacity has buckled under the weight of demand with holidaymakers returning home, students resuming classroom lessons and workers urged to return to their offices.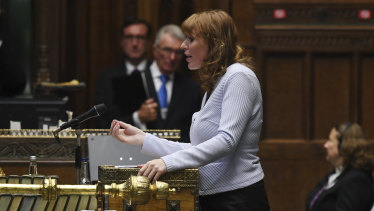 The government says there has been an "understandable" rise in people seeking tests to prove that they are negative and can go about their life and is urging healthy people to leave the tests for only those with symptoms.
Loading
The demand has seen Britons seeking tests told to travel hundreds of miles to access the nearest available one, prompting Angela Rayner, the Deputy Labour Leader, to quip that the "next time a man with COVID-19 symptoms drives from London to Durham it will probably be for the nearest COVID test."
Rayner made the jibe, referencing Johnson's controversial chief aide Dominic Cummings who breached lockdown rules, during Prime Ministers Questions when she was standing in for leader Keir Starmer who was isolating at home.
A total 221,192 tests were processed across Britain in the last 24-hour reporting period and more than 20 million have been carried out in total, prompting the government to boast that it is testing more than any other European country.
Johnson promised that testing capacity would be increased to half a million per day by the end of October.
Loading
The Prime Minister expressed fears that a surge in infections, which increased by another 3991 on Wednesday — the highest single-day increase since May — would lead to more deaths.
The UK's most recent daily death toll where a person who had died and had tested positive for COVID-19 within the last 28 days was 20.
The daily death rate has remained below 20 since mid-July although cases of infection have been on the rise since at least August.
The number of hospitalisations has slightly risen over the past week, with 141 new admissions on Wednesday.
Britain's population is nearly 67 million.
Latika Bourke is a journalist for The Sydney Morning Herald and The Age, based in London.