Winds reached 78km/h near Sydney Airport during the late afternoon, and were above 50km/h to 60km/h in most other parts of the city.
A maximum temperature of 20 degrees and a possible shower are forecast for Friday, although Ms Kirkup said it was more likely to be windy than wet.
A strong wind warning was in place for coastal areas in Sydney, the Illawarra and the South Coast.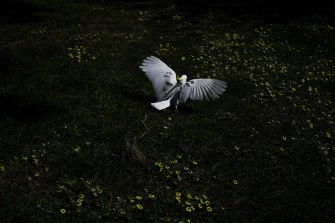 The cooler temperatures will remain in the city over the weekend, with maximums of 22 and 23 forecast for Saturday and Sunday respectively.
Warmer weather will return on Monday, when a high of 27 degrees is expected.
Scheduled hazard reduction burns were going ahead around Sydney on Thursday despite the high temperatures.
Loading
RFS spokesperson Ben Shepherd warned that Sydneysiders would "see and smell that smoke", but it was important the necessary work was done "now" ahead of higher than usual rain activity forecast for spring.
"It is windy and we do consider that, but we also have a southerly blowing in with the chance of showers," he said, noting that some fire agencies conducting the work had changed their lighting patterns due to the weather.
Scheduled burns on Sydney's northern beaches were postponed due to moisture levels following rain activity earlier in the week.
Mr Shepherd said other burns around the state had proceeded without issue.
"They've all gone to plan, and are obviously still continuing," he said.
"We're tracking the possibility of some showers and storms tonight which might postpone some burns later in the week, but at this stage, today's gone very well."
He warned of smoke at Kurrajong and Wiseman's Ferry, but said that, thanks to the southerly, the Sydney basin should be "mostly clear" of smoke by Friday morning.
Mary Ward is a reporter at The Sydney Morning Herald.
Matt Bungard is a journalist at The Sydney Morning Herald.
Most Viewed in Environment
Loading