"What we've seen is obviously some normal travel that we would expect people to conduct in order to get the necessary things for life … and certainly we've seen travel to shopping centres and stores largely within the five kilometre radius," Mr Weimar said.
Loading
"But we've also seen in this particular cluster visiting of houses beyond the five-kilometre radius, so these five houses in this particular cluster have had, unfortunately, some members of those households visiting other households and it is that limited amount of contact – relatively infrequent contact – between these five households that has now meant that we have 34 people in five houses experiencing or living with a very real threat of the coronavirus."
No new cases have emerged in the Casey and Dandenong areas today. But yesterday, five new cases emerged and on Wednesday seven new cases were reported.
"We have had a series of deep and ongoing conversations with community members and leaders across that wider Casey and Dandenong area," Mr Weimar said.
"We have been talking to youth groups … and talking to frankly the entire community to ensure we get the clear message. Number one, you cannot and should not mix across different households."
Premier Daniel Andrews sharply rebuked those who were breaching restrictions on visiting others at home.
"Visiting others is the real issue here, frankly. The rules are in place by reason – the rules are in place for a reason and anyone who undermines this, undermines entire strategy," he said.
"If you break the rules, particularly if you are breaking the rules in your home or somebody else's home, where there is no infection control, there is no formality, it is by its very nature, close contact for potentially prolonged periods, all you will do is spread this virus.
"I cannot rule out and none of us would rule out that there may not be additional cases beyond the 34. That's why it is so, so important if you have any symptoms at all … come forward and get tested. That is how you keep it at 34 and not see the things spread out to 340."
Earlier his week Chief Health Officer Brett Sutton revealed the five families involved in the Casey cluster have links to a particular local ethnic community.
Mr Andrews said community leaders should not feel as though they have been scapegoated.
"The one thing that is almost certain, is if you have this and spend time on other people's homes, you will give it to them. That is the basic point here," he said.
"So, just like the virus, it doesn't discriminate, neither does the public health response that we bring to bear. So, anyone who feels that, I would simply say to them, there is no basis in fact for that.
"We will continue to work with you and every single Victorian to make sure that, as I said, just as the virus does not discriminate, neither does the public health response."
Mr Andrews stressed people should not be visiting other people's homes.
"It's not a new feature, we have seen is all the way through, whether it be dinner parties from people who have been on skiing holidays in Aspen … or families that live in the outer south-east … [the virus] does not discriminate," he said.
"How big your house is, no matter how big your bank balance is, if you go visiting and you have this, you will take it with you. That is the key."
The cluster features small children as well as their elderly relatives, Mr Andrews said.
He said the government would start door-knocking houses, as authorities did when clusters emerged in Broadmeadows in the city's north, if necessary.
"If we need to feel we need to put the mobile van at the end of the street [and go] door-knocking up and down, saying, 'if you've got symptoms walk 50 metres and you can get tested', we'll look at that," Mr Andrews said.
He would prefer to do that than lock down suburbs and certain industries, he said.
"We believe we've got our arms around this – that's a very impressive effort."
Language concern
Royal Australian College of General Practitioners spokesman Abhi Verma practises in affected communities of Narre Warren and Fountain Gate and said while some of his patients had understood public health messages, some older people in particular had low "health literacy".
"They really do struggle. They don't understand the concept of flattening the curve and what the restrictions are for and why we need to cover our face with a mask," he said.
The GP also said that some people in the community had lower paid jobs and casual work, leading them to put health concerns on the "backburner".
"They may be doing things like Uber driving … there is a financial imperative for them to keep going to work, or they don't get paid," Dr Verma said.
A number of doctors working in the area are concerned social distancing rules have not always being adhered to, particularly by young people.
Dr Amena Azizi, a GP in Narre Warren South, said she was surprised to visit a shop in Dandenong in July where she found 16 people within a very small space.
"I was shocked," she said.
Mr Andrews said COVID-19 information has been translated into 55 languages for Melbourne's multicultural communities.
"I would respectfully not concur with the view that there are large groups of people out there who don't know there's a pandemic and who don't know there are rules and who don't know you're not allowed to be visiting each other," he said.
"I just don't think that's a fair reflection of the very high level of awareness across the Victorian community."
Victoria's Deputy Chief Health Officer Allen Cheng said at least one essential worker was among the Casey COVID-19 cluster, although authorities do not suspect their colleagues are at risk.
"I think it's disappointing but what has happened has happened and we are concentrating on stopping further spread," he said.
"I understand there were essential workers among them, but they have not been in those workplaces. We have been following those people up. I think there is a range of people otherwise, both young and old, involved.
"We think that most of the cases are linked between contact between these households. But there has been visits to Fountain Gate and we are not aware of any links of transmissions in that setting, but obviously we want people to come forward for testing if they are unwell."
14-Day average falls
The move to stamp out the outbreak in Melbourne's south-east comes after 28 cases were recorded on Thursday and 42 cases on Wednesday and Tuesday. Another five Victorians have died, taking the state's death toll to 750.
Melbourne's 14-day case average, which is crucial to easing lockdown restrictions from September 28, has fallen to 42.7.
Premier Daniel Andrews said 32 of today's 45 new cases were linked to known outbreaks and complex cases, he said, while 13 remain under investigation.
One man in his 50s, one man in his 70s, one man in his 80s and two women in their 90s died from the virus overnight. All of their deaths are linked to aged care outbreaks.
There are now 920 active cases in Victoria, including 30 cases in country areas where lockdown restrictions eased earlier this week.
"They continue to fall and that is very pleasing news," Premier Daniel Andrews said.
"There is just one new case in regional Victoria, which I believe is in that Geelong corridor."
Across aged care homes there are 474 active cases and just one active case – a staff member – linked to a disability facility.
Mr Andrews said he would leave any announcements regarding this morning's national cabinet meeting to the Prime Minister.
There are 90 Victorians in hospital battling the virus, including 11 in intensive care and seven on a ventilator.
Deakin University epidemiology chair Catherine Bennett said Melbourne's 14-day average was likely to be "comfortably" within the required 30-50 range by September 28.
"It would be nice if we could break through the bottom of that range and be in the high 20s by then. That's actually possible," she said.
Traffic chaos at Little River checkpoint
Traffic was banked up for kilometres at the Little River police checkpoint on Melbourne's south-west border on Friday morning.
Motorists were stuck for hours waiting for a police check on the Princes Freeway before Geelong, with images showing the gridlock stretched as far back as Werribee.
A caller to radio station 3AW also told regional Victorians to avoid the Hume Freeway, which was reportedly banked up from the Kalkallo police checkpoint, about 30 kilometres north of Melbourne, all the way back to the Craigieburn bypass.
Police beefed-up the so-called "ring of steel" around Melbourne this week after lockdown restrictions were eased in regional Victoria. Melburnians trying to escape the city face an almost $5000 fine at the roadblocks.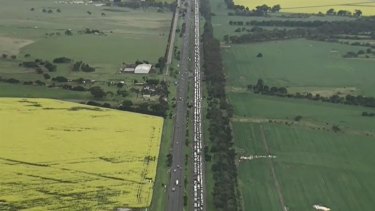 Mr Andrews said he was not aware of reports that Melburnians were changing their address in order to move to their second residence in regional Victoria to dodge the city's tough lockdown.
"If that were the case, no doubt there would be submissions made to me," he said.
"That would be drawn to my attention. If you don't have good reason to be in regional Victoria, you just can't be there. You just can't be there. If you live in Melbourne, you've got to stay in Melbourne.
"The time will come to go and spend time in your second residence, or to go on a holiday – whether that be camping or a caravan park or a beach house or wherever it may be – that's not now."
Rachael Dexter is a breaking news reporter at The Age.
Marissa Calligeros is a journalist at The Age
Aisha Dow reports on health for The Age and is a former city reporter.