The Creative Laneways project will receive $7.5 million from the state government's Working for Victoria fund and $1.4 million from the City of Melbourne.
Executive producer Lachlan MacDowall, from the University of Melbourne, said he hoped that some infrastructure, such as light boxes or music platforms, could become permanent fixtures.
"There's two broad aims, one is to support creatives in a pretty challenging time when a lot of their normal avenues for income aren't available," Dr MacDowall said.
"The second aim is to give a sense of excitement about the possibilities of what's happening in the city."
Loading
Dr MacDowall said laneways that needed "a little love" had been selected, but that artists and works would be carefully selected to compliment the character and history of each laneway.
"We're really trying to be sensitive to the character of the city … sometimes they have a bit of rich history, and we don't want to tidy them up too much, where the character of the laneways is really important and needs to be respected," he said.
Dr MacDowall couldn't say when the project would launch, because it would depend on Melbourne's case numbers and the steps out of lockdown.
"There's an enormous sense of excitement, frustration and a bit of pent up energy. We'll be getting into those laneways as soon as we can."
He thinks it could be a safe way for people to engage with the city, because they are in the open, dispersed, and will be freely accessible at all hours of the day.
Lord mayor Sally Capp said Melbourne's laneway were a major asset for the city.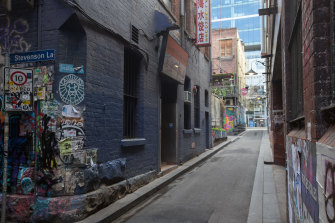 "This project will create jobs now, support our local businesses and traders and help attract more people into the city in the future."
Employment Minister Jaala Pulford said the project would revitalise some of Melbourne's most-loved public spaces while getting people back to work.
"This will drive creativity and pride in our CBD laneways and create jobs for workers, ranging from designers and lighting specialists to technicians and maintenance workers," Ms Pulford said.
The state government and city council this week also announced a $100 million fund to help bars and restaurants seat diners on footpaths and city streets to help claw back business.
Rachel is a city reporter for The Age.