Clarke's plans to go travelling have fallen through because of COVID-19 and he was more than happy to take on the role while RA began the formal process of finding Castle's successor.
McLennan was appointed chairman a few weeks later and he has become a big fan of Clarke.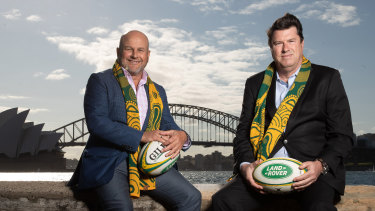 Finding a new CEO hasn't been at the top of RA's priority list given there is a multitude of issues to deal with, including a 2021 broadcast deal, constitutional reform, cost cutting across the business, finalising a Test-match schedule, as well as a collective bargaining agreement on the horizon to go with player pay cut talks that will need to be finalised by the end of the month.
Recruitment firm Hattonneale had compiled a shortlist of candidates but, given Clarke will now stick around for another three months, those eyeing the chance to run rugby will have to wait a little longer.
"I'm not going to be pressured or rushed into a decision when we're solving massive issues," McLennan said. "He [Clarke] and I get on really well and I trust him, as he trusts me."
Last month, the Herald reported that Chris White, the managing director of sports talent, sponsorship and marketing behemoth International Quarterback, as well as former NSW cricket boss Andrew Jones and SANZAAR chief executive Andy Marinos were potential options to replace Clarke.
I'm not going to be pressured or rushed into a decision when we're solving massive issues.

Hamish McLennan
McLennan said his decision to ask Clarke to stay on had nothing to do with a lack of strong options.
"We've seen lots of good candidates, but I've always said there's no rush and considering the amount of work we need to do with the Rugby Championship and launching the new competition next year, Rob has kindly agreed to stay through until March next year," McLennan said. "We're making huge progress and having a few laughs while we bring it all together.
"We've stabilised RA, got more engagement with the member unions, we're driving costs down, we got the Rugby Championship, have broadcast negotiations in play and have made real progress on constitutional reform, so Rob and I are going to keep bulldozing forward."
There is a chance, albeit unlikely, that Clarke may stay on indefinitely. If things go smoothly in the coming months, McLennan may try to convince Clarke to remain in charge.
Loading
However, according to McLennan, this is only a short extension and his colleague has no desire to remain in the role long-term.
"He's pretty committed to going sailing in the Mediterranean," McLennan said.
Tom Decent is a journalist with The Sydney Morning Herald