Given that is more than 14 days away Sidebottom would not be eligible to play until the Pies' second week of finals, should they qualify.
"That was a decision that Steele and Alisha came to together," Buckley said. "We were heartened to get that news only in the last 24 hours.
He said numerous options, including completing quarantine in Darwin, were on the table.
"Whatever Steele and his young family need is first and foremost … beyond that it is working with state governments and the AFL to see how a quarantine period would be established," Buckley said.
Buckley also praised captain Scott Pendlebury who on Monday will break Tony Shaw's Collingwood games record (313) and Buckley's club captaincy record (161).
"Pendles very simply has never beaten himself," Buckley said on Pendlebury's longevity and success. "He always finds a way to move past his bad moments or his moments where he doesn't quite meet his own standards. He goes back to a process that has worked for him consistently.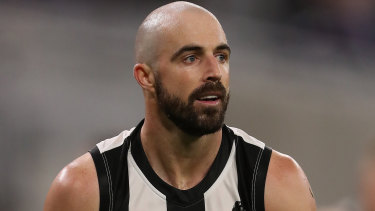 "He just has remarkable self-discipline and a capacity to stay on task.
"That's why he has been a great player and a great leader."
Meanwhile, Collingwood defender Tom Langdon, who has not played since May 2019 because of a chronic knee injury, has recently faced a setback, one that is again forcing him to face his football mortality, Buckley said.
Langdon had finally made enough progress to play scratch matches.
"His knee has been problematic," Buckley said, adding that Langdon pulled out of a recent scratch match against the Brisbane Lions after 10 minutes because his knee was too sore.
"He hasn't done a lot in the last week-and-a-half.
"It's a challenging circumstance for Tom to be in. He is a well-rounded young man, he is more than a footballer.
Loading
"It's been over 18 months now. There's some decisions to be made there by Tom first and foremost. And then we need to work with him to see what the next steps are."
Depending on other results, the Pies could avoid a trip to Perth to play West Coast in a final should they beat ladder leaders Port Adelaide.
This was not a consideration or motivating factor for the Pies, Buckley said.
"I think we're in really good shape. I have been really consistent with my utterings in the last month or so.
"I think we have been building … [the Brisbane loss] showed that we're not far off it.
"We believe we have been able to establish more consistency in our game style … is improving. And out contest and stoppage work has been fairly consistent through the year.
"We're looking forward to Monday to test that and impose that against a really good team."
Anthony is a sports reporter at The Age.