The organisation is assisting the Solomon Islands government to develop a centralised database of all of the explosive remnants left in the country by both Japanese and allied forces.
Per Nergaard, deputy secretary general of the organisation, said the accident – which happened about 8pm local time on Sunday – was a very rare occurrence.
"It's very peculiar that there was an explosion in the residential area," he told The Age and The Sydney Morning Herald. "We are very reluctant to speculate on the cause."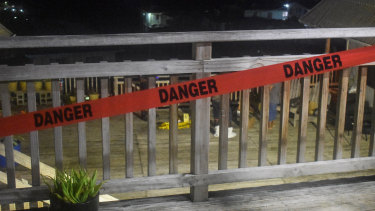 "We have extremely strict procedures when it comes to dealing with these types of explosives. It's a mystery as to how it could happen. It's a very mysterious event for us."
Local Officer-In-Charge of Explosive Ordinance Disposal (EOD) Inspector Clifford Tunuki said authorities needed to ensure the scene was safe before investigating the cause of the explosion.
Loading
"On behalf of the Royal Solomon Islands Police Force I wish to convey my sincere condolences to family and relatives of those two foreign nationals who died in this tragic incident," he said.
Tunuki said his EOD officers worked closely with the foreign NGO.
"The survey team goes out to confirm the location of the UXOs following reports from the communities and the information is relayed to us. We determine what to do with the UXOs after the survey has located them," he said.
The NPA have put all their UXO work on hold in the Solomon Islands while the incident is under investigation.
Paul Copeland, national convenor of the Australian Peacekeeping Service Alliance and a retired ADF soldier, said the accident highlighted the danger of peacekeeping work.

"It's always fraught with dangers," he said. "There are risk management strategies in place… but sometimes those risks might not be identified."
Mr Copeland said there was still thousands of unexploded devices in the Pacific Islands, where the ADF has been conducting annual disposal operations under the name 'Operation Render Safe' for many years.
"There's still a lot to clear there to make the countryside, the ocean and even the land livable," he said.
"It [the accident] resonates – it's the remnants of war still in the country some 80 years after the fact."
The bodies of the two men were taken to the National Referral Hospital and would remain there for now, hospital chief executive Dr John Hue said.
A spokeswoman for the Australian Department of Foreign Affairs confirmed the government was aware of the incident, but is yet to make any public statement on the accident.
With Natassia Chrysanthos
Rachael Dexter is a breaking news reporter at The Age.