University of Melbourne Vice-Chancellor Duncan Maskell says Victoria needs to address a question that has hung uneasily over our COVID-19 response: what is our tolerance for death in this global pandemic?
Professor Maskell doesn't profess to know the answer. Though his research expertise is in infectious diseases and microbiology, he says that ultimately, it is a question that can only be addressed by our political leaders, taking into account public sentiment.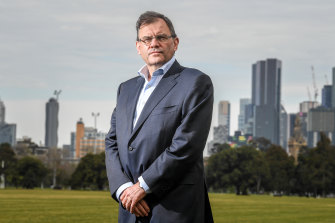 Yet, as Melbourne inches towards a loosening of COVID restrictions, Professor Maskell says we shouldn't be afraid to ask the question, nor to apply scientific rigour to it.
"The question everyone is skirting around here is what is the appetite in any country for disease and mortality associated with this virus,'' he told The Sunday Age.
"Every answer to that question is valid in one way or another. If you were to say we have no appetite whatsoever for any deaths from this virus, that is a perfectly reasonable position to take, but you have to take that position knowing the consequences.
"If that decision stops people dying now from the virus, what are the economic consequences of that for people and how will that play out in terms of future mortality? It would be crazy if, hypothetically, we stop 100 people [dying] from the virus but over the next two years, 200 people died from [the effects of] poverty and mental health."
Chadstone Shopping Centre has been named by anti-lockdown protesters as the location for their second planned rally this weekend.
Several dozen protesters came together outside the Coles supermarket singing John Farnham's song You're the Voice but then broke up and dispersed.
Chadstone security are now turning people away from the entrance of the shopping centre.
Fourteen people celebrating a birthday party in Wyndham in Melbourne's west are among those who have been fined for breaching coronavirus restrictions over the past 24 hours.
Other examples cited by police in their daily tally include a man who travelled from Dandenong to Cranbourne to allegedly "buy bread his daughter likes", and a woman who told police she travelled from Richmond to Prahran to buy cigarette papers.
A total of 150 fines were issued over Saturday, including 19 for people not wearing a face mask, 10 issued at vehicle checkpoints and 42 for breaches of the 9pm- 5am curfew.
In a light-hearted moment in the Victorian Premier's press conference, Mr Andrews sheepishly admitted to having received an at-home haircut this week.
Hairdressers are shut in Victoria until late October, and have been closed since stage four lockdown was introduced over six weeks ago.
Many have resorted to giving their mops a trim at home, including the Premier who had his hair trimmed by wife Catherine this week.
"There's photos if anyone needs evidence that I didn't go to a park and have an illegal haircut," he said.
"It was an appropriate haircut… well, you can be the judge of that, but it was within the rules anyway."
Mr Andrews said it may not be the last time he needs at DIY haircut before restrictions ease.
"Some of us are blessed with a less intensive maintenance challenge than others," he laughed, responding to Channel 7 reporter Paul Dowsley who er, has little hair to contend with.
Queensland's Premier has played down reports Hollywood actor Tom Hanks is spending his quarantine at a lavish estate in the Gold Coast Hinterland.
News Corp reports on Sunday claimed Mr Hanks and his entourage were staying at the Rivermead Estate, which can cost up to $6000 a night.
Ms Palaszczuk on Sunday said she did not believe that was correct, adding that she had been told Mr Hanks was staying in "a hotel" while he does his quarantine before rejoining filming on Baz Lurhmann's Elvis biopic.
The Premier then went on the attack, saying other people had travelled from LA to Sydney, but were not getting the same media coverage.
"They would have had to get the exemptions and the Border Force checks as well, for them to come into NSW," Ms Palaszczuk said.
"But unfortunately we're not hearing anything about that in NSW, all we are hearing is about Queensland."
Ms Palaszczuk said because of Queensland's tough measures to stop the spread of COVID-19, productions like the Elvis movie were able to go ahead.
"Very few places are producing movies… at the moment, but Queensland is able to do that, we're able to support the industry and get people back into work," she said.
"Scott Morison, the Prime Minister, flew up to the Gold Coast, remember when Melbourne was having its second wave, he was here on the Gold Coast talking about how good the film industry is. So I'm not going to cop this negativity."
NSW Premier Gladys Berejiklian and officials announced the 'Get Ready' campaign for fire season on Sunday.
Lockdown measures are not just to protect the lives of older Victorians, but to stop hospitals getting overwhelmed and all residents missing out on care, Premier Daniel Andrews says.
Asked today about commentary circulating that the lives of older Victorians shouldn't be prioritised above the good of the economy or livelihoods of younger Victorians, Mr Andrews said that the rules were not based on placing a value on different age group's lives.
"You don't have to get to that debate because what I'm saying to you is the evidence tells you if our health system get's swamped people of all ages and for all reasons will miss out and they're not people who can afford to wait," he said.
He said those needing treatment for trauma and cancer patients would miss out if, "every ICU bed is full with COVID-19 patients".
"If you've had a stroke, if you're having a heart attack you need care and you need it now," he said.
"A swamped healthcare system will not be able to deliver that for you."
Daniel Andrews has today been asked again about the call to not fine those at the centre of the sizeable Hallam cluster.
It's been revealed that the 40-person strong outbreak stemmed from people visiting one another's homes against the directives of the Chief Health Officer.
Mr Andrews defended his position today, saying that fining people retrospectively would lead to people lying to contact tracers, and that getting answers was more important than punishing people.
"I'm not expecting everyone to be happy with that," he said.
"The real riches are not in fining people for telling the truth to a contact tracer. It's getting the place open and if we don't get accurate information, enforcement information you won't trace those people, you simply won't."
Premier Andrews said he shares Prime Minister Scott Morrison's vision to see a great majority of Victorian jobs restored before Christmas.
He foreshadowed a large amount of public spending to be used in the upcoming state budget to stimulate employment.
"I share an absolute conviction to do everything that we possibly can using the strength of the Victorian budget … to protect household budgets," he said.
Mr Andrews said the cost of borrowing money from the reserve bank was "but a fraction" of the cost of long-term unemployment.