Tiffany Wood and Pip Bruce are both pregnant. They have been living with the Dogs in the club's Queensland hub however a match against West Coast would mean the Dogs will need to spend a week in quarantine in Perth before the game.
Coach Luke Beveridge said after the game he wasn't sure if Bruce and Wood would make the trip to Western Australia should the Pies beat the Power.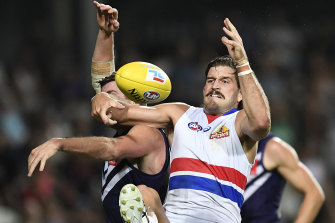 "Dunno. The girls aren't due right now. I hope they come if we go there. I haven't got the exact weeks. But on the scale of when ladies look pregnant, the girls look pregnant, very pregnant. They're definitely in the third trimester, and deep into it," Beveridge said.
Naughton was taken to hospital in Cairns after a hit from Docker Sean Darcy late in the second quarter of the Dogs' win. Beveridge said Naughton was likely to need surgery.
"We believe it's a depressed fracture of the cheekbone. It's just where it is. Sometimes players can almost play the next week or in two weeks' time, but if it's up around the eyesocket it can be a bit worse. We haven't got any confirmation on where it is but it's pretty firm that he's got a depressed fracture of his cheekbone. We think he'll need surgery," Beveridge said.
Key defenders Zaine Cordy and Alex Keath were both tried in attack following Naughton's injury and Beveridge said the Dogs had several options if Naughton was ruled out.
"We need some aerial prowess [in defence]. We've got to determine whether or not we have one of those lads forward or we pick one of our bigger boys who are waiting in the wings or we play with a smaller forward line."
In better news, Beveridge said Mitch Wallis "should be fine" after a late knock.
Beveridge praised his men for overcoming a slow start to the season.
"It is emotional. It's been a tough home and away season. To think we were 0-2 and probably our integrity and brand as a team was questioned back then, and rightfully so. We were a bit unstable. The boys have done an amazing job when you consider the uncertainty and the challenges of the circumstances.
"To see what the lads have done over the course of the year and then the last few weeks … there's something beyond pride that we all feel for them. And our staff as well, who've really done it tough away from home. So we're just over the moon."
Daniel is an Age sports reporter