If you're in Victoria and in need of a statistics fix, here are the latest graphs from my fellow blogger and our data journalist Craig Butt.
You'll notice Melbourne's 14-day case average is well into the "green zone", which means the city is on track to ease some restrictions this Sunday.
The 14-day average in the chart below shows the trend, but is not exact because it does not use the exclusive data the DHHS uses to calculate their official 14-day average.
If you're just joining us, here are some of the key developments of the day so far:
Victorian Premier Daniel Andrews says the state's very low case numbers over recent days don't yet justify changing the state's road map dramatically. But he said there was a role for commonsense decisions, with some restrictions due to ease on Sunday;
Victoria has recorded 11 new cases of coronavirus – the state's lowest daily increase in cases since June 16 when 12 cases were reported. "This is not just a good day. This is a great day. We are seeing these numbers come down. This strategy is working," Premier Daniel Andrews said;
Sadly, there were two further deaths – one woman in her 80s and another woman in her 100s lost their lives to the virus;
NSW has recorded four new cases, but contact tracers are racing to identify anyone who may have been infected by a Sydney a taxi driver who worked for nine days while he had COVID-19;
Health officials have identified nine taxi trips across Sydney where passengers would have been at increased risk of contracting the virus from the infected driver, who did have the COVIDSafe app on his phone;
The NSW government has one simple rule for beachgoers this summer: stay one towel length apart from each other. Chief Health Officer Dr Kerry Chant said it would be better to be outdoors (and sun-safe) than indoors to prevent the spread of coronavirus;
Back to Victoria's hotel quarantine inquiry for a moment, where it has been highlighted that Premier Daniel Andrews talked about the use of police and private security in his very first press conference about the ill-fated program.
A transcript of the 3pm press conference on March 27 has been shown to the inquiry.
Mr Andrews said: "This is not just about an appropriate health response. It's also back to those points I made a week ago about working for Victoria and re-purposing people who have perhaps had their hours cut or in fact lost their jobs to do coronavirus work. To work for all of us."
He went on: "Police, private security, all of our health team will be able to monitor compliance in a much easier way, in a static location, one hotel or a series of hotels, as the case may be."
Mr Andrews then said for the 500 police conducting spot checks, "that will mean that more of those police will be able to get to more homes where people are supposed to be quarantining".
Department of Premier and Cabinet secretary Chris Eccles, who is giving evidence today, told the inquiry he does not know who briefed the Premier about the role of police and private security before his press conference.
He added that neither nor anyone from his office provided advice to the Premier.
Mr Eccles said the Premier's private office is chiefly responsible for helping the Premier prepare for press conferences.
How it came to be that private security guards were deployed in the hotel quarantine program is a critical issue before the inquiry because dozens of guards caught COVID-19 from returned travellers, causing the state's devastating second wave.
The NSW government's COVID-safe summer plan has five elements, which include ensuring social distancing rules are in place for outdoor areas, working with local councils and businesses, and a series of planned events that will take place across the summer months.
There is also one "simple rule" people should follow while at the beach, Planning Minister Rob Stokes said.
"It's keep a towel length from the person next to you, that's the best way you can ensure that you are keeping yourself and the people next to you safe."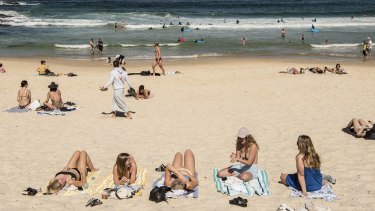 NSW Chief Health Officer Dr Kerry Chant said it was better to be outdoors (and sun-safe) than indoors to prevent the spread of coronavirus.
"What we know is that outdoor environments are more COVID safe," she said.
"Of course, if they've got close contact on beaches, it can transmit. But it's certainly less risk than perhaps if you're in an indoor environment at home."
Mr Stokes said with almost 2200 kilometres of coastline, and more than 100 kilometres of coast and more than 100 beaches within greater Sydney alone, there was enough space for everyone.
"Avoid the middle of the day, spread the load out a bit more, there's plenty of room for everybody," he said.
An email between top bureaucrats reveals Premier Daniel Andrews' office was seeking advice on what role the Australian Defence Force would play in the state's ill-fated hotel quarantine program.
The email, shown to the inquiry into the program, was sent by the Premier's senior policy adviser on March 27, two days before the first travellers arrived, to Department of Premier and Cabinet officials.
Mr Andrews' adviser wrote: "The Premier will stand up tomorrow morning to give an update on the Economic Survival Package and the quarantine enforcement measures … Can you please send an update on the enforcement measures … What role will the ADF play?"
The head of the Department of Premier and Cabinet, secretary Chris Eccles, who was not included in the email, has told the inquiry he cannot recall if his department provided any advice to the Premier's office on the role the ADF would play.
Victoria's top public servant was offered Australia Defence Force support for the state's hotel quarantine program by the federal government on April 8.
But Chris Eccles – secretary of the Department of Premier and Cabinet – cannot recall if he passed that offer on to his colleagues who were making key decisions about the program.
In an April 8 email, Commonwealth public service boss, Phil Gaetjens, told Mr Eccles the NSW government had received help with its quarantine hotels from the ADF.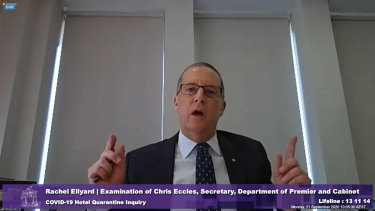 "The Commonwealth would be willing to assist Victoria in a similar way if you wanted to reconsider your model," Mr Gaetjens wrote.
"Thanks Phil," Mr Eccles responded.
Today, Mr Eccles has told the state's inquiry into the ill-fated quarantine program he cannot remember if he passed that email on. There is no email trail following this, the inquiry heard.
"I'm not saying that I didn't, I'm saying that I'm not aware that I did or I didn't," Mr Eccles said.
Premier Daniel Andrews told a parliamentary public accounts and estimates committee on August 11: "It is fundamentally incorrect to assert that there was hundreds of ADF staff on offer and somehow someone said no."
A lead lawyer for Victoria's inquiry into the state's bungled hotel quarantine program says knowing who decided to use private security guards is a matter of proper governance.
Rachel Ellyard, the counsel assisting the inquiry today, said thousands were employed as private security guards in a decision that cost the state a significant amount of money.
"Shouldn't we be able to say who made it as a matter of proper governance?" Ms Ellyard asked Victoria's top public servant, Department and Premier and Cabinet secretary Chris Eccles.
Mr Eccles started talking about the concepts of "individual and collective decision-making" between the Emergency Management Commissioner, the Health Department as the control agency and Victoria Police as the security experts.
"So none of them is the repository of all information that goes to bear to the question, so part of the reason we have things like the State Control Centre and we have governance that is collective governance, is that we bring relevant perspectives to bear to making important decisions," Mr Eccles said.
He said if there's a failure to acknowledge a decision, then "I think there's been a fault of a flaw in the design".
More than 30 security guards contracted coronavirus from quarantined returned travellers while working in two Melbourne hotels. The hotel quarantine breaches are responsible for at least 99 per cent of Victoria's deadly second coronavirus wave.
Victoria's top public servant says he doesn't know who made the decision to employ private security guards in Victoria's ill-fated hotel quarantine program.
Department and Premier and Cabinet secretary Chris Eccles has told the state's inquiry into the program this morning he is unaware how it came to be that private security was deployed as the first line of security inside Melbourne's hotels over police or Australian Defence Force troops.
The decision to hire private security guards is a critical issue before the inquiry. More than 30 security guards caught COVID-19 from quarantined returned travellers while working in the hotels, sparking Victoria's deadly second coronavirus wave.
Mr Eccles said his first thoughts after he emerged from the National Cabinet meeting on March 27, in which the decision to enforce mandatory quarantine of international arrivals was made, was to deal with a "need for hotels and a need for people with deep logistical experience".
The inquiry has previously heard that the hotel quarantine program in Victoria was more of a logistics and accommodation program, rather than health-focused one. That potentially resulted in a lack of clarity and processes around infection control.
Mr Eccles told the inquiry this morning he didn't contemplate the enforcement of mandatory quarantine until a 4.30pm Victorian Services Board meeting on March 27.
Then-chief police commissioner Graham Ashton and the heads of all government departments were present at the VSB meeting.
Notes from that meeting were shown to the inquiry.
Next to the letters GA [Graham Ashton] the notes read: "ADF will be assisting in spot-checking processes from what the PM and the Premier confirmed … we're trying to keep the ADF presence back of house – to prevent the ADF presence obvious to the community etc" and "police won't [sic] guard but will be doing the checks?"
The notes also say: "GA challenge will be static presence over a long period of time – will end up with some private contractor or else the ADF ideally.
"CE [Chris Eccles]: I assume a private contractor."
Mr Eccles said he couldn't recall the discussions in VSB and said the note "could be as high or as low as me making a deduction based on the narrative through the VSB at that point rather than me drawing a conclusion that there will inevitably be a role for private security."
He also couldn't remember if his department had any involvement in providing advice about who would be enforcing quarantine.
Partygoers on the NSW north coast were among 31 people fined over the weekend.
Police were called to a party on South Beach Road, Brunswick Heads, about 7pm on Sunday. On their arrival, police could hear loud drums and saw about 100 people dancing.
Those who spotted the police tried to flee. Three people were stopped by police, including a 45-year-old man who initially refused to give officers his name and details.
The 45-year-old man, a 42-year-old man and a 38-year-old woman were each handed fines of $1000.
Police also charged two men for illegally crossing the border and another for providing false details at a border checkpoint.
A Melbourne man who was found nearly 60 kilometres from his Doncaster home was among 177 people fined for flouting lockdown rules yesterday.
Melburnians are not allowed to travel more than five kilometres from their homes, but the Doncaster man told police at a Frankston checkpoint he was travelling south because there were no nice parks in his area.
A man from Coburg in Melbourne's north was pulled about 56 kilometres west of his home in Bacchus Marsh. He told police he wanted to visit a particular grocery store.
Forty-five people were fined for breaching Melbourne's 9pm-5am curfew and 13 for failing to wear a face-covering in public.
Police found six people in a city apartment, only three of whom lived there. All were fined.
Officers also fined two men in a rideshare service car in Melton just before 4am on Sunday. One was from Deer Park, the other Tarneit. They claimed they were going to visit family.
While checking more than 15,700 vehicles at checkpoints, police fined six people including a man who had driven from Cranbourne to the beachside suburb of Rosebud on the Mornington Peninsula, who claimed he was getting petrol.
Police conducted 1174 spot checks on people at homes, businesses and public places.