Aleksandar Vukic, Alex Bolt, Max Purcell and Andrew Harris will also chase their place in the main draw.
Australia's defending women's champion and world No.1 Ashleigh Barty will not defend her crown after withdrawing earlier this month due to the health risks involved as well as the havoc the pandemic has caused for her training.
Organisers did not reveal the names of those who had been pulled out but Damir Dzumhur said he had been withdrawn because his coach Petar Popović had returned a positive test.
"That's why I can't play at Roland Garros and I don't have a chance to compete," he wrote on his Instagram account.
"He didn't get a chance to do a second test and we're sure he was false positive because my coach has antibodies," added the Bosnian, who reached the third round in Paris in 2015 and 2018.
Meanwhile, exactly two weeks after he was defaulted from the US Open, and a day after he was warned by the chair umpire for breaking his racket in a fit of rage, Djokovic received an obscenity warning midway through a 7-5, 6-3 win over Casper Ruud in the Italian Open semi-finals Sunday.
The obscenity came in the third game of the second set, by which time Djokovic had a running dialogue with the chair umpire over a series of contested calls.
"I deserved the warning," Djokovic, who will play Argentine Diego Schwartzman in the final, said. "I didn't say nice things in my language.
"I had a couple of disputes with the chair umpire with those calls," Djokovic added.
"As I understood, I was three out of three right, but doesn't matter. Everybody makes mistakes. It's fine. It was a kind of the heat of the battle. There is a lot of intensity on the court. A lot of pressure for him, for both players. It's kind of whatever happens, happens."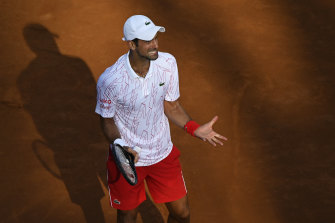 As opposed to his previous two outbursts, this time there were fans in the stands who could clearly hear how Djokovic dealt with his frustration.
With 1000 spectators allowed in to the Foro Italico for the first time this week, a large proportion of those in attendance were children.
Loading
"I don't want to do it, but when it comes, it happens," Djokovic said Saturday.
"That's how I, I guess, release sometimes my anger. And it's definitely not the best message out there, especially for the young tennis players looking at me. I don't encourage that — definitely."
Ruud was Nick Kyrgios' opponent during last year's Italian Open when the Australian walked off the court and threw a chair onto the red clay, leading to him being defaulted and fined.
"Some players, or especially Djokovic, (are) very passionate," Ruud said. "Some players just by nature can show more emotions than other ones. That's part of the game."