The Star said in a submission that a 110-metre tower "would be required to ensure a hotel of six-star standard", and would be "less than half of height" of its original Ritz-Carlton proposal.
Labor's planning spokesman, Adam Searle, said it was concerning the proposal for the northern tower would be "significantly out of keeping" with the government's planning strategy for the suburb. "We should have a sensitive and balanced approached to planning," he said.
"Given the recent history of Pyrmont, we would be concerned if the proposal went beyond what the government is currently envisaging for Pyrmont," he said.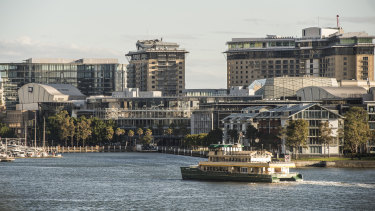 Under the plans, the southern tower proposed for Union Street would include shops, a restaurant, and bars, as well as a hotel and apartments.
Loading
The casino operator said in its submission that it expected the two sites to create about 1000 jobs during construction, and about the same number when the buildings were opened.
Planning Minister Rob Stokes said the proposal was one of 130 submissions on the draft Pyrmont Peninsula Place. "This is not a development application before government so at this stage there's no specific plan for government to consider. But obviously we welcome those sorts of plans," he said. "We're looking forward to finalising the plan [for Pyrmont] based on all of those submissions over the next few weeks."
Independent member for Sydney Alex Greenwich described it as "deeply inappropriate" that The Star was proposing to increase the floor space of a casino on the city's harbour-front. "It really feels like a land grab on the harbour foreshore for the purposes of a casino," he said.
The Committee for Sydney and other groups such as developer lobby Urban Taskforce have backed the casino operator's plans as a way to stimulate economic growth.
A spokesman for the Committee for Sydney said there was no reason why taller buildings could not be constructed in Pyrmont provided they were matched by extra infrastructure such as a new train station and more public space and amenities.
The government has given strong indications in recent months it will build a railway station at Pyrmont as part of its $20 billion-plus metro project between the CBD and Parramatta.