The social media platform, which has an estimated 1.6 million users in Australia, said under the terms of the deal Oracle would be its "trusted cloud and technology provider" responsible for fully securing its users' data.
However, TikTok Global will still be 80 per cent owned by Chinese company ByteDance and Fergus Ryan, analyst at the Australian Strategy Policy Institute, said it was not really clear how any of the national security issues involved had been solved.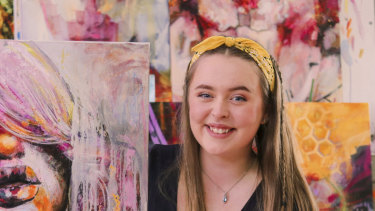 "It's my understanding that there will be no transfer of [TikTok's] algorithm from ByteDance to Oracle," he said. "And that means that the underlying censorship problems can never really be solved because the algorithm will remain a black box."
TikTok uses a highly intuitive algorithm and Mr Ryan said he was concerned ByteDance may be pressured by Beijing to manipulate its algorithm to promote or suppress content.
"Rather than going for a blunt policy option of banning these apps outright just because they're from China it makes sense to introduce regulations that improve transparency around data privacy and content moderation that would be applicable to all social media platforms."
However, 21 year old Daylesford artist Tahlia Stanton, who has 221,000 followers on TikTok, said she had no concerns at all about TikTok and trusted the platform.
"Personally the deal doesn't make that big a difference to me," she said. "As long as the community is still there and the creators we care about get to show up every day, that's what's important."
Celia Gercovich, 29, uses TikTok to promote her business Bespoke Balloons Ballarat, and said she was also nonplussed by any data implications
"I don't know if it is being naive, but regardless of where the data is stored it really doesn't faze me at all," she said.
The TikTok deal comes as the platform's Australian executives prepare to appear before the Senate's inquiry into Foreign Interference Through Social Media on Friday.
Loading
TikTok's chief executive, Australian Vanessa Pappas, said in a statement on Monday that TikTok was committed to protecting its users globally.
"While we strongly disagree with the implications of TikTok as a national security threat, we nonetheless understand the concerns," she said.
Ms Pappas said TikTok had taken several steps to increase transparency, including hiring a new chief security officer, launching a transparency and accountability centre where experts can inspect TikTok's algorithm, code and moderation practices, and publishing transparency reports.
Cara is the small business editor for The Age and The Sydney Morning Herald based in Melbourne
Most Viewed in Technology
Loading