Mr Herscu was attending a reception in South Yarra where Hyperno, the horse of which he is a joint owner, was being named Marlboro Racehorse of the Year.
Hyperno won the Melbourne Cup in 1979.
The bandits escaped in a Cortina sedan owned by one of Mr Herscu's children.
During the robbery the bandits phoned Mr Herscu at the reception centre, 9 Darling Street, and ordered him to return home.
It is believed that Mr Herscu phoned police before leaving the reception to return home. Police sealed the area around Whernside Avenue, but the bandits had gone.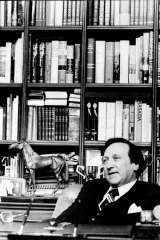 It is believed that Mr Herscu reached the house before police.
He freed his sons, who appeared unharmed.
Police were unable to give an immediate estimate of the value of the goods stolen in the raid, but said it was "obviously quite a considerable amount."
Early today police were still searching the area for the bandits. "The ground seems to have opened up and they've just dropped in," one policeman said. "The car's disappeared and so have the head."
Early today detectives from the armed robbery squad were still questioning Mr Herscu and his sons while police forensic specialists examined the house.
It is believed that Mr Herscu's wife, and his daughter, Michelle, 19, were away.
Mr Herscu, is the chairman and managing director of Herscu Development Corporation which has built several shopping centres around Melbourne.
Police said it appeared that the bandits knew what they wanted and when Mr Herscu would be out.