"We are always only a few days from another outbreak, but so is Queensland … it is time for the Queensland government to bring down the whole border"," she said.
There were 7616 tests in NSW during the reporting period, a low figure and on par with the 7765 in the previous 24 hours.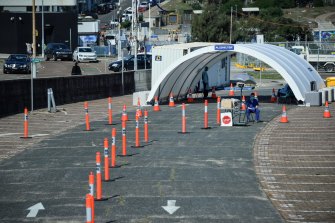 It was the second consecutive day of daily testing figures below 8000, prompting NSW Health to plead for people to come forward for testing, even with the mildest symptoms.
Ms Berejiklian said lower testing rates were "still the result of weekend testing", noting "we know the numbers tend to go up on a Wednesday".
Loading
"Please go the day you have the symptoms, and please know that, because of pandemic leave, you do not need to be stressed about not going to work … the last time we were complacent the Victorian situation came up," she said.
There have been more than 2.6 million tests completed.
The last time NSW recorded no local cases was on July 3, when no cases at all were recorded. Ominously, this was also the date a Victorian man visited Casula's Crossroads Hotel, sparking NSW's second wave.
NSW has 77 coronavirus patients receiving treatment. Of these, three are in ICU and one is on a ventilator.
South Australian Premier Steven Marshall said his government had decided to reopen borders despite a Sydney taxi driver testing positive on the weekend, prompting fears of a new outbreak.
He said SA Health had discussed the matter with NSW Health and received "all necessary information" regarding the new case.
"The advice is that this is the right decision," he said of the reopening. It comes after South Australia reopened its borders to ACT travellers last week.
Queensland Premier Annastacia Palaszczuk said the border bubble changes will come into effect at 1am on Thursday, October 1 and allow 152,000 people to come into Queensland without a border exemption.
"I think this is a great effort to consider how we can make our border zones more effective, but also to look at these areas that have a lot in common with Queensland," she said.
With Lydia Lynch
Get our Morning & Evening Edition newsletters
Mary Ward is a reporter at The Sydney Morning Herald.