CFA Commander Ryan Baxter said the rubbish was mainly household waste, tyres and residential building materials.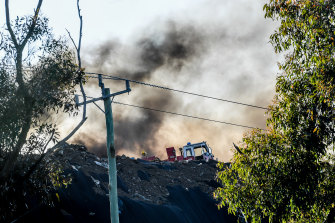 He told radio station 3AW the fire ignited at the top of the pile.
"I am aware there has been a fire on this site previously," he said.
"It's not an uncommon thing though to find landfill sites where, for whatever reason, they have some sort of combustion occur and a fire takes place."
He said the smoke in the area had reduced significantly. "At this stage, we don't believe the current amount of smoke or presence in the area is a risk to the community."
The cause of the fire is still under investigation, Mr Baxter said.
Australian Recycling Corporation, which took control of the tip only a few months ago from the previous owners, could not be reached for comment. An employee who answered a phone associated with the tip declined to comment as the emergency was still underway.
The tip has been closed since 2018 by order of Victoria's Environment Protection Authority after the regulator discovered asbestos, several sub-surface fires and waste dumped outside the authorised boundary of the facility.
The shutdown came after a lengthy history of violations by previous operators, many of whom had an extensive connection to the underworld.
Control or ownership stakes have been held — or at least claimed — by associates of the Hells Angels, a Sydney gangland figure known as "The Godfather", biochemist and convicted drug trafficker Shane Charter and Calabrian underworld figure Freddie "The Bear" D'Amico.
Charter and Freddie the Bear famously came to blows in a nearby Hungry Jacks in fight over the tip in 2017. Charter's wife was allegedly threatened with a knife by a masked assailant in a separate dispute over the lucrative business.
There is no suggestion that the fire is the result of arson and The Age does not suggest the Australian Recycling Corporation is connected to the previous owners or operators.
Before the sale, the previous owners said they were complying with Environment Protection Authority clean up instructions:
"We have excavated and relocated the waste material that was inappropriately disposed of to temporary stockpiles at our facility as part of the approved clean up works at the site. These temporary stockpiles are covered and are visible from Sunbury Road. We are now continuing with the construction and engineering of our new landfill cell which will comply to EPA Victoria's design and construction requirements," the company's website said.
At least 19 CFA trucks attended the scene, about eight kilometres north-west of Melbourne Airport, with assistance from Fire Rescue Victoria.
Traffic was delayed on Sunbury Road and drivers were urged to take the Calder Freeway instead.
Get our Morning & Evening Edition newsletters
The most important news, analysis and insights delivered to your inbox at the start and end of each day. Sign up here.
Chris Vedelago is an investigations reporter for The Age with a special interest in crime and justice.
Zach is a reporter at The Age. Got a story? Email me at zach.hope@theage.com.au