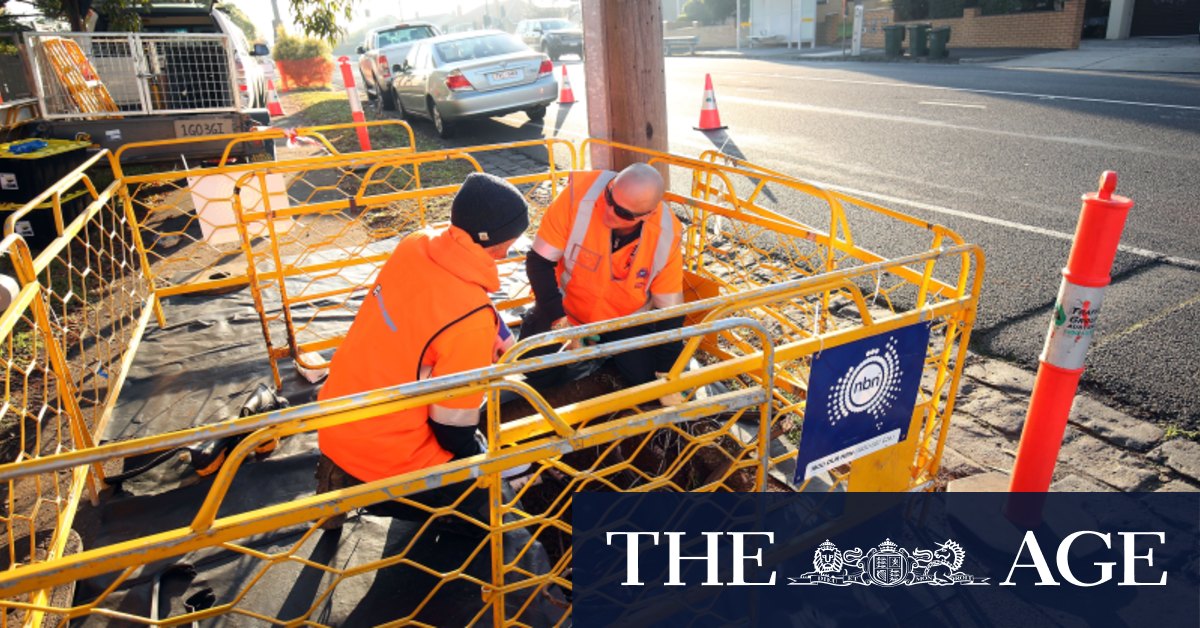 Loading
Communications Minister Paul Fletcher, who will unveil the plan in a speech at the National Press Club on Wednesday, said new fibre-to-the-home connections would only be built if a customer ordered a high-speed plan, and there would be no upfront connection charge.
"If a customer doesn't ask for it, we won't roll the fibre to your home. If the customer demonstrates that he or she has got the demand, then we will roll the fibre [out]," Mr Fletcher said.
"This is totally consistent with the approach we've followed for seven years, which is being responsive to demand and tailoring the rollout to demand."
Fibre-to-the-home for every Australian household was a central feature of Labor's NBN plan, but was axed by the Coalition after the 2013 election in favour of a mixed technology approach.
Former prime minister Kevin Rudd, who announced the original NBN , has previously lashed the government for ditching the fibre-to-the-home rollout, which will now be a feature of Mr Fletcher's plan.
"Labor's NBN would have connected 93 per cent of premises with superfast fibre-optic cable & the rest by wireless/satellite. The Liberals butchered it," Mr Rudd tweeted in June.
But Mr Fletcher said Labor's plan had been to build fibre everywhere, before people were willing to pay for it. Former Liberal prime minister Malcolm Turnbull in his recent book said he changed the NBN's technology approach in part because people were not ready to pay for superfast speeds.
The announcement comes as the rollout of the NBN hits 99 per cent completion, with 18 per cent of premises already able to access ultra fast speeds through fibre-to-the-home connections or HFC.
The NBN Co is required to provide 25Mbps peak speeds to all premises and 50Mbps to 90 per cent of fixed line connections, but there has been growing demand for faster speed tiers.
Loading
Mr Fletcher said the number of people taking up a 50Mbps or higher service had risen from less than 20 per cent in 2016 to about 70 per cent today.
Mr Fletcher said the project was "shovel ready", with detailed plans and modelling for the location of the new fibre networks to be developed in the coming months. Construction will begin by the end of the year, with almost half of the two million premises to benefit from the new fibre networks to be located in the regions.
"We'll be trying to bring this benefit to as many people as quickly as possible," Mr Fletcher said.
The $3.5 billion upgrade covers the capital construction costs, including the fibre-to-the-home connections. It is part of broader $4.5 billion package that includes a $700 million initiative, announced on Tuesday, to provide more than a million businesses around the country with the option to have fibre rolled into their premises free of charge.
Loading
Competitor TPG, in response to the $700 million regional announcement, said NBN Co should look to provide infrastructure in areas under-served by private companies rather than build over existing fibre networks.
"However, it is critical that NBN does not overbuild or displace private investments which would have been delivered more efficiently by a competitive market," a TPG spokeswoman said.
Labor communications spokeswoman Michelle Rowland said the regional fibre announcement showed the coalition had got it wrong when it moved away from the fibre-to-the-home model.
"After spending $51 billion on a second-rate network, and wasting seven years, it turns out fibre is what Australian businesses needed all along," she said.
The upgrade is the first sign of NBN Co using some of the $6.1 billion it raised in the private debt market in May.
Finance Minister Mathias Cormann said as well as refinancing the existing $19.5 billion Commonwealth Government loan by June 30, 2024, NBN Co will bring forward "important investments in Australia's future broadband capability" through private debt, which he said was possible due to its strong future cash flow position.
Lisa Visentin is a federal political reporter at The Sydney Morning Herald and The Age, covering education and communications.