Former Republican presidential nominee Mitt Romney announced on Wednesday (AEST) that he would support the nomination process advancing this year, ending any hope among Democrats that they could block the process before the presidential inauguration on January 21.
"The Constitution gives the President the power to nominate and the Senate the authority to provide advice and consent on Supreme Court nominees," Romney said in a statement.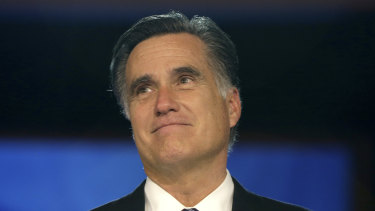 "Accordingly, I intend to follow the Constitution and precedent in considering the President's nominee."
Romney's decision was keenly anticipated given he has been unusually critical of Trump and was the only Republican senator to vote in favour of removing him from office during his Senate impeachment trial this year.
Loading
"My liberal friends have over many decades gotten very used to the idea of having a liberal court and that's not written in the stars," Romney said.
Two Republican senators – Lisa Murkowski of Alaska and Susan Collins of Maine – have said they do not support filling the vacancy this year, short of the four Republican votes required to stop the process.
In an interview on Fox News, Republican Senator Lindsey Graham said: "We've got the votes to confirm Justice Ginsburg's replacement before the election."
Graham, the Chair of the Senate Judiciary Committee, has been accused of hypocrisy because of his prominent role opposing the nomination process of Barack Obama's Supreme Court nominee, Merrick Garland, in 2018.
As recently as October 2018, Graham said that he would not support a Supreme Court nomination process in an election year.
He said he had changed his mind because of how Democrats had treated Trump's pick Brett Kavanaugh during his nomination battle.
"We've got the votes to confirm the judge, the justice on the floor of the Senate before the election and that's what's coming."
Republicans in tough Senate races – such as Cory Gardner of Colorado and Martha McSally of Arizona – have said they support having a vote on the vacancy this year.
According to a statement released by her granddaughter, Ginsburg said shortly before her death: "My most fervent wish is that I will not be replaced until a new president is installed."
Ginsburg's coffin will lie in state at the US Capitol on Saturday (AEST) following two days at the US Supreme Court.
Matthew Knott is North America correspondent for The Sydney Morning Herald and The Age.