ANMF Victorian branch secretary Lisa Fitzpatrick went on to suggest the attack by Ms Asmar, an active player in Labor's internal politics, was factionally motivated.
"ANMF does not usually comment on left and right politics, but on this occasion is concerned that matters unrelated to the health portfolio are at play," Ms Fitzpatrick said.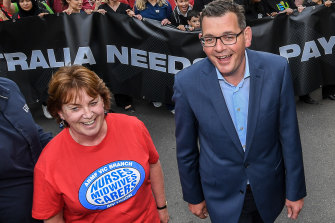 "We remain committed to working with the Minister to continue to drive down the impact of the second wave on our members and prevent any third wave of the pandemic."
The HWU's letter was prompted by a meeting between Ms Mikakos and the union on Monday over a planned public private partnership for the rebuilding of Frankston Hospital.
"Leaving aside the issue of privatising non-clinical public health jobs in the middle of a pandemic and a failure to consult … Ms Mikakos failed to answer simple questions," the letter reads.
"She had no understanding of the difference between clinical roles and non-clinical roles within a hospital, nor could she comprehend the details of the PPP proposal.
"She instead referred to scripted notes 'thanking frontline hero health workers for their hard work'."
Earlier this week, the Andrews Government revealed it will call for consortiums for the Frankston Hospital redevelopment, which includes an 11-storey tower housing an extra 120 beds and speciality services.
The $562 million expansion will also include two new operating theatres and 13 new emergency department beds, new oncology services and dedicated space for specialised mental health services.
Factional issues
Some Labor figures disagreed with the nursing union's position, saying the attack was motivated by industrial, and not factional, issues.
The Health Workers Union is heavily active in Labor's right wing faction and was part of former factional powerbroker Adem Somyurek's grouping.
Ms Mikakos is part of a rival left faction.
Senior Labor left figures regard the intervention from Ms Asmar, in part, as factional pay-back in response to Mr Somyurek's fall from power following allegations of branch stacking.
The HWU in Victoria was previously known as the Health Services Union No.1 branch but rebranded itself after a series of corruption scandals involving former leaders Kathy Jackson and Craig Thomson.
The explosive attack came after months of building tension between the minister and the union and sources close to Ms Asmar have told The Age that she had to be persuaded on several occasions over recent months to refrain from publicly attacking Ms Mikakos and the Andrews' government over its performance in the pandemic.
Ms Asmar has been increasingly vocal in recent weeks over the performance of Ms Mikakos' Department in providing protective gear to health workers on the front line of the COVID-19 pandemic and tensions finally boiled over on Monday over the planned privatisation of Frankston Hospital.
Labor figures said on Thursday they were taken aback by the personal broadside but Mr Andrews shrugged off Ms Asmar's attack.
"I have confidence in all my ministers," the Premier said.
Ms Mikakos' cabinet colleagues were privately supportive of the Health Minister with one cabinet member comparing it to calls from the Rail, Tram and Bus Union calling on Public Transport Minister Melissa Horne to resign.
But others acknowledge the timing of the attack, in the middle of a series of appearance by government ministers at the Quarantine Hotels Inquiry, was politically problematic.
'Paying the price for her incompetence'
"Since your government's re-election in 2018, we have seen repeated mismanagement of the Victorian health system by Minister Mikakos. All Victorians are seemingly paying the price for her incompetence," the letter from Ms Asmar reads.
The letter lists a number of what Ms Asmar sees as Ms Mikakos' failings, including accusations that her office was "utterly dysfunctional" and failed to consult the union before major announcements during the pandemic.
Ms Asmar, whose union represents about 16,000 hospital and aged care workers, predicts the continuation of infections in aged care facilities due to inadequate PPE supplies and protocols, a situation which she solely blames Ms Mikakos and her portfolio for.
"We are currently in September, and as long as Minister Mikakos and DHHS insist on the existing tiered guidelines to PPE in aged care, it is our view that Victoria will not achieve its infection targets to warrant a return to even stage two lockdowns. Many more deaths in Victorian aged care homes will ensue," she writes.
The letter ends with a cutting of ties between the union and the Labor government.
"In short, Ms Mikakos through her incompetence has turned the HWU, a once supportive stakeholder of your government into an actively hostile one," it reads.
"There is only one solution. For the good of your government, for the good of health workers I represent, and for the good of all Victorians, Ms Mikakos must go."
But Ms Fitzpatrick said Ms Mikakos had provided "steadfast leadership" during the pandemic.
"She has provided steadfast leadership through the uncertainty of the pandemic, including in areas that are not her responsibility such as private aged care – a Commonwealth responsibility," Ms Fitzpatrick said.
"Attending a weekly pandemic response meeting with health union leaders, Ms Mikakos has listened to the ANMF's concerns and ensured our members' issues were responded to and has she has intervened to get things done.
"These meetings are attended by a representative of the Health Workers Union – though not Ms Diana Asmar."
The nurses' union, has almost 92,000 members – nurses, midwives and aged care personal care workers – across the Victorian health and aged care sectors.
Ms Fitzpatrick said Ms Mikakos had been "a champion" for improved nurse and midwife patient ratios in Victoria's public health services.
Call to restructure the DHHS
When contacted by The Age, Australian Medical Association Victorian president Julian Rait declined to comment on the contents of the letter, but noted that the medical lobby group had raised its concerns about the Andrews' government's handling of the pandemic at the Public Accounts and Estimates Committee inquiry and hotel quarantine inquiry.
"As [Ms Mikakos] is about to give evidence today it seems inappropriate to pre-empt the findings of the Coate inquiry," Professor Rait said.
"While the AMA has provided evidence to two inquiries and been scathing in our criticism of the Department of Health and Human Services, the AMA remains focused on the relevant issues that concern our members. We wish to see a restructure of DHHS, a review of devolved governance arrangements and improved organisational processes including a more meaningful engagement of DHHS with healthcare workers including general practitioners."
Health and Community Services Union secretary Paul Healey declined to be drawn into calls for Ms Mikakos to be sacked, however, he said he was strongly opposed to the government's decision to rebuild the Frankston Hospital as a public-private partnership.
"It's against Labor values to continue to privatise jobs and contract them out," Mr Healey said.
"We saw what happened with the disability sector and we see what happens with COVID when you have a fragmented health system.
"They're talking about secure employment, so why put people into insecure employment when they have a choice?"
The Australian Nursing and Midwifery Federation have been contacted for comment, while the Australian Council of Trade Unions (ACTU) said it would not be commenting on the letter or Victorian matters.
Ms Mikakos' office has been contacted for a response, as has Ms Asmar.
Melissa Cunningham is The Age's health reporter.
Rachael Dexter is a breaking news reporter at The Age.
Noel Towell is State Political Editor for The Age
Ben Schneiders is an investigative journalist at The Age and has reported extensively on the underpayment of wages, corruption, business, politics and the labour movement. His reporting has won a number of major honours including Walkley awards. He has been part of The Age's investigative unit since 2015.