Daylong street protests erupted in violence after dark when two police officers on duty in the midst of the demonstrations were shot and wounded, Robert Schroeder, interim chief of the Louisvile Metropolitan Police Department, told reporters.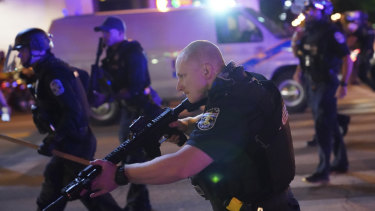 He said one suspect had been arrested, and that the two officers were in stable condition, one undergoing surgery, with injuries he described as non-life-threatening. He declined to give any further details.
Earlier in the day about a dozen people were arrested in one confrontation between hundreds of demonstrators and a group of law enforcement officers just outside downtown Louisville.
Crowds of varying sizes were also gathering in New York, Washington, DC, Atlanta, and Chicago.
Benjamin Crump, a civil rights lawyer representing the Taylor family, said it was "outrageous" that none of the three officers involved in the March 13 police raid was criminally charged with causing Taylor's death.
Taylor, 26, was killed in front of her armed boyfriend shortly past midnight after three officers forced their way into her home with a search warrant.
Former Detective Brett Hankison was indicted on three counts of wanton endangerment in the first degree, an offence that ranks at the lowest level of felony crime in Kentucky and carries a maximum sentence of up to five years in prison.
Cameron said those three counts stem from the fact that some of the rounds Hankison fired – 10 in all – travelled through Taylor's apartment into an adjacent unit where a man, a pregnant woman and a child were at home.
Cameron, however, said there was "no conclusive" evidence that any of Hankison's bullets struck Taylor.
The two other officers, Sergeant Jonathan Mattingly and Detective Myles Cosgrove, were not charged because they were justified under Kentucky law in returning fire after Taylor's boyfriend, Kenneth Walker, shot at them, wounding Mattingly in the thigh, Cameron said.
"There is no doubt that this is a gut-wrenching, emotional case," Cameron, a Black Republican, said at a news conference.
Taylor's name and image have become part of a national movement over racial injustice, with celebrities writing open letters and erecting billboards demanding that the white officers be criminally charged for the death of a young black woman.
City and state officials feared a grand jury decision not to prosecute the officers would inflame a city that has been roiled by demonstrations that have sometimes turned violent.
Taylor's mother sued the city of Louisville for wrongful death and received a $US12 million ($17 million) settlement last week.
But she and her lawyers have insisted that nothing short of murder charges for all three officers would be enough, a demand taken up by thousands of protesters in Kentucky and across the country.
Many legal experts said that indictments would be unlikely, given the state's statute allowing citizens to use lethal force in self-defence. John W Stewart, a former assistant attorney general in Kentucky, said he believed that at least two of the officers who opened fire were protected by that law.
"As an African American, as someone who has been victim of police misconduct myself, getting pulled over and profiled, I know how people feel," Stewart said. "I have been there, but I have also been a prosecutor, and emotions cannot play a part here."
Two officers, Sergeant Jon Mattingly and Detective Myles Cosgrove, returned fire in the direction of Taylor's boyfriend, Kenneth Walker, according to internal documents. In the chaos that ensued, Mattingly was shot, injuring the femoral artery in his leg, and the others scrambled to drag him out of the apartment and apply a tourniquet to his leg.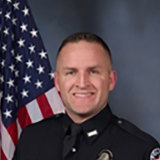 In anticipation of the grand jury's decision, the Louisville Police Department cancelled holidays, and Chief Robert Schroeder ordered a 10-day "state of emergency".
A local judge signed an order shutting the federal courthouse downtown, where storefronts and office towers were boarded up because of the sometimes-violent protests.
Police officers erected barricades and chain-link fencing on Monday blocking the streets near a city park that had been the nucleus of protests and announced other restrictions.
In a tweet on Tuesday morning, Mayor Greg Fischer said: "Our goal with these steps is ensuring space and opportunity for potential protesters to gather and express their First Amendment rights" and "to keep everyone safe".
Reuters, New York Times