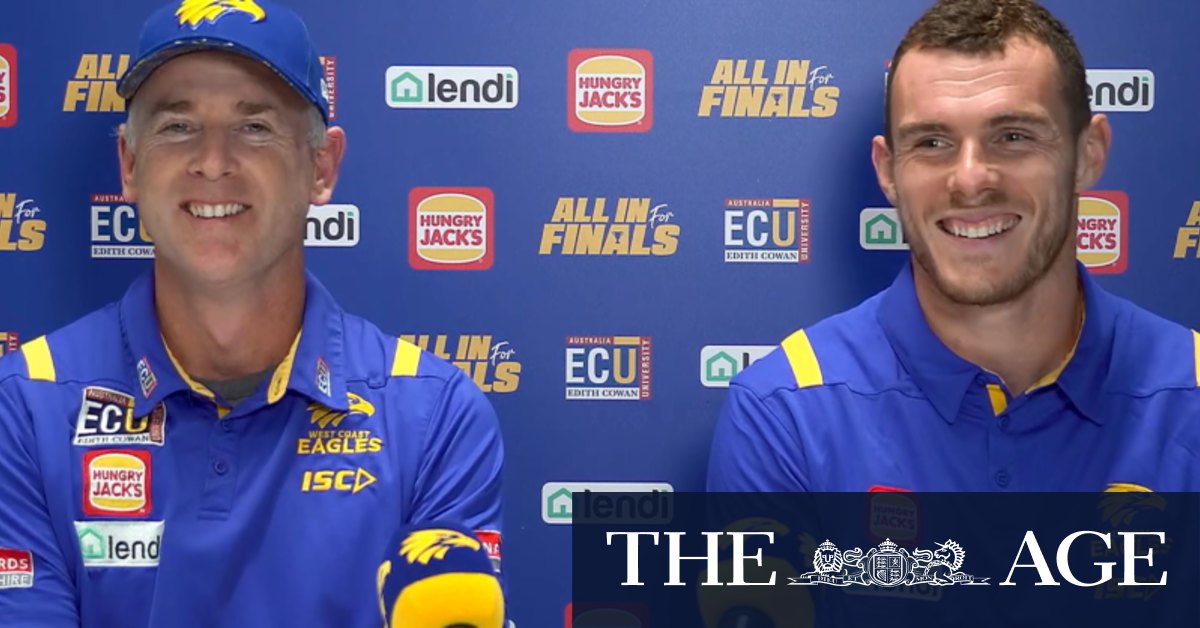 "I think it's incredibly tough on all the other clubs, or certainly the one club that goes over," she said.
The WA government's strict quarantine measures for people entering or returning to the state showed even AFL footballers were subject to tough requirements.
But while opponents Collingwood would quarantine at Joondalup Resort when they arrive in Perth on Friday and could roam the golf course and intermingle at leisure, Shuey can't even sleep in the same bed as his wife.
"Full quarantine at home is you can't leave the house unless we're coming to training, or commitments at the club," he told radio station hit92.9.
"I have to sleep in a separate room to Danielle so, yeah, a little bit awkward. I feel like I'm 15, 16 again."
Asked why such a rule was in place, the Eagles captain replied: "I'm not sure mate. Take that up with the government … I don't think they monitor it but we do get random police checks to make sure we're at home."
The strict WA government mandate dictated players could spend only 15 minutes of contact time with their families throughout the day, a tough gig for the Shueys who have a young toddler and are expecting a second child in November.
Everyone's had to make different types of sacrifices this year.

West Coast captain Luke Shuey
West Coast coach Adam Simpson said players were "fine" with the arrangement after a previous home quarantine stint earlier this season.
"It's the second time we've done it so I think the guys are a little bit more comfortable with the environment we're in, knowing we've got some special exemptions," he said.
"We appreciate that [time with our families], and then we get some time allocated at the football club as well.
"We're either here, or we're home. We can't do anything else in between, which is fully understandable.
"You gotta do the right thing. You do appreciate your family when you're away from home and I'm sure everyone appreciates being home."
Shuey was diplomatic when asked to comment on the relative freedom of their Collingwood opponents compared to the Eagles while in Perth.
"Everyone's had to make different types of sacrifices this year," Shuey said.
The duo were thrilled to be back at their home ground Optus, albeit with capacity capped at 35,000 fans.
Loading
"I think we've all missed the crowds and supporters, from any team this year," Simpson said.
"I can't explain the lack of atmosphere when there's no crowds. All the 'ra-ra' we do in the rooms before and then the boys run out to silence."
West Coast has played 10 away games and seven fixtures in Perth this year, including two separate hub stints on the Gold Coast, and won't host a home final if they progress to week two, even if they earn the right to. Both the Eagles and Dockers could play clusters of consecutive interstate games next year as part of an AFL Competition Committee plan to revolutionise the fixture.
Collingwood president and committee member Eddie McGuire said the inspiration came from American sports, particularly the NBA, where teams go on a "road swing" rather than constantly back and forth.
"For example, if Collingwood went to Perth, you play the West Coast Eagles and you stay there and play Fremantle and you might actually play Port Adelaide on the way back, if you like," McGuire told Nine News Perth on Wednesday night.
"So, you're out of town for maybe two or three weeks and you get those away games done."
David writes about sports and lifestyle for WAtoday.